Join us at our next MeetUp event as we go In Conversation.. with Susie Ma
About this event
It's back! Our 'In Conversation With…' series returns for an unmissable event in June. Taking place every three months, these events offer the rare chance to sit down with one remarkable person and uncover, in-depth and unfiltered, the founder behind the business.
This June, we are so excited to be joined by the founder of one of the UK's fastest growing companies: Susie Ma from Tropic Skincare. Famously started as a joint venture with Alan Sugar after her appearance on The Apprentice, Susie founded the multi-award-winning, scientifically-backed, all-natural, vegan and cruelty-free beauty brand in 2012 - and has never looked back.
Susie is a lifelong entrepreneur, whose first brush with business started with her selling home-made body scrubs at Greenwich Market at the age of 15. Inspired by her grandmother's recipe, and her mother's job as a street seller in Australia, Susie's humble beginnings have helped her build a multimillion-pound business, whilst remaining firmly grounded in herself.
Born in Shanghai, Susie has come a long way from when she moved to the UK from Australia in 2002, and believes that taking the time to find appreciation for the smaller moments in life helps her find perspective when growing with her business' success.
She says that it's not about the end goal, but about the "passion of the journey".
On that first day at the market stall, Susie sold £980 worth of her products. It was definitely a sign of things to come. Today, Tropic Skincare has been featured in Fast Track 100, as one of the 100 fastest growing companies in the UK. One of only nine other founders under the age of 30 on the list, Susie was also featured in Forbes' 30 under 30, which recognises the rising stars of business around the world.
Serial founder and lover of all things startup, host Ben Keene will be interviewing Susie and finding out what it's like running such a rapidly growing business, and what's behind Tropic's purpose of creating a healthier, greener, more empowered world.
Thanks to our partnership with Virgin Money, we're able to make our MeetUp events free to attend, providing thousands of early-stage founders with the support they need to start and scale businesses in the UK.
So grab your free ticket to our MeetUp to hear from Susie and get the chance to network with other founders and the Virgin StartUp community after the interview.
Virgin Money are here to disrupt the status quo. They want everyone to have a much happier relationship with money. Through their brilliant colleagues, inspiring spaces and digital solutions they are doing everything they can to offer a life more Virgin. They provide a full range of banking products and services to help founders at every stage of their business journey.
To attend, you need to sign up for a free account with Hopin and register using the link below or by clicking here.
**TO ATTEND THE EVENT, CLICK HERE TO SIGN UP FOR A FREE TICKET**
Terms & Conditions: 
i. Speakers and attendees are subject to change and we do not guarantee that any specific speakers or participants will appear at the event. However, we will always try to find a suitable replacement if one of our key speakers or participants is unable to attend.
ii. Views expressed by speakers at the event may not be the views of Virgin StartUp. Information and materials shared are provided on an "as is" basis and Virgin StartUp makes no warranty regarding the accuracy or completeness of these.
iii. By ordering a ticket and attending the online event, you consent to being recorded and photographed – either by film or screen casting - as an attendee and participant and to any subsequent footage and photographs of the event being used by Virgin StartUp in any medium for the promotion and marketing of Virgin StartUp and the Virgin group.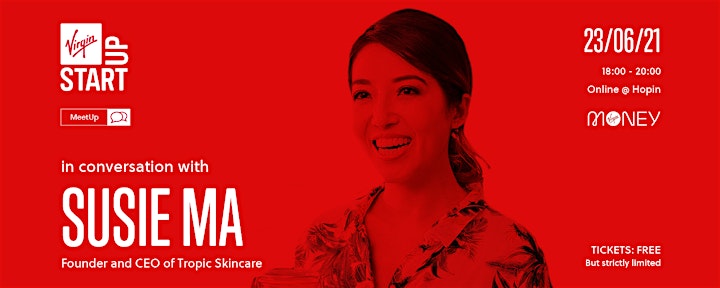 Organiser of Virgin StartUp MeetUp | In Conversation with Susie Ma