Join us for our next meeting in December when we'll be talking about The Forgotten Garden by Kate Morton.
About this event
Join us for a friendly book club meet-up! Discussion will be led by Bristol Libraries staff but it will be a relaxed and informal conversation, a way to connect with others whilst having a coffee at home and chatting about books.
Maybe you're a regular book club member or maybe you've never taken part in a book club before - everyone is welcome!
Places are limited, however, so early booking is recommended.
For our meeting on Tuesday 7th December we'll be reading The Forgotten Garden by Kate Morton, which is available to borrow as an e-book on our library app Borrowbox. You can also place a reservation on the Libraries West website to collect a copy from a library, or reserve a copy of the e-audiobook online.
You can find out how to download the app and learn more about our other digital resources here on our website.
About the book
A moving and powerful mystery, The Forgotten Garden is the bestselling second novel from author of The House at Riverton, Kate Morton.
1913 : On the eve of the First World War, a little girl is found abandoned after a gruelling ocean voyage from England to Australia. All she can remember of the journey is that a mysterious woman she calls the Authoress had promised to look after her. But the Authoress has vanished without a trace.
1975 : Now an old lady, Nell travels to England to discover the truth about her parentage. Her quest leads her to Cornwall, and to a beautiful estate called Blackhurst Manor, which had been owned by the Mountrachet family. What has prompted Nell's journey after all these years?
2005: On Nell's death, her granddaughter, Cassandra, comes into a surprise inheritance. Cliff Cottage, in the grounds of Blackhurst Manor, is notorious amongst the locals for the secrets it holds - secrets about the doomed Mountrachet family. But it is at Cliff Cottage, abandoned for years, and in its forgotten garden, that Cassandra will uncover the truth about the family and why the young Nell was abandoned all those decades before.
About Reading Friends
Reading Friends is a nationwide programme developed by The Reading Agency and funded by the National Lottery Community Fund. The programme is delivered in partnership with library services across England, Northern Ireland, Scotland and Wales. Reading Friends is a programme that empowers, and connects people by starting conversations through reading. Find out more here: www.readingfriends.org.uk
How to join
This event is hosted in Zoom. In order to take part, you'll need a working webcam and microphone and to reserve a ticket through Eventbrite.
Instructions on how to join the event will be sent by email.
Closed captioning is available for this event.
Tickets
Tickets are free but places are limited! Please reserve your place by booking a ticket through Eventbrite.
Participants will be sent an email the day before with details for the , including the meeting ID and password - please keep an eye on your inbox.
*** Ticket reservations end at 9am on Tuesday 7th December - please make sure you have booked your ticket before then! ***
Please note - this is an event for adults (aged 18 years and over) and is not suitable for children or families.
If you book a ticket but are then no longer able to attend the event, we kindly ask if you could cancel your ticket so we can re-allocate your place to someone on the waiting list.
Join Bristol Libraries Online
Not yet a library member? Not a problem! You can join online - it is quick and easy to do, and gives you access to a wide range of digital resources such as ebooks, audiobooks, digital magazines and newspapers. Join online here: https://bit.ly/joinbristollibraries
Social Media
Follow us on Twitter, Facebook and Instagram to stay up to date with the latest news, events and online activities.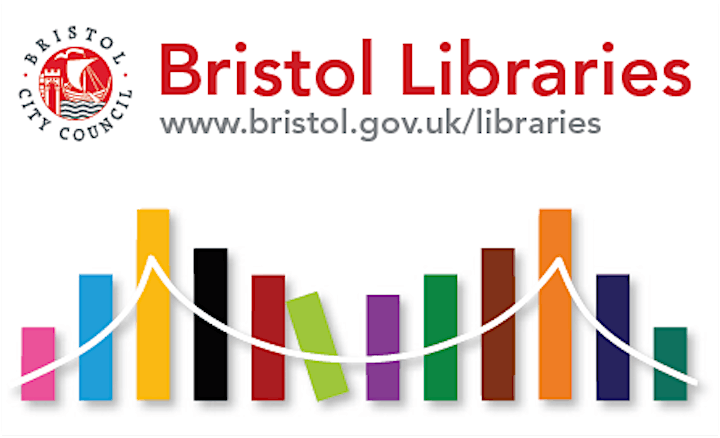 Organiser of Virtual Book Club - December