Join us for our next meeting in February when we'll be talking about Women's Prize for Fiction Winner 'Home Fire' by Kamila Shamsie
About this Event
Join us for a friendly book club meet-up! Discussion will be led by Bristol Libraries staff but it will be a relaxed and informal conversation, a way to connect with others whilst having a coffee at home and chatting about books.
Maybe you're a regular book club member or maybe you've never taken part in a book club before - everyone is welcome!
Places are limited, however, so early booking is recommended.
For our meeting on Tuesday 9th February, we'll be reading Home Fire by Kamila Shamsie, which is available to read for free with our Bristol Libraries ebook app Libby or to download and listen to as an audiobook with Borrowbox.
Find out how to download these apps and learn more about our other digital resources online here.
About the book
WINNER OF THE WOMEN'S PRIZE FOR FICTION 2018
LONGLISTED FOR THE MAN BOOKER PRIZE 2017
'The book for our times' Judges of the Women's Prize
'Elegant and evocative ... A powerful exploration of the clash between society, family and faith in the modern world' Guardian
Isma is free. After years spent raising her twin siblings in the wake of their mother's death, she is finally studying in America, resuming a dream long deferred. But she can't stop worrying about Aneeka, her beautiful, headstrong sister back in London – or their brother, Parvaiz, who's disappeared in pursuit of his own dream: to prove himself to the dark legacy of the jihadist father he never knew.
Then Eamonn enters the sisters' lives. Handsome and privileged, he inhabits a London worlds away from theirs. As the son of a powerful British Muslim politician, Eamonn has his own birthright to live up to – or defy. Is he to be a chance at love? The means of Parvaiz's salvation? Two families' fates are inextricably, devastatingly entwined in this searing novel that asks: what sacrifices will we make in the name of love?
A contemporary reimagining of Sophocles' Antigone, Home Fire is an urgent, fiercely compelling story of loyalties torn apart when love and politics collide – confirming Kamila Shamsie as a master storyteller of our times.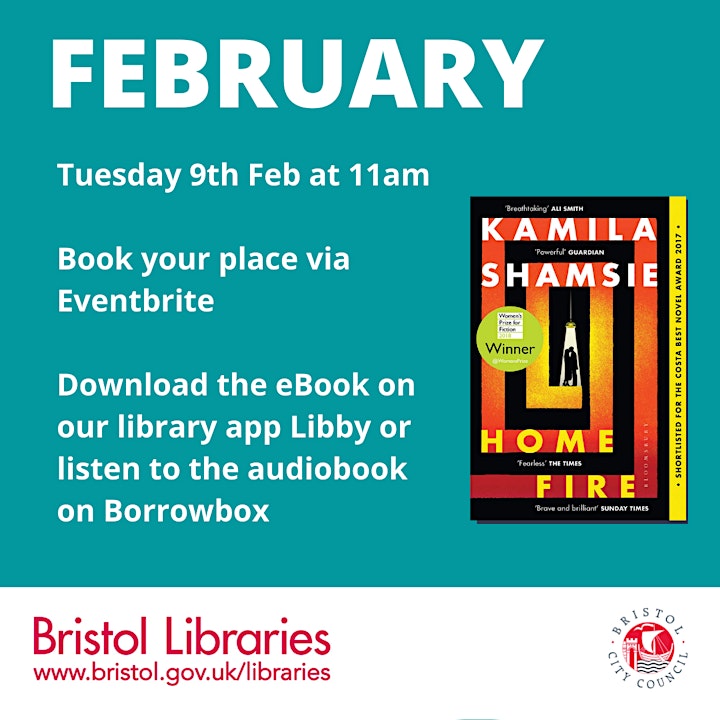 How to join
This event is hosted in Zoom. In order to take part, you'll need a working webcam and microphone and to reserve a ticket through Eventbrite.
Instructions on how to join the event will be sent by email.
Tickets
Tickets are free but places are limited! Please reserve your place by booking a ticket through Eventbrite.
Participants will be sent an email the day before with details for the , including the meeting ID and password - please keep an eye on your inbox.
*** Ticket reservations end at 9am on Tuesday 9th February - please make sure you have booked your ticket before then! ***
Please note - this is an event for adults (aged 18 years and over) and is not suitable for children or families.
If you book a ticket but are then no longer able to attend the event, we kindly ask if you could cancel your ticket so we can re-allocate your place to someone on the waiting list.
Join Bristol Libraries Online
Not yet a library member? Not a problem! You can join online - it is quick and easy to do, and gives you access to a wide range of digital resources such as ebooks, audiobooks, digital magazines and newspapers. Join online here: https://bit.ly/joinbristollibraries
Social Media
Follow us on Twitter, Facebook and Instagram to stay up to date with the latest news, events and online activities.