Ready to meet an incredible coworking space? Join our 30 minutes Instagram LIVE this week to discover the story of Marechal 1551!
About this event
Hello and welcome to Coworkies event page!
Thanks for clicking through and showing interest in our upcoming event: Around The World in Marechal 1551, a virtual coworking tour.
Now, if you wonder what's the event all about and why are we doing this, keep scrolling and you'll soon find out.
About The Event
Join us on September 22nd, on Coworkies Instagram' Account to discover Marechal1551 a coworking space from Porto who mastered the art of "knowing who you do this for".
During our 30 minutes conversation with Miguel, the founder, you'll learn:
How Marechal1551 came to life,
Who has Marechal1551 been designed for and why such a target audience,
How do Miguel and his team connect members,
How Marechal1551 has worked on the experience they offer their members
In what ways COVID-19 impacted the brand...
and what kind of opportunities it brought to the brand,
What has Miguel learned so far from his coworking journey
and more!
We'll wrap up our conversation with a virtual tour, following Miguel around.
The icing on the cake: by tuning in, you'll also get a chance to ask Miguel your questions!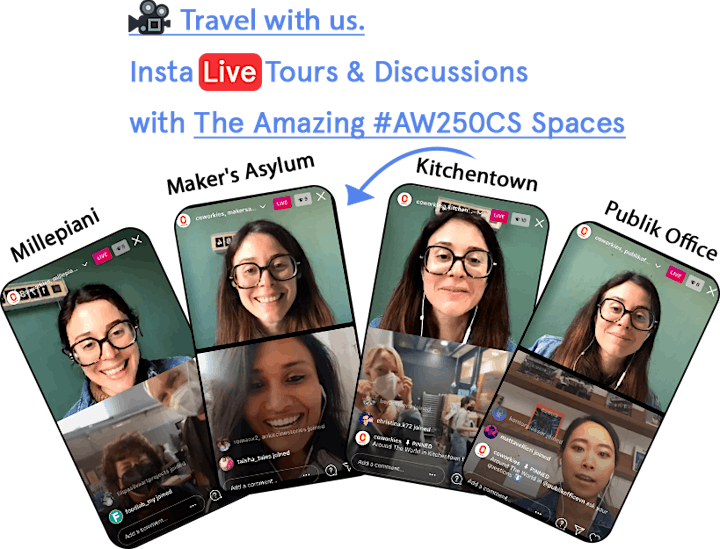 About Us
We are Pauline Roussel and Dimitar Inchev, co-authors of the coffee table book "Around The World in 250 Coworking Spaces." Over the last 5 years, we've embarked on a unique travel journey around the world, with the intention to discover new ways of working and new kinds of work environments.
Together, we visited over 420 collaborative workspaces across 48 cities, from Tokyo all the way to New York. When one of the coworking owners we met suggested to us the idea of writing a book, we loved the idea and decided to make it happen.
After a successful Kickstarter Campaign, allowing us to go the self-publishing route, we are now waiting for the books to get delivered to us. While waiting, we host weekly lives on our Instagram account, allowing our extended community to e-meet before anyone, some of the spaces featured in the book.