Find out more about the exciting area of DNA, genetics and genomics in everyday life in this free, virtual public event
About this event
Like to find out more about the fascinating field of DNA, genetics and genomics and discover how it affects our everyday lives? Join us for our 6th annual 3G public genetics and genomics conference! Enjoy short talks on topics including:
Plants, and Pollinators: using DNA to investigate the foraging preferences of pollinators
Nutrigenomics - know more about your dietary fats
Life After Death: an introduction to eco-genomics in forensic science
The Killer Genes in London Smogs
And more!
Join us for the whole event or drop in for some talks (talks are 25 mins. including time for questions with our expert speakers). There will be a 5 minute break between each talk. The event is aimed at members of the public over 50, but everyone is welcome.
Attendance FREE. Further information email walesgenepark@cardiff.ac.uk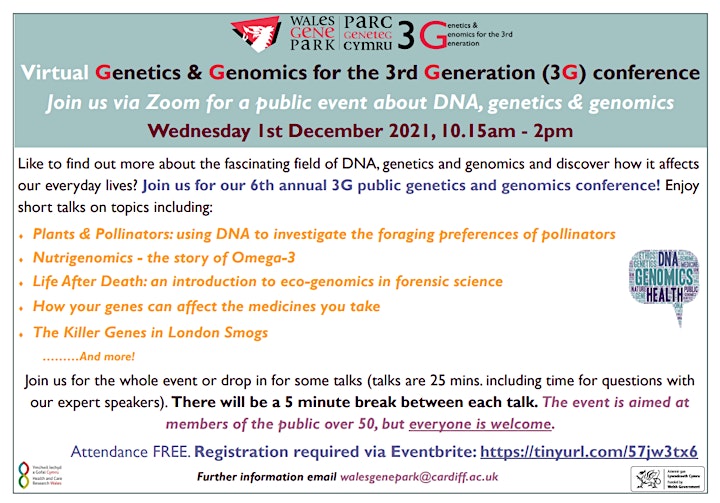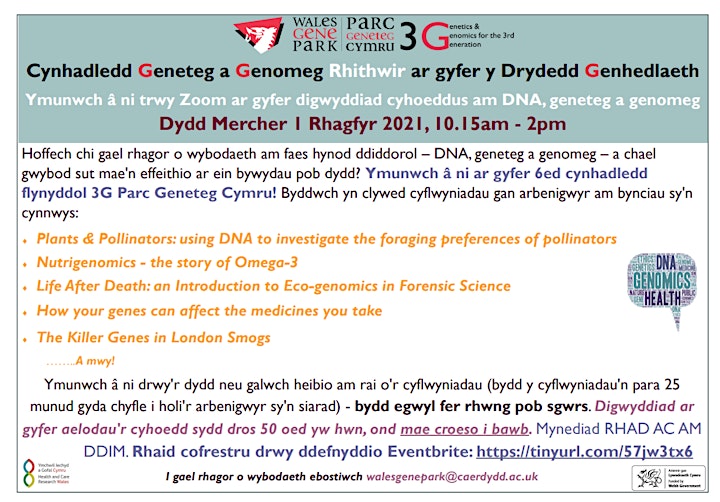 Organiser of Virtual Genetics & Genomics for the 3rd Generation (3G) Conference
Our mission is to promote and facilitate Welsh medical genetic and genomic research and its application to improve heath and wealth in Wales. Also, to engage the public and health professionals to improve understanding of the opportunities and challenges arising through genetics and genomics.
We bring together expertise and experience in genetics within Wales, provide state-of-the-art technologies to researchers in Wales and provide innovative initiatives to educate and engage health professionals and the public in Wales and beyond.