Event Information
Refund Policy
Contact the organiser to request a refund.
Eventbrite's fee is nonrefundable.
Join us for a virtual guided tour of Royston Cave and learn about the mysterious past of this unique, world famous heritage site.
About this Event
Presented by an experienced guide, on this tour you'll learn the meaning behind the cave's carvings, hear stories of its discovery and uncover its most intriguing secrets.
Tours last approx. 1 hour.
Your ticket also includes free access to The Royston Cave Virtual Experience for 48 hours after your tour.
For large groups, please organise a private virtual tour by emailing info@roystoncave.co.uk.
How do virtual tours work?
This isn't just another Zoom meeting. On our tours you will be immersed underground in The Royston Cave Virtual Experience; a stunning 3D, 360° digital replica of Royston Cave created using a combination of 3D capture technology and high resolution 360° photography.
Walk around the digital cave, zoom into its carvings, and have the opportunity to ask your guide questions and discuss the cave in real-time.
Wherever you are in the world, as long as you have a suitable device and a stable internet connection, Royston Cave is literally at your fingertips.
It's totally live, it's totally interactive and, by purchasing a ticket, you'll receive 48 hours free access after your tour to explore The Royston Cave Virtual Experience at your leisure.
Beats another quiz, right? Find out more about The Royston Cave Virtual Experience: www.roystoncave.co.uk/vr
What is Royston Cave?
Royston Cave is a Grade I listed, scheduled monument in North Hertfordshire, England. It is man-made and cut approx. 9 m into the chalk which lies beneath Royston's ancient crossroad, Ermine Street and Ickneild Way. The cave is covered in low-relief wall carvings which are Christian in depiction and medieval in style.
Discovered by accident in 1742, the cave's origin and use remain an enigma. No one know who built it or why. Some people link it to the Knights Templar, others to the Freemasons. Some suggest it was a hermitage and some believe it to be situated on two important Ley lines.
Learn more: roystoncave.co.uk
​​
Tour Information
​
You can access the Live Guided Tour using:
Windows PC / Laptop or MacOS: Google Chrome, Firefox, Safari or Edge
iPad / iPhone: Safari only
Android: Chrome only
Ensure that your device's microphone is enabled. You will not be able to access the tour without it.
A stable internet connection and web browser is required. There is no additional software or account sign-in required.
You will receive an email containing your login information at least 24 hours before your tour. Please check your Junk/Spam folder.
Tours last approx. 45 minutes plus additional time to ask questions. You may leave the tour at any time.
You will never be visible to anyone except the guide and your microphone will be muted at all times except if you choose to ask a question, at which point the guide will unmute you.
Terms and Conditions
Tickets are non-refundable.
Your guided tour is for the date and time specified on your ticket only.
Exchanges for alternate tours may be made at our discretion. To enquire about exchanges, please email us at least 24 hours before your tour.
Filming, recording and photography of the tour and The Royston Cave Virtual Experience is strictly prohibited.
Royston Cave is not responsible for any technical failures or connection issues that occur. 
By purchasing a ticket, you agree that Royston Cave may contact you regarding your tour.
We reserve the right to refuse admission and eject you from the site for behaviour deemed inappropriate by our guide.
​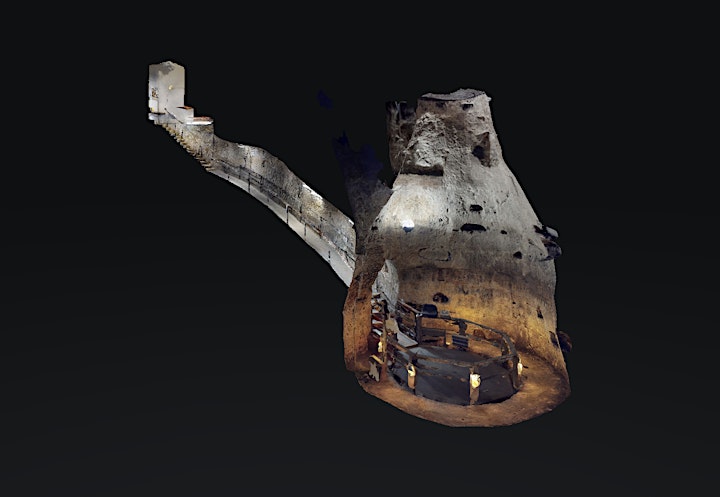 Date and Time
Location
Refund Policy
Contact the organiser to request a refund.
Eventbrite's fee is nonrefundable.