Location
Couture, Poptastic & Live Lounge
139 Newport Road
Stafford
ST16 2EZ
United Kingdom
The VRChat clubbing community comes to life (18+)
About this event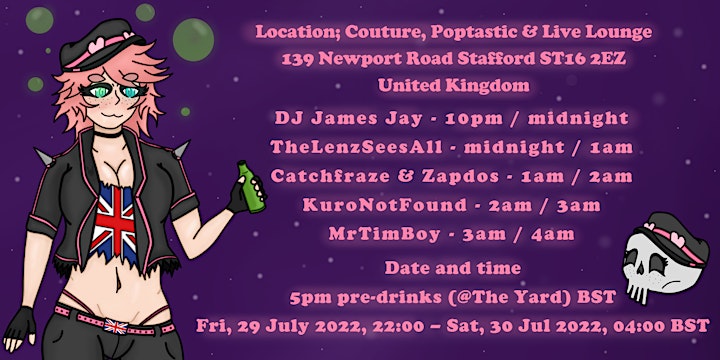 1 Ticket, 2 Venues
Ensure to read the whole page as there's details below that contain useful information that you certainly don't want to miss out on!
Sponsored VRChat Communities;
This event wouldn't be possible without the following communities, ensure to check them out, there's more that are not listed below that's also supporting this event too.
Andromeda, Azura, Drunk Pillagers, Club Ignite, Club Reality, Fishbowl, Galathonian Empire, JuiceSquad, Low Key Intoxications, Moxxxi, Shots&Thots, VRChat Drunks, VRChat Lounge, The Vanguard, Void Resonance and Prime's Server (Avatar Commissions)
Ticket Goal:-
Whist the event will go on in the RnB room, we have set a goal of 400 tickets to be sold, as this will allow us to place the event upstairs in the main room, hiring more bar staff with a total of three bars, security, and other staff where needed.. If you want to buy any extra tickets, and don't want to use them to support hitting the goal, ensure to join the Discord server with the order # ready, as we could still make use of them if you'd like us to.
Sold ticket amount is manually edited.
Ticket Goal Deadline: 8th July
Current sold amount:220+
Introduction
The mixture of introducing the virtual reality to the real world, through the means of a professional, known location, such as Couture Venue, Stafford, through a paid ticket system, hosted by Void Resonance and Drunk Pillagers.
Our goal is to allow individuals from virtual reality to have a real time social connection after being connected through virtual reality, both national and international members have given interest on the idea of an event to take place.
The Event Host of Void Resonance, MrCraigTunstall is also locally known and respected within the local community of Stafford and global community of VRChat and Discord.
Pre-Drinks @ The Yard
During the early evening come the day of the main event, there is an optimal meeting point at The Yard, from 5pm till 10pm BST, which will allow us to centralize those whom are going to the main event beforehand, within an controlled environment. 40% of the venue is hired off by us (the raised area on the right) and there's plenty of drink deals on offer come the night, there's even an app you can use to check the current pricing.
My Pub - Play Store (Android)
My Pub - App Store (iPhone)
Takeaways & Restaurants
The following are highly known, well respected and recommended come the duration of your stay;
Thawa Bridge - (dine-in recommended)
Al Karims - (state you know MrCraigTunstall for a free pop can or £1 off your order come event night)
Travel & Accommodation Information;
All users are to find their own way traveling to the venue and back. Event hosts can assist with what route(s) would be best to take and hotels to book upon the date. Best hotels for the area, price and parking are (which we've added two nights to the links of each hotel below):-
(Right now we highly recommend The Swan Hotel in terms of pricing and location)
The Vine Hotel (1 person - 29th till 31st)
The Swan Hotel (1 person - 29th till 31st)
The Swan Hotel (2 persons - 29th till 31st)
Travelodge (2 persons - 29th till 31st)
Most hotels (check location beforehand!)
International Travel;
Airports; best airports and train(s) to take are the following;
Birmingham Airport and the Birmingham International Train highly recommended if flying from the EU.
Manchester Airport and the Manchester Airport Train highly recommended if flying from the US.
If pricing is, or very near the same, the Manchester Airport and the Manchester Airport Train is the best option.
Line-up*;
The Yard (Pre-Drinks)
Renagaderr & EpicOfficer B2B - 6pm / 7pm (House Classics/Mash-ups)
DJ James Jay - 7pm / 8pm (Club Classics)
The Yard Resident DJ - 8pm / 10pm (still on-set till 1am)
Couture Venue (Main Event)
Anks & Jigsaw B2B - 10pm / midnight (Electro House & DnB)
TheLenzSeesAll - midnight / 1am (House/Techno/Bass)
Catchfraze & Zapdos - 1am / 2am (Anthem Mash-ups, Bass and DnB)
KuroNotFound - 2am / 3am (Drum & Bass)
MrTimBoy - 3am / 4am (Hardstyle)
*line-up could change at anytime due to unforeseen reasons.