Virtual International Head & Neck Cancer Conference 2020 DAY 1
This unique Conference brings together Health Professionals, Patients, Carers and Survivors of Head & Neck Cancers
About this event
Speakers to Date:
Tuesday 3rd November 2020
Session 1: 10.00 - 12.35
TOPIC: Importance of collaboration of patients, caregiver and health professionals
Emma Kinloch - Cancer Survivor, England
Kylie Giarrusso - Health Professional, USA
Justin Roe - Health Professional, England
Derek Lewthwaite - Caregiver, England
Panel Q&A: 12.35 - 13.30
Panel Chair: Arthur M. Lauretano, MD, MS, FACS - Chief Medical Officer - USA
**************************************************************************************************
Session 2: 13.25 - 15.25
TOPIC: Dealing with Post Treatment of Head & Neck Cancer
Dr Philip Lewis - Health Professional, England
Ros Hughes - Cancer Survivor, South Africa
John Holmes - H&N Cancer Survivor, England
Emily Fong - Medical Artist, Scotland
Panel Q&A: 15.25 - 16.10
Panel Chair: Arthur M. Lauretano, MD, MS, FACS - Chief Medical Officer - USA
-------------------------------------------------------------------------------
The Conference will be an inspiring and memorable experience for everyone who joins us. We aim to bring a mix of laughter and inspirational stories to encourage the audience to think differently.
Our 2 day conference offers a wide range of international speakers on each day as well as panel discussions.
You will hear from Inspirational Speakers, from America, South Africa and the UK. Whether they are Cancer Survivors or World-Renowned Health Professionals all will be sharing their Head & Neck cancer journey.
Enhancing knowledge and learning whether patients, carers or health professionals, who are passionate about making a difference and improving the
Head & Neck Cancer journey... there really will be something for everyone!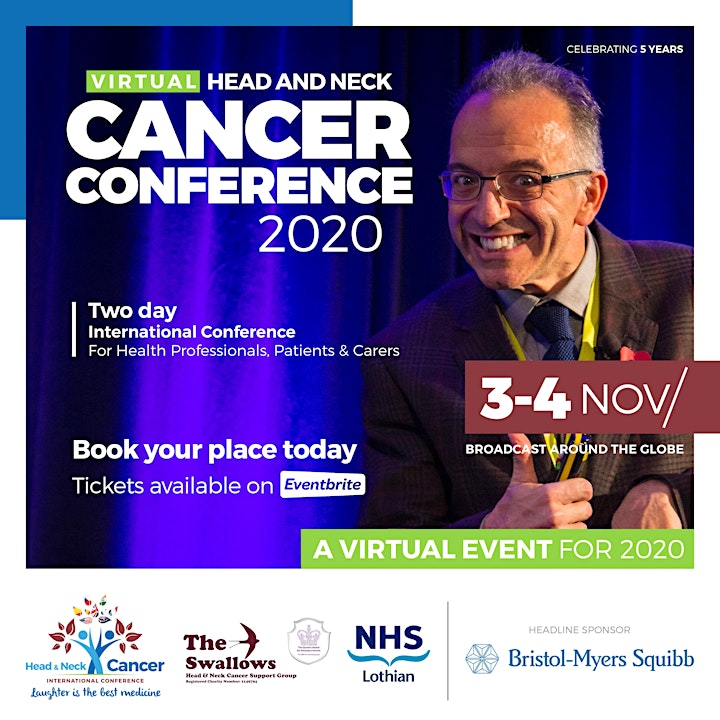 Organiser of Virtual International Head & Neck Cancer Conference 2020 DAY 1
Who are The Swallows?
We chose the name 'The Swallows' because many head and neck patients have problems swallowing, following and during treatment.
We are the patient and carers Head and Neck Cancer Support Group,
we
reach out and offer fantastic support 24/7 and will signpost if that's what you need, the Charity is run by Patients, Carers, Family and Friends so everyone understands the problems when you are diagnosed with cancer.
The Swallows was formed by cancer patients to help and support fellow sufferers and their carers. In November 2012 we are proud to say we obtained full registered charity status and have gone from strength to strength.
Our patient and carers meeting is held every second Wednesday of the month and starts at 7pm, you get to meet other like minded people and share experiences
. This is what one patient said after a meeting
"
At particularly low ebb and with no idea what I should do next I contacted Chris at Swallows who kindly came the same day to offer support and advice and then introduced me to the monthly meeting. Knowledge does make a difference. Knowing some of the things that are likely to happen, that other people have had similar experiences, listening to others tellingly you that it's normal to lose your appetite, that you have to start thinking of food as medication, that there will be help with feeding, that there will be help with pain control, that you can talk to people who have experienced exactly what you are going through, and more importantly that they got through it, makes coping a little easier. It was also empowering, and I began to take more control, and asked more questions plus felt more prepared. Thank you all at the Swallows
" Patient Shirley
What do we do?
Help each other and anyone else who is affected, directly or indirectly, by this type of cancer

One to one or group support

Be available in Clinics to help patients and carers

Advise on locating reliable literature, information and locally available recourses

Signpost links to other groups in different areas and recommend trusted websites for people at home

Raise funds for items to help both patients and carers
24\7 help line answered by patients and carers offering a likeminded person to talk to