Virtual launch of "A Catalogue of Fifteenth-Century Printed Books in Glasgow Libraries and Museums" by Jack Baldwin
About this event
Wednesday 23 June 16.00-17.15 BST via zoom.
University of Glasgow Library Archives & Special Collections, in association with the Friends of Glasgow University Library, are proud to present:
Virtual launch of "A Catalogue of Fifteenth-Century Printed Books in Glasgow Libraries and Museums" by Jack Baldwin
Please join us for an informal virtual party to celebrate this magnificent publication – the result of over ten years research to fully catalogue and describe the rich collection of over 1000 incunabula held in Glasgow libraries.
In which we will:
• Introduce the catalogue and the background project that led to its publication (skipping over the years of blood, sweat and tears)
• Share some of our favourite books live using our fancy ceiling camera (new technology meets old!)
• Give YOU the opportunity to vote for which of your favourite incunabula you would like to take a peek at. The vote is now open and closes at 3.50pm on 23 June, see: https://twitter.com/UofGlasgowASC/status/1405206734851948545
Featuring a dazzling array of speakers including our very own ingenious master, Jack Baldwin, as well as incunabula supremos Falk Eisermann and Cristina Dondi.
There will be an opportunity for some informal chat and questions, and Boydell and Brewer will be offering an AMAZING discount on the catalogue to participants.
We hope to see you there to share some rare book love!
See more about the publication: A Catalogue of Fifteenth-Century Printed Books in Glasgow Libraries and Museums [2 volume set] (boydellandbrewer.com)
The Glasgow Incunabula Project website: University of Glasgow - MyGlasgow - Glasgow Incunabula Project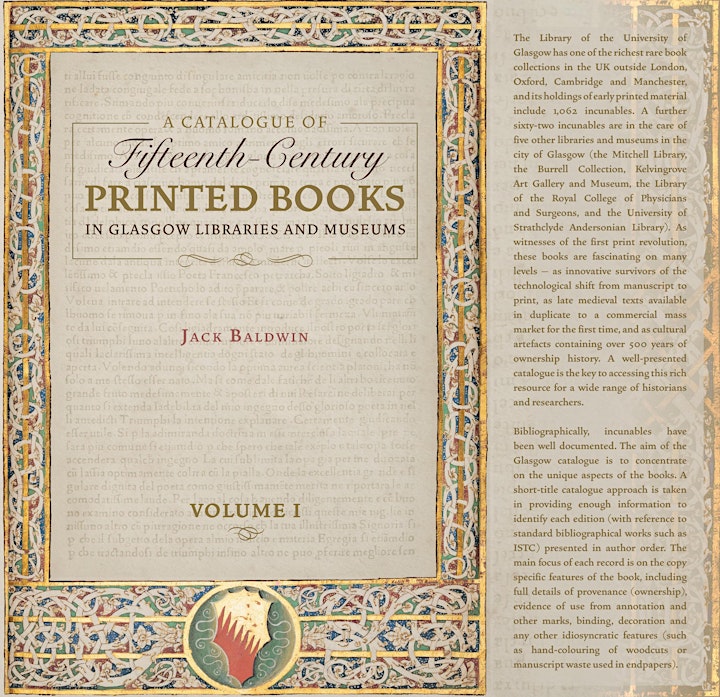 Organiser of Virtual Launch: "A Catalogue of Fifteenth-Century Printed Books"
The University of Glasgow Library is one of the most important and widely used facilities on campus.  Central to the student experience at Glasgow, and important to the wider community, we aim to provide exceptional services and resources.
Our collections cover most branches of the arts, sciences, social sciences and medicine.  They are complemented by rare books, manuscripts and early photographs in our Special Collections Department which has an international reputation that attracts scholars from all parts of the world.   Our Archive Services hold records documenting the history of the University since 1451 and the history of Scottish businesses since the late 1700s. 
With around 800 student computers; wifi throughout the building; more than 2000 study spaces which are zoned for silent, quiet and group study; a social learning space and cafe; and variety of comfy seats, there are plenty of reasons to come to the Library! 
We're open from 7:15am until 2am, 361 days of the year, with staffed services available from 9am-5:55pm Monday - Friday and 1pm-4:55pm at weekends during semester.  Staff at the Welcome Desk, close to the Library entrance, are happy to help with any questions you have.