Virtual life drawing workshop that is family-friendly and suitable for all skills levels.
About this event
_____________________________________________________________________________
This is a family-friendly event - all models are clothed (you don't see
more than undies!) This is not a tutored workshop, although Mel will be
offering tips and tricks as we go. Participants will be encouraged to
share their creations at the end (eg. In the event group on FB) and
would like to pick some favourites to showcase on my social media. It is
suitable for all skill levels.
_______________________________________________________________________________
I am Mel, I've been a professional Illustrator for nearly 6 years, and
I'm based in Sheffield. I make nice things to point your eyes at -
cartoony/fantasy stuff a speciality. I like bold lines, bright colours
and body positivity.
facebook.com/GESGSheffield Twitter: @GESGSheffield Insta: @GESGSheffield
_______________________________________________________________________________
* * * SAFE(R) SPACE GUIDELINES * * *
We are committed to creating safe(r) and accessible spaces and events.
CAMERAS
Please note that 'cameras on' is optional but encouraged. Everyone apart from the host will be muted.
RESPECT
All our identities are valid and equal. Respect people's gender identities and address people with the name and pronoun they ask you to use.
PHOTOS
Do not take photographs (or screenshots) without participants' explicit consent. Be clear about where and if photos will be published.
HERE TO HELP
We are here to help. Should you require support throughout the workshop please contact the organisers.
PRONOUNS
Use gender neutral pronouns or ask politely if you are not sure how to refer to someone.
CONFIDENTIALITY
Don't disclose intimate knowledge about anyone. Be trustworthy.
BE ANTI-OPPRESSIVE
Recognise that we live in a society full of power imbalances due to race, ethnicity, class, gender, immigration status, sexuality, age, physical and mental (dis)ability and other experiences and identities. Respect our differences and diversity.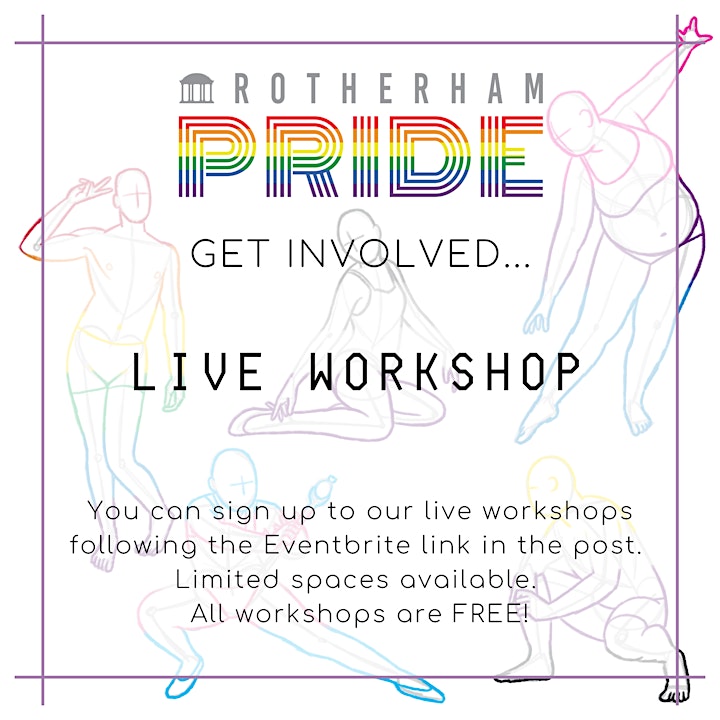 Organiser of Virtual Life Drawing
Rotherham Pride hosts an annual Pride event which is a free, family friendly, community event organised by a dedicated team of volunteers since 2013. Rotherham Pride host further community events throughout the year to celebrate the Lesbian, Gay, Bisexual, Transgender (plus) community and our Allies.

Rotherham Pride aims to champion diversity and promote equality and inclusion by;
-Eliminating discrimination with focus on sexual orientation & gender identity;

-Enhancing education and raising awareness to support LGBT+ individuals; and

-To create a safe environment for LGBT+ people, their families and allies to help reduce social exclusion and enhance community cohesion.