Virtual Locomotion - Windrush Cafe in your Living Room! Lunch time12:30pm
A community event taking place in your living room! Learn about our heroes, sing, dance and have fun. Summer recess. Returns 2nd September
About this event
Virtual Locomotion
We bring Joy! Celebrating Local Heroes. Join us in song, music, dance and gentle exercise
Who's your local here? Come and meet new people, share and celebrate with us on Thursdays
At first connecting those isolated during the Pandemic, and now maintaining our on-line family.
We are dementia friendly😊
Another Black Heroes Foundation project. Developing cultural awareness, promoting a world where Black Heroes are acknowledged, respected and celebrated. 
A Black History Month event, that runs throughout the year! Every month is a Black History Month.
These are free events funded by Magic Little Grants, Post Code Lottery, Community Links, Direct Line Bromley and donations via our Local Giving Platform.
Please support us by making a donation and joining us for a morning of  socialising and Edutainment.
Please donate: https://localgiving.org/charity/Black-Heroes/
Please visit: http://www.blackheroesfoundation.org
Black Heroes®   Copyright © 2017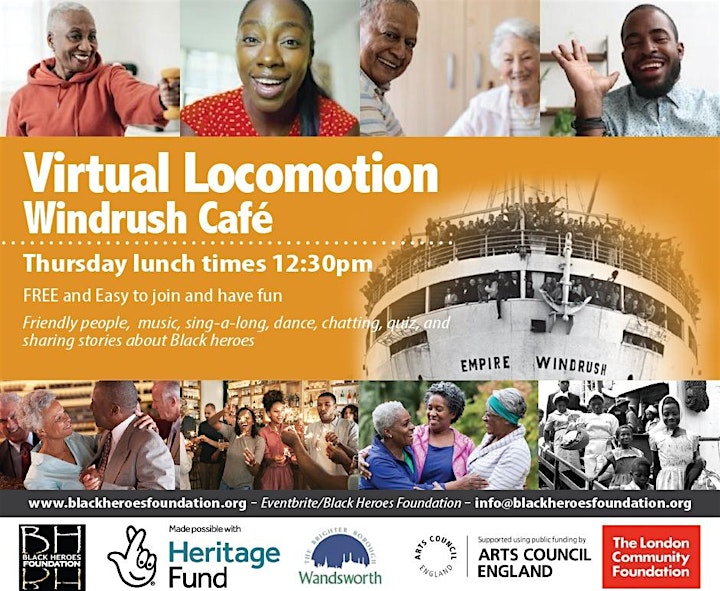 Organiser of Virtual Locomotion - Windrush Cafe in your Living Room! Lunch time12:30pm
We bring joy using the Arts to celebrate Black Heroes. Join in the fun as we update history to reflect the contributions people of colour have made to local and world history.
The Black Heroes Foundation is a community based organisation for the development and promotion of talent, together with cultural and artistic initiatives in the community focusing on youth, education, training, personal development  and social mobility. 
Tel: 07986 745486
Registered Charity Number: 1169616
Black Heroes®  Copyright © 2017