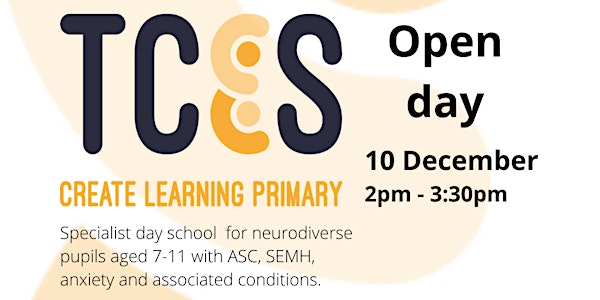 Virtual open day at TCES Create Learning Primary - afternoon session
Join us at 2pm for TCES Create Learning Primary Open Day in Barking, our specialist day school for neurodiverse pupils aged 7-11.
About this event
TCES Create Learning Primary offers a nurturing approach to therapeutic education for neurodiverse children who may have difficulties progressing in mainstream education or alternative settings.
We never give up! We don't exclude pupils. We build their trust so they know that no matter what happens, they will never be excluded - we are with our pupils every step of the way until they're ready to progress to the next step of their education journey – whether that is at TCES or other education settings.
If you work with neurodiverse children aged 7-11, our virtual open day will give you the chance to:
Take an online tour of the school, explore our sensory rooms.
Meet our skilled and experienced team of therapists, therapeutic education practitioners and teachers.
Discover the range of therapies we offer - see examples of therapy in practice and learn about the strategies we work with.
Find out more about our award-winning LIFE programme where pupils learn life skills, lead change and support others.
See how we deliver our bespoke curriculum through nurturing and therapeutic approaches.
Our patron, Dame Esther Rantzen calls TCES Create Learning Primary a 'revolutionary approach to primary education' - we hope you feel the same.
Feel free to share with your colleagues, all are welcome.
We hope to see you there !
Organiser of Virtual open day at TCES Create Learning Primary - afternoon session