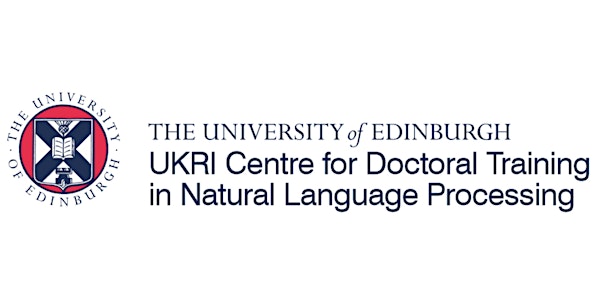 Virtual Open Day - UKRI CDT in Natural Language Processing
An opportunity to find out more about the UKRI CDT in Natural Language Processing at the School of Informatics, University of Edinburgh
About this event
13th Januaryxxxxxxxxxxx
Join Dr Adam Lopez online to learn more about the CDT in Natural Language Processing followed by a question & answer session.
Date: Thursday 14th November 2019
Time: 12:00 GMT - Introduction to the CDT by Dr Adam Lopez
12:20 GMT - Q&A session
The Virtual Open Day will be delivered using Blackboard Collaborate. Dr Lopez will present and answer questions via video and participants will be able to ask queries via text chat.
Please note that there are free apps for smartphones and tablets, enabling participation in Collaborate sessions on these devices. However, please be aware that the number of features is slightly limited compared to the PC / Mac version. To install the app, just search for 'Collaborate' in the respective app store.
Please ensure that you review the CDT's website (https://edin.ac/cdt-in-nlp) before the on-line information session, in particular:
• Programme Structure (https://edinburghnlp.inf.ed.ac.uk/cdt/courses/)
• Frequently Asked Questions (https://edinburghnlp.inf.ed.ac.uk/cdt/apply/)