A programme of virtual talks & workshops accessible from anywhere in the world to accompany the physical Women's Bouldering Festival 2021
About this event
Join us from the comfort of your own home to take part in talks, discussions and workshops delivered by athletes, activists and professionals of the climbing community.
If you have booked your Festival Pass 2021, The Virtual Programme Pass is included. If not, you can now book the Virtual Programme Pass giving you access to all ten talks and workshops which will take place in August and September 2021.
In previous years, the Women's Bouldering Festival included evening talks and workshops as part of our programme in Fontainebleau. This year, because of the still unpredictable situation, our cultural programme will be accessible online.
This event is accompanied by a fundraiser for ProjectONE Climbing. If you're able and willing, please consider making a generous donation (option available at the green TICKETS button).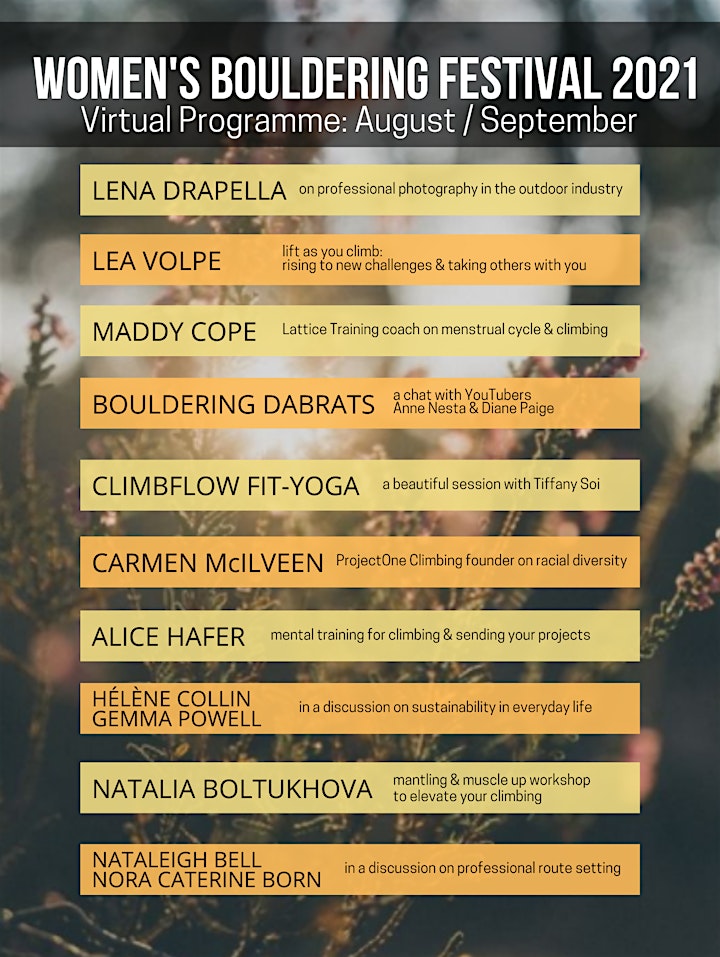 VIRTUAL PROGRAMME SCHEDULE
17. August 2021, 19:00h | LEA VOLPE
Lift as you climb: rising to new challenges and taking other people with you
19. August 2021, 19:00h | MADDY COPE
A Lattice Training Coach on the menstrual cycle and structuring your training
24. August 2021, 19:00h | ALICE HAFER
Mental skills training for climbing and sending your projects
25. August 2021, 19:00h | NORA BORN & NAT BELL
A discussion on being a professional female route setter
1. September 2021, 19:30h | CLIMBFLOW FIT-YOGA
A beautiful flow with Tiffany Soi, the founder of ClimbFlow Fit-Yoga
6. September 2021, 19:00h | A CHAT WITH THE BOULDERING DABRATS
Meet the creators behind YouTube's most popular all-female climbing channel
8. September 2021, 19:00h | CARMEN McILVEEN
Founder of ProjectOne Climbing on The Importance of Diversity in Leadership
11. September 2021, 10:00h | NATALIA BOLTUKHOVA
A practical mantles & muscle up workshop with by a personal trainer, climbing instructor & parkour coach, Nat
13. September 2021, 19:00h | LENA DRAPELLA
A talk on being a professional photographer in the climbing industry
14. September 2021, 19:00h | HÉLÈNE COLLIN & GEMMA POWELL
ln a discussion about sustainability in everyday life
15. September 2021, 19:00h | ELECTRA ZACHARIAS
Trans inclusivity in sports: Electra Zacharias in conversation with Zofia Reych
_________________________________________________________________________________________
More details on the guest speakers, as well as their talks/workshops will be available shortly, together with information on how to access the live streams.
Please note that the programme is subject to change. All times are in GMT+2 time zone (Paris).