Event Information
Refund Policy
Contact the organiser to request a refund.
Eventbrite's fee is nonrefundable.
About this Event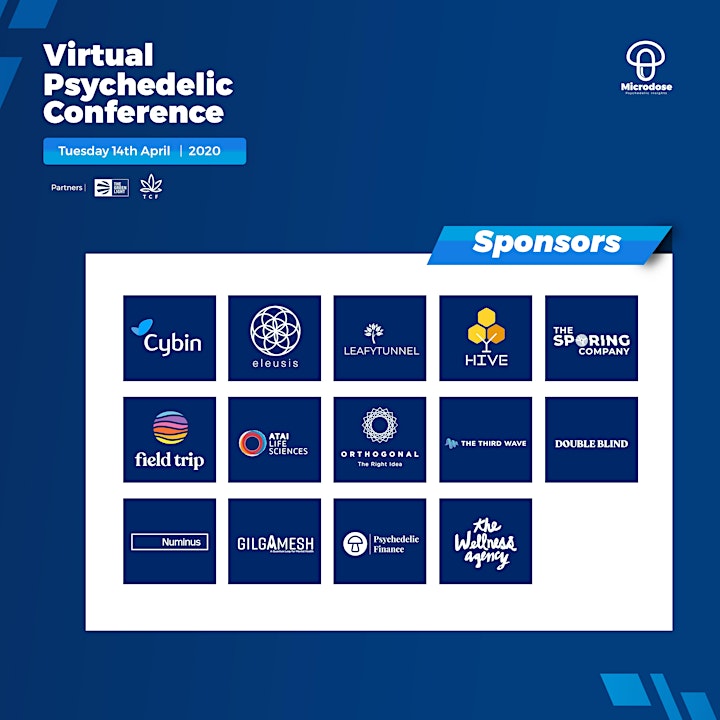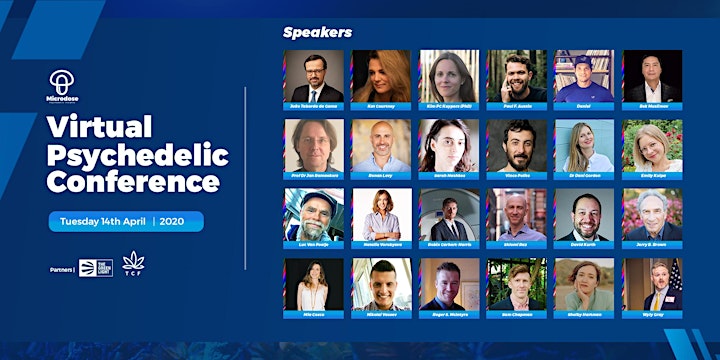 VIRTUAL PSYCHEDELICS CONFERENCE
In the midst of a global health crisis, Microdose and The Conscious Fund are hosting a worldwide virtual conference for the emerging psychedelic medicine industry, the biggest global event in the space to date. Given the mental health and wellbeing challenges facing the world, the conference is a timely look at the new treatments and therapies which have astonished researchers.
In partnership with The Green Light and TCF, a venture capital fund with active investments in the psychedelics industry, this groundbreaking event will bring together CEOs, investors, scientists, researchers, and regulators for an array of panel discussions and collaborative networking.
Psychedelic drugs are showing incredible promise in their ability to treat a vast range of mental health conditions, including addiction, treatment-resistant depression, PTSD, eating disorders, and many more. Forward thinking scientists, a new breed of psychedelic medicine companies and healthcare advocates are learning to harness the power of psychedelics to tackle the worldwide need for mental wellbeing head-on.
Using new virtual conferencing software, attendees will have access to leading psychedelic experts, and discover the latest trends, while building bridges with thought-leaders and exploring unique investment opportunities.
The conference agenda includes a briefing to set the scene on the psychedelics industry, followed by discussions on psychedelic medicine, drug development, regulation and investment. One to one and group discussions will take place throughout the event.
CONFIRMED SPEAKERS
Leveraging our global network, we have speakers from amongst the leading scientists, researchers and CEOs in the psychedelics industry. Look out for more speaker announcements over the coming days as we add to the roster.
Keynote
"Psychedelics: therapeutic mechanisms." - Robin Carhart-Harris
Robin is Head of the Centre for Psychedelic Research, Division of Brain Sciences, Faculty of Medicine, Imperial College London.
Moderators
Paul Austin - Paul F. Austin is an entrepreneur, public speaker, and educator, founder of Third Wave and Synthesis, he has been featured in the BBC, Forbes, and Rolling Stone.
Richard Skaife - Co-Founder of Cobidol Group and a Founding Partner at TCF VC. Previously held CEO & partner roles in tech venture capital & is a mentor for the U.Ks leading social impact charity.
Henri Sant-Cassia - Co-Founder of CBD Virtue, and a Founding Partner at TCF VC. He is also the Chairman of The Cannabinoid Trust as well as advisor to Percuro the animal wellness company.
Regulation & Law
João Taborda da Gama - Lawyer, policy advisor, law professor, founding partner of Lisbon based Gama Glória, and a senior advisor of the Albright Stonebridge Group in Washington DC.
Science
Kim Kuypers - Associate Professor with Maastricht University, Faculty of Psychology and Neuroscience researching the neurobiology underlying flexible cognition, empathy and well-being.
Dr Dani Gordon - Double board certified medical doctor, integrative medicine physician and world leading expert in CBD, cannabis medicine, brain wellness & stress resilience.
Natalia Vorobyeva - Geneticist and neurophysiologist with extensive global research connections. Background in molecular mechanisms of memory and immunogenetics and anti-ageing research. 
Jan Ramaekers - Professor in psychopharmacology at Maastricht University, his works in psychopharmacology, forensic toxicology and cognitive neuroscience to determine drug induced changes in human performance.
Vince Polito - Senior Research Fellow in the Department of Cognitive Science at Macquarie University in Sydney. His research investigates cognitive and neurological changes in altered states of consciousness.
Dr. Roger McIntyre - Professor of Psychiatry and Pharmacology at the University of Toronto and Head of the Mood Disorders Psychopharmacology Unit at the University Health Network, Toronto, Canada.
Companies & Investment
Bek Muslimov - a founding partner at Leafy Tunnel, an investment firm dedicated to investing in early-stage companies focused on bringing plant-based therapies into mental health and palliative care markets.
Ronan Levy - Co-founder of Field Trip Psychedelics, a partner at Grassfed Ventures, a venture capital and advisory firm focused on the cannabis and biotech industries and a director for Trait Biosciences Inc.
Shlomi Raz - founder of Eleusis, oversees the company's corporate and clinical development effort. Prior to founding Eleusis, Shlomi was a Managing Director at Goldman Sachs, and began his corporate career at JP Morgan.
David Kurth - CEO of The Sporing Company, David has a 25 year background in Sales and Marketing with experience in many industries including retail analytics, security, and cannabis.
Movers & Shakers
Luc van Poelje - Co-founder & lead facilitator at Psychedelic insights, founder of Safe Spaces Amsterdam, he also ran a private health service (de Oplaadfabriek) based upon more meditation, less medication.
Emily Kulpa - A licensed clinical pharmacist with a background in medication therapy management, she is currently Director of Medical Screening at Synthesis.
Shelby Hartman - Co-Founder and Editor-in-Chief of DoubleBlind, the psychedelics media company. Her work has appeared in VICE, Quartz, the Huffington Post, and Rolling Stone, among others.
Wyly Gray - United States Marine, public speaker, the Founding Director of Veterans of War, he passionately believes that entheogenic plants and fungi offer a unique path towards healing from trauma.
Kat Courtney - CEO of The Afterlife Coach, she has worked with Ayahuasca for 14 years, with a decade as a shamanic apprentice. She has trained as a Master Herbalist and works as a Psychedelics and Ayahuasca Coach.
Daniel Carcillo - After retiring from professional hockey, Daniel founded Chapter 5 Foundation, a charitable organization that helps athletes transition into life after the game, where he now uses entheogenic plant healing.
Jerry Brown Ph.D. - An anthropologist and activist, who for four decades taught a course on "Hallucinogens and Culture" at Florida International University. He is the author of The Psychedelic Gospels.
Mia Cosco - Supports wellness companies by working closely with executives of mid-level market companies to make their visions a reality. She also fundraises for Cosmic Sister and MAPS Canada, and is the founder of Psychedelic Salons.
Sam Chapman - Campaign Manager for the Yes On IP 34 Campaign (aka the Psilocybin Services Initiative) in Oregon, to create the first ever state wide regulated Psilocybin therapy program in the United States.
Technology
Sarah Hashkes - CEO of Radix Motion, focused on increasing wellness and productivity by combining neuroscience and virtual reality with a masters in Cognitive Neuroscience.
Nikolai Vassev - CEO of Mindleap Health a platform for psychedelic aftercare and new forms of medicine. He led data analytics and cybersecurity projects for Fortune 500 companies, and the US and Canadian Governments.
OUR SPONSORS
Our sponsors are an exclusive group of industry leaders and start-ups. We are proud of our association with:
Leafy Tunnel
The Conscious Fund
Numinus
Cybin
Gilgamesh
Field Trip
ATAI
Eleusis
Third Wave
HIVE.BIO - LEAD SPONSOR
Hive is at the forefront of the European psychedelic medicine revolution, a unique blend of scientific research and patient therapeutics. It is open to qualifying investors and strategic partners only. Please visit www.hive.bio to register your interest.
MEDIA PARTNERS
We are working with the industry's most informed media platforms, including:
Psychedelic Finance
The Trip Report
Third Wave
The Wellness Agency
And many more to come...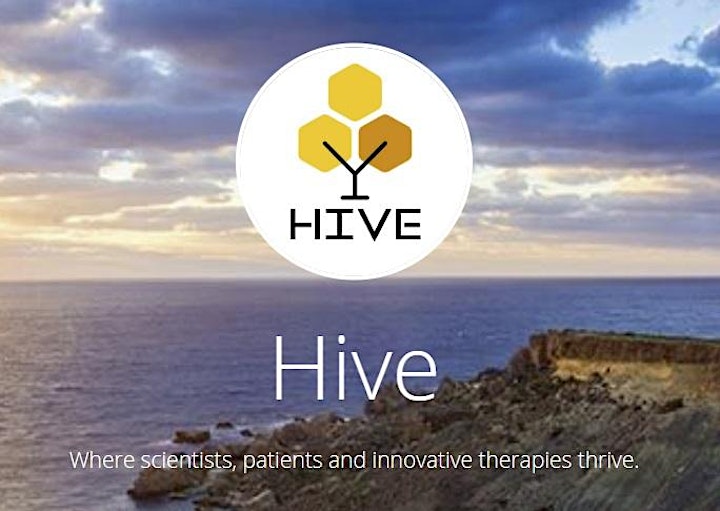 SPECIAL EVENTS
Exclusive Investor Briefings
For Premium ticket-holders, 1-on-1 meetings are a chance to meet active investors pursuing opportunities in the space. Pairing decades of venture capital expertise, our team will ensure pairings are relevant and useful.
Premium ticket holders can select one of the following categories to be paired with:
Researchers
Psychedelics Companies
Investors
TCF will choose the pairing and leave the two parties to schedule the call at the end of the conference. All speakers and sponsors will agree to participate in 1-on-1s by virtue of their involvement.
PAST EVENTS
We have held several Investment Summits across Europe, including London, Malta and Luxembourg. We have hosted 300+ investors and international cannabis and psychedelics companies. Investors including UHNWIs, Family Offices, and VCs with a combined AUM of €15bn+ attended our events to meet founders and source investment opportunities.
TICKETS
All tickets are offered on a first-come first-served basis.
If you are an accredited member of the press, please contact us.
BECOME A SPONSOR
Sponsors present and showcase their companies to our diverse network of investors, including UHNWIs, Family Offices, VCs, PEs and other Funds.
Selected sponsors have the unique opportunity to gain access to our full digital marketing and PR suite, placing their brand in front of 110,000+ customers, decision-makers and influencers.
Leading sponsors will also have the opportunity to personally connect with investors and multinational corporates through 1-on-1 investor briefings. Please email info@tcf.vc for further details.
Date and Time
Refund Policy
Contact the organiser to request a refund.
Eventbrite's fee is nonrefundable.