Want to find out more about genomics & health in Wales? Affected by a rare/genetic condition? Join us! All welcome.
About this event
Are you affected by a rare or genetic condition? Are you a member of the public interested in finding out more about genomics and health? Join us for a Virtual Genomics Café! This initiative is being run by Wales Gene Park in collaboration with Genomics Partnership Wales. March's café will feature relaxed talks from speakers including:
Eat to Fit Your Genes: Dr Maninder Ahluwalia (Cardiff Metropolitan University) discusses genetics & diet
The Rare Navigator Project & work of Same But Different: Dr Ali Kay
And more……
The Virtual Café will be a relaxed, informal opportunity to meet others and find out about new advances in the area of genomic medicine in Wales. It will also be a chance for people to come together, be supported by others in their communities and let us know how we can better support those affected by rare or genetic conditions. Further information: email walesgenepark@cardiff.ac.uk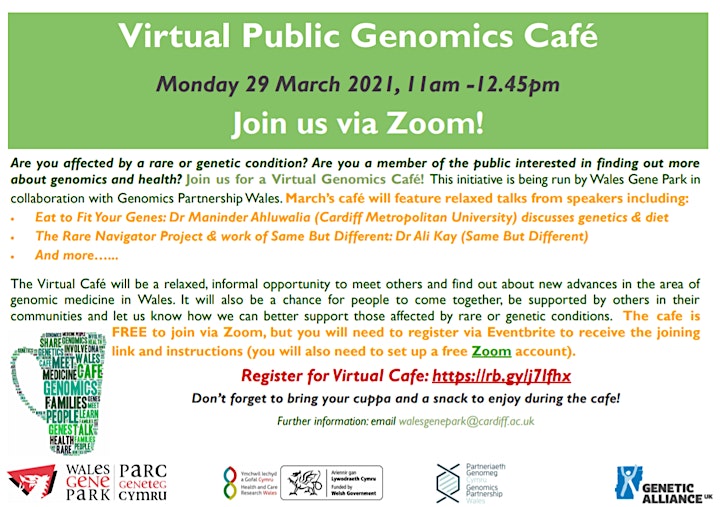 Organiser of Virtual Public Genomics Cafe
Our mission is to promote and facilitate Welsh medical genetic and genomic research and its application to improve heath and wealth in Wales. Also, to engage the public and health professionals to improve understanding of the opportunities and challenges arising through genetics and genomics.
We bring together expertise and experience in genetics within Wales, provide state-of-the-art technologies to researchers in Wales and provide innovative initiatives to educate and engage health professionals and the public in Wales and beyond.