Want to find out more about genomics & health in Wales? Affected by a rare/genetic condition? Join us. This café will focus on cancer.
About this event
November's café will focus on cancer, and will feature relaxed talks including:
How to train your virus Professor Alan Parker, Division of Cancer & Genetics, Cardiff University
New developments in cancer diagnostics: screening & detection Dr Samantha Cox, Velindre Cancer Centre
How can clinical genetics help people with a strong family history of cancer Dr Hector Conti, All Wales Medical Genomics Service
And more......
All welcome - FREE to attend. For further information: walesgenepark@cardiff.ac.uk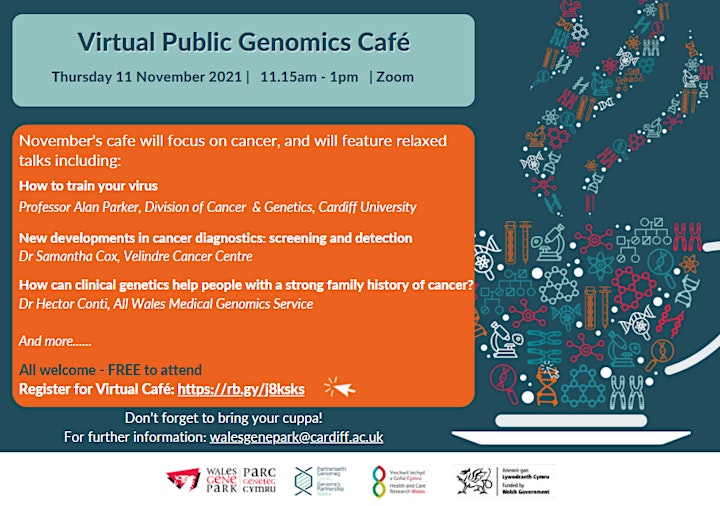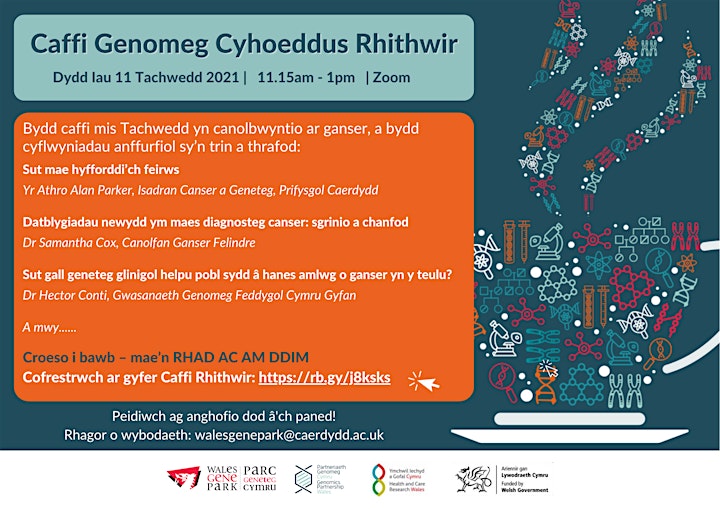 Organiser of Virtual Public Genomics Café
Our mission is to promote and facilitate Welsh medical genetic and genomic research and its application to improve heath and wealth in Wales. Also, to engage the public and health professionals to improve understanding of the opportunities and challenges arising through genetics and genomics.
We bring together expertise and experience in genetics within Wales, provide state-of-the-art technologies to researchers in Wales and provide innovative initiatives to educate and engage health professionals and the public in Wales and beyond.