Description
The VRARA Birmingham Chapter 2nd meet
Accelerate your growth, knowledge and connections in the filed of VR/AR & MR
Join the global industry association for Virtual Reality, Augmented Reality, and Mixed Reality, connecting leading solution providers with brands & customers.
The VR/AR Association (The VRARA) is an international organization designed to foster collaboration between innovative companies and people in the virtual reality and augmented reality ecosystem that accelerates growth, fosters research and education, helps develop industry standards, connects member organizations and promotes the services of member companies.
There are currently 3700 businesses registered as members and that number is growing weekly. In the UK the London Chapter has over 400 members and we are now launching the Birmingham Chapter.
With special thanks to the NatWest for their support in providing the venue and the refreshments for this event.
Join us and up to 70 other tech businesses & individuals at our 2nd meeting and learn more about VR, AR and the tech involved in this exploding industry. Our guest keynotes will be revealed shortly. Please contact us via info@atmosvr.co.uk if you'd like to be considered for our speakers list. A great opportunity to promote your business and work in VR/AR for 30 minutes.
For more information take a look at our Video
https://youtu.be/lhOBKkY_c7U?list=PLMWhC5-oADfxEM9Ep-AB7NUlpoN4Svqjk
PLEASE ONLY BOOK A TICKET IF YOU CAN MAKE IT, NATWEST ARE SUPPLYING TEA, COFFEE & PASTRIES
We look forward to seeing you on the 18th
Our first Guest Speaker - Harvey Ball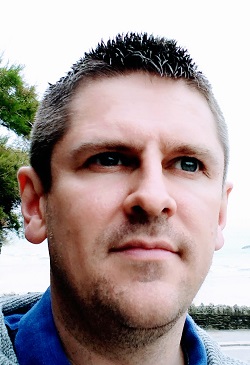 "VRTK - making VR development easier for all."
A discussion into VRTK (the virtual reality toolkit for Unity 3d) and how it can be used to help content creators put their ideas into VR. Showcase all of the features that VRTK offers developers, such as interaction options, locomotion options, presence options, anti cheat options and how they can be extended and customised for building new VR experiences.
Our 2nd speaker DR Ian Williams
Dr Ian Williams is an Associate Professor in Birmingham City University's DMT Lab (dmtlab.bcu.ac.uk). Ian's work specialises on methods for improving the quality of Mixed or Augmented Reality MR/AR, specifically focussing on the development of novel image processing techniques to measure user interaction and user response in MR/AR. Ian is also a specialist in medical image processing, segmentation and visualisation and works on improving the 2D and 3D segmentation of CT and MRI data. Ian recently developed and
presented the first IEEE workshop on measuring the perception of realism in Mixed and Augmented Reality ( http://dmtlab.bcu.ac.uk/ismar2015/) and is part of the S&T committee of the IEEE International Symposium on Mixed and Augmented Reality ( http://www.ismar2016.org/).
Dr Ian Williams, Associate Professor
DMT Lab http://
www.bcu.ac.uk/tee/research/digitaltechnology,
Birmingham City University
Faculty of Computing, Engineering and the Built Environment, Millennium Point, 1 Curzon Street
Birmingham, B4 7XG
+44 (0)121 331 5458 | ian.a.williams@bcu.ac.uk |
Presentation: Assessing freehand human grasping in mixed reality
Recent technological advances have led to as abundance of wearable devices suitable for interaction for Mixed and Augmented Reality (MR/AR). Even though natural interaction and human motion is independent of wearable devices, commonly MR/AR systems utilise wearable devices for aiding in the interaction between humans and virtual objects. While employing wearable devices is justifiable in many cases, often natural interaction grasping, independent of wearable devices, is desired. This is most common in performances whereby a first person may be interacting with the MR/AR system and a third person observing the interaction. Thus the application of wearable devices can affect the overall realism of the interaction.
This presentation will present work undertaken within the DMT Lab to explore the inherent problems associated with implementing natural grasping interactions in exocentric MS systems. It will address methods coming from a range of studies into bimanual interaction (two handed) and manual (single hand) interaction. The presentation will illustrate methods and standards for analysis and measurement and ruled for developing reliable natural interactions.