Virtual Reality vs. Commercial Reality
About this Event
We are excited to launch the first event of the backstage innovation centre's seminar series, virtual reality vs commercial reality, on the Thursday 5th November from 2pm to 6pm.
Our Seminar Series will feature regular events aimed at technology, content development, and market trends, showcasing profiles of leading businesses. We'll have a focus on live events but we are just as interested in other sectors where know-how learnt in 'live' can have a transformational impact.
The series is part of the Backstage Innovation Centre project which aims to drive research and innovation in the love events industry and its supply chain.
In this first event of the series, Virtual Reality vs. Commercial Reality, we will focus on immersive technology – looking in particular at XR/VR and AR.
Our aim is to give businesses who are just getting up to speed on these technologies more insight into what is possible and how companies across a range of sectors are using these technologies to generate real revenues.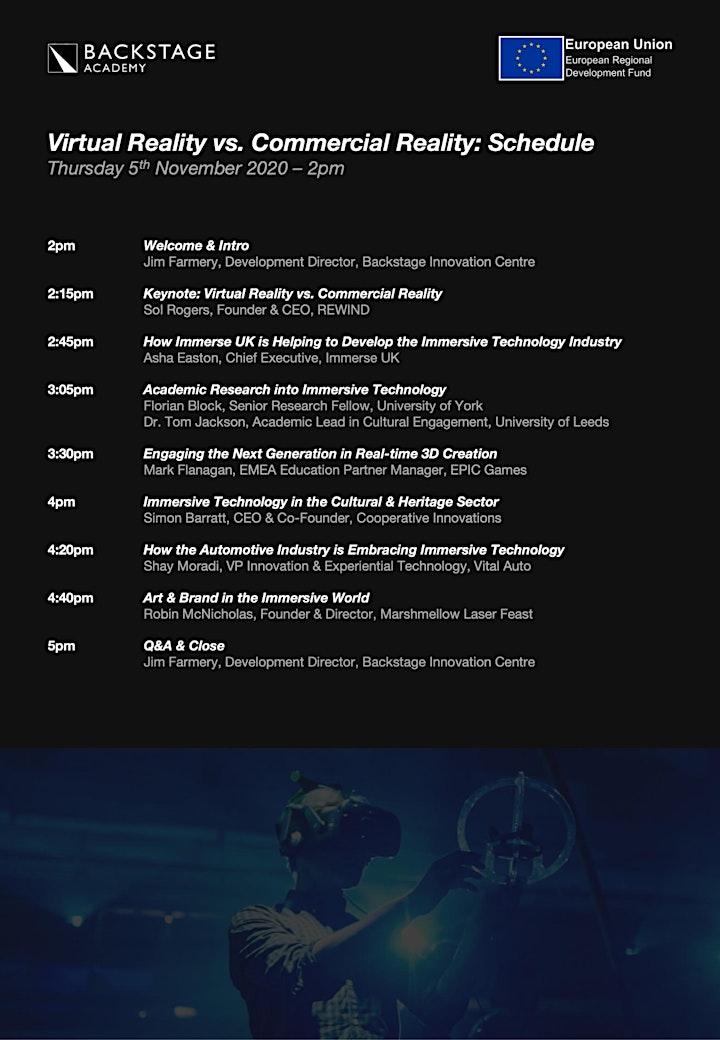 Who is the event for?
This seminar is for companies looking to broaden their knowledge of augmented and virtual reality technologies and how they can add value to their business offer.
It will showcase some real-life examples of how these are already being used and hear from studios and developers working on client solutions today.
Any questions?
If you have any questions about this event, please contact Jim Farmery, Development Director for the Backstage Innovation Centre, by phone on 01977 659880 or by email at jim.farmery@backstage-academy.co.uk.
Project Partners