VIRTUAL ROUNDTABLE: INSIGHTS INTO INDONESIA
About this Event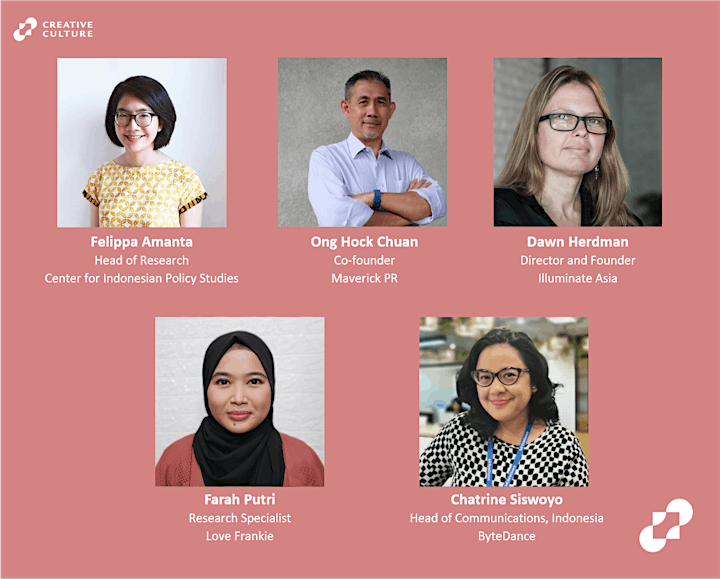 VIRTUAL ROUNDTABLE: INSIGHTS INTO INDONESIA
3 December 2020 at 8.30am GMT/ 3.30pm GMT+7
Following on from the very successful ten prior roundtables on Brazil, Russia, South Korea, Saudi Arabia, Mexico, Nigeria, Turkey, India, Poland and the US, organised in conjunction with the leading communications trade associations PRCA and ICCO, we will be focusing on the opportunities and challenges faced in marketing and comms when doing business in Indonesia, in partnership with . Our group of local experts in trade, media, and cultural matters will be sharing their in-depth insights with you!
We will be joined by Chatrine Siswoyo, a marketing communications professional with extensive brand experience, having worked across APAC and in the Indonesian market for multiple global brands, including Uber, Twitter, Philips and ByteDance. She will share key consumer trends and nuances international brands need to be aware of to be successful in this market.
Felippa Amanta will join us as Head of Research at the Center for Indonesian Policy Studies. As an experienced food and agriculture policy researcher, she will be giving an economic overview of the nation and focusing on the sustainability scope, a topic of huge importance currently affecting the sentiment and behaviours of locals. 
We are delighted to have Ong Hock Chuan joining us as the co-founder of Maverick, one of the biggest independent PR consultancies in Jakarta. Ong will be sharing his media communications expertise with us, exploring the best communication channels to target and reach out to Indonesian consumers.
Farah Putri, Communications Research Specialist at Love Frankie, will join us as a cultural expert with a commercial product/UX research background and extensive experience into the Indonesian market. She will share the particularities surrounding the Indonesian local consumer for companies, to avoid the common mistake of over-simplifying South East Asia as one.
Dawn Herdman is the Director and Founder of Illuminate Asia, a strategic insights consultancy focusing on South East Asia, with Indonesia at the heart of its operations. Through more than two decades of consumer insights experience, Dawn will focus on how Indonesia differs from other SE Asian countries and give her perspective as an expat on any inaccurate preconceived notions that brands should be aware of when entering this market.
When you register, please do not hesitate to answer the question on the form that will help us better understand what you expect to hear from the session. We will begin with introductions from our experts and then invite you to share your thoughts and questions through a moderator.