VIRTUAL ROUNDTABLE: INSIGHTS INTO THE UAE
About this event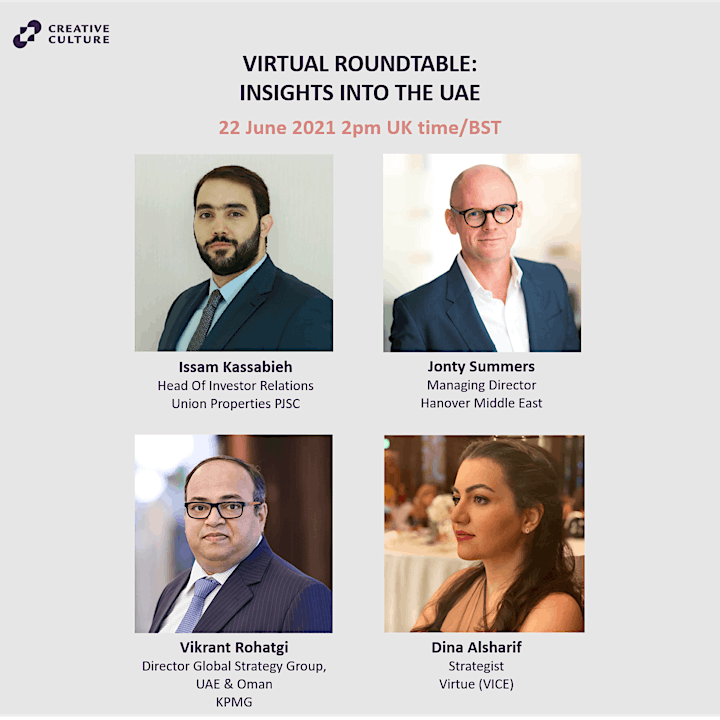 VIRTUAL ROUNDTABLE: INSIGHTS INTO THE UAE
22 June 2021 at 2pm UK time-BST/ 5pm GST-GMT+4
Following on from our successful roundtables, which covered countries such as Brazil, Russia, Saudi Arabia, Nigeria and India, organised in conjunction with the leading communications trade associations PRCA and ICCO, we will be focusing on the opportunities and challenges faced in marketing and comms when doing business in the UAE. Our group of local experts in trade, media, and cultural matters will be sharing their in-depth insights with you!
When you register, please do not hesitate to answer the question on the form that will help us better understand what you expect to hear from the session. We will begin with introductions from our experts and then invite you to share your thoughts and questions through a moderator.
Our experts:
Issam Kassabieh will join us as Head Of Investor Relations for a UAE Real Estate Firm. With extensive experience as a financial analyst and an external consultant across industries, Issam will provide an economic overview of the UAE, touching upon the unique demographics that make up this market and the key opportunities these present for international brands.
Jonty Summers is the Managing Director at Hanover Communications (Middle East). As a former journalist with almost 25 years of experience, he has been based in the UAE since 2009 and established Hanover's Middle East office in 2017. He will share his media communications expertise, exploring the mass media landscape of the nation and the best channels to reach UAE consumers.
Vikrant Rohatgi is the Head of the Global Strategy Group practice at KPMG Lower Gulf. He has over 20 years of success leveraging a unique blend of strategy, M&A, and finance expertise to drive organizational effectiveness, value, and sustainability across markets. With a keen interest in consumer retail and F&B sectors, he will focus on consumer behaviour in the UAE, presenting key consumer trends and particularities of the market.
Dina Alsharif is a Strategist at Virtue, the agency born from VICE. Having previously worked in global advertising agencies in the UAE such as Havas, Wunderman Thompson and Leo Burnett, she has gathered great expertise on the world of communications and marketing. She will be sharing some consumer trends, as well as best practice to develop successful marketing strategies in the UAE.

Organiser of Virtual roundtable: Insights into the United Arab Emirates
Make culture work for you.
Apply cross-cultural insights to your business strategy and creativity for real competitive advantage.
Culture is made by people for people. It's about ideas, customs and behaviours. Culture is constantly evolving, and it does so in real time, everywhere. We draw upon the expertise of over 2,800 in-market specialists in over 120 countries to unearth cultural differences and insights, and turn them into opportunity.
Discover how we understand and apply cultural differences, drive relevance, optimise delivery and enhance local engagement with your customers and within your organisation.
We believe in human intelligence, diversity and inclusion. By people for people.
Proud to be women-owned, we are WEConnect certified.
Some of our clients:
Accor Hôtels, Cointreau, Devialet, Hager, Hyatt, L'Oréal Luxe, Maserati, Orange, Planon, Rémy Martin, Sanofi, Sony, Ubisoft, Urban Decay.
www.creativecultureint.com