Brighton and Hove's 2022 Summer Education Conference - online webinar
About this event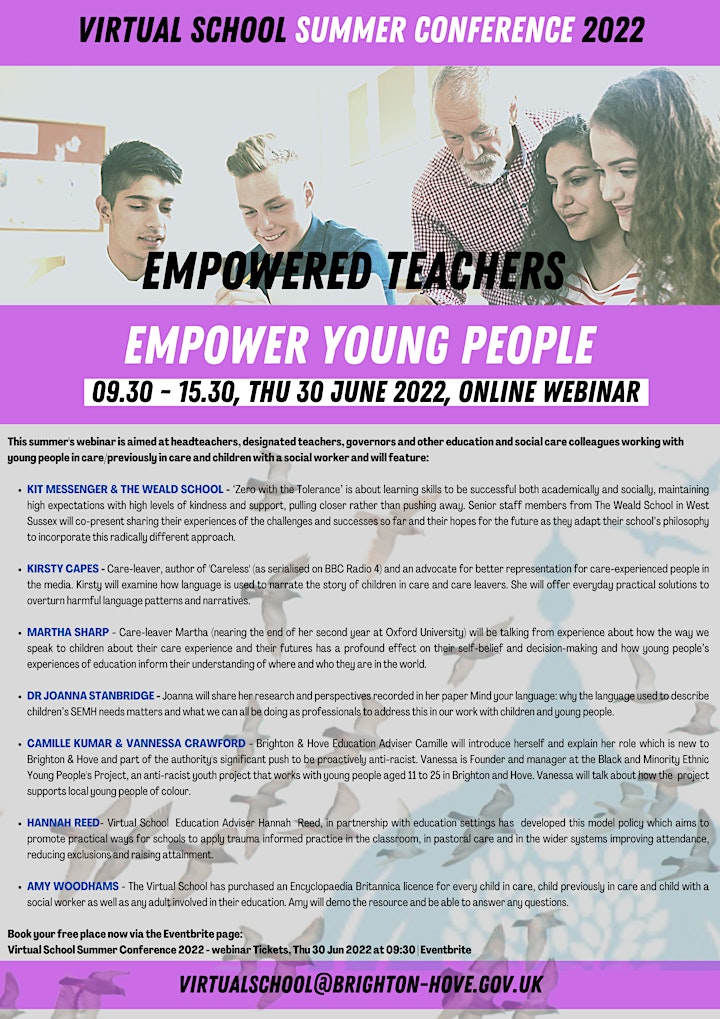 Brighton & Hove Virtual School Conference 2022
Kit Messenger, keynote speaker - 'Zero with the Tolerance'
Kit, Co-Director of Changing Chances, Associate Tutor at Sussex Uni and former headteacher with 25 years of working with young people. Kit will use this opportunity to argue how high expectations can be maintained without punitive approaches or any compromise on standards. 'Zero with the Tolerance' is about learning skills to be successful both academically and socially, maintaining high expectations with high levels of kindness and support, pulling closer rather than pushing away. It is Restorative Justice in that it is much more because it aims to get to the core of unmet need and missing skills through the systematic and consistent use of coaching. Senior staff members from The Weald School in West Sussex will co-present sharing their experiences of the challenges and successes so far and their hopes for the future as they adapt their school's philosophy to incorporate this radically different approach.
There are now many leading voices in the world of education calling for a revolution in how we support children who struggle in school. The exclusion to prison pipeline has been long recognised; however, it is increasingly clear that the issues begin far earlier for children: exclusion is simply the end of a (in most cases long) history of things going wrong for a child.
At the core of 'things going wrong' is often the school-wide use of traditional reward and sanction-led approaches; the use of which can spark the beginnings of fractured relationships, worsening emotional well-being for the child and a spiraling of challenging behaviour; all whilst failing to identify and support the child in relation to the factors underlying their difficulties which led to the behaviour in the first place. In many schools, whilst high quality and comprehensive pastoral support systems work endlessly to help a child feel and do better, a succession of lessons in which 'behaviour points' are doled out and detentions dispensed can rapidly undo all of that good work.
There now appears a polarising of viewpoints, with those taking a therapeutic stance at one end of the spectrum and the 'zero tolerance' movement at the other. One of the key criticisms of those calling for a move away from punitive-led strategies is that it will lead to a fall in standards; in fact, a zero tolerance approach is now, in some quarters, not only pitched as the best route to achieving high standards but almost regarded as synonymous with them, partly as a result of figures such as Katherine Birbalsingh praised for maintaining "high standards" in what has been described as 'Britain's strictest school'.
So, the question is, can we marry high expectations whilst ridding ourselves of punitive approaches? And if so, what is the best journey to achieving this?
During this presentation, it will be argued that standards do not have to be sacrificed in the journey away from sanction-led procedures and an alternative approach will be outlined which keeps expectations high without the accompanying damage that sanction-led approaches can bring. A zero with tolerance, in which there is an insistence that children will learn the skills they need to be successful academically and socially; a persistence in helping them get there and a consistence in follow-up which is high in expectations yet equally high in kindness and support. Pulling children and young people closer, rather than pushing them away.
In recent years, those advocating a move away from sanction-led approaches have often centred upon restorative justice techniques as an alternative. But are restorative justice techniques enough? It will be argued that although a restorative element to any approach is vital, for children to make ongoing and sustainable progress, we need also to get to the core and address the unmet needs and missing skills at play when children struggle through the systematic and consistent use of coaching.
During the presentation, colleagues from The Weald School which is currently implementing this approach will describe their journey so far: why they have taken this path and its highs, its lows, its challenges and its successes.
Kirsty Capes – 'Language, labels and love in the care-experienced narrative'
Care-leaver and author of 'Careless' (as serialised on BBC Radio 4) is an advocate for better representation for care-experienced people in the media. Using her own journey and records, academic research and examples in fiction, literature and news media, Kirsty will examine how language is used to story looked-after children and care leavers. Language often reinforces negative stereotypes about care experienced young people and it is essential to recognise this, critically examine it and work to disrupt it through practice. She will offer everyday practical solutions to overturn harmful language patterns and narratives.
Martha Sharp – 'Bright But Troubled'
Care-leaver Martha (nearing the end of her second year at Oxford University) will be talking from experience about how the way we speak to children about their care experience and their futures has a profound effect on their self-belief and decision-making and how young people's experiences of education inform their understanding of where and who they are in the world.
Dr Joanna Stanbridge
Dr Joanna Stanbridge is a Senior Educational Psychologist working at Cambridgeshire County Council. Prior to becoming an educational psychologist, Joanna was a class teacher and previously worked in academic research. Joanna's work is characterised by her emphasis on developing systemic approaches and using social justice values to support access to education and participation for children and young people with additional needs. She is looking forward to sharing her research and perspectives on why the language that is used to describe SEMH needs matters and thinking together about what we can all be doing as professionals to address this in our work with children and young people. The link to the paper can be viewed below:
Mind your language: why the language used to describe children's SEMH needs matters: International Journal of Inclusive Education: Vol 26, No 3 (tandfonline.com)
Camille Kumar
Brighton & Hove Education Adviser - Anti-Racism, Early Years, Schools and Colleges. Camille will introduce herself and explain her role which is new to Brighton & Hove and part of the authority's significant push to be proactively anti-racist.
Vanessa Crawford
Founder and manager at the Black and Minority Ethnic Young People's Project, an anti-racist youth project that works with young people aged 11 to 25 in Brighton and Hove. Vanessa is a qualified youth and community worker and will talk about how the youth project supports local young people of colour.
Hannah Reed - draft model children in care policy
Developed in partnership with education settings this model policy aims to promote practical ways for schools to apply trauma informed practice in the classroom, in pastoral care and in the wider systems improving attendance, reducing exclusions and raising attainment.
Amy Woodhams - Encyclopaedia Britannica
The Virtual School has purchased an Encyclopaedia Britannica licence for every child in care, child previously in care and child with a social worker as well as any adult involved in their education. This is a really exciting resource that is linked to the national curriculum at every key stage; it is interactive and uses many strategies to support a range of reading levels. Britannica can be accessed online from any device, meaning that young people are given educational support wherever they are learning from. Amy will demo the resource and be able to answer any questions you may have.