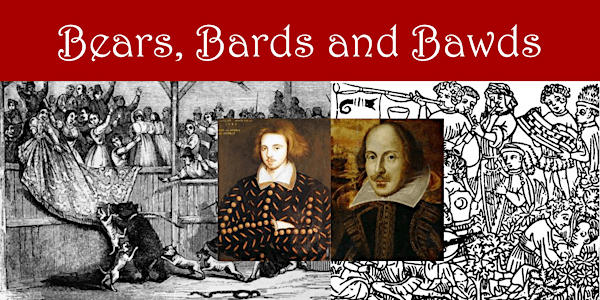 Virtual Tour - Adventures in Shakespeare's Bankside: Bears, Bards and Bawds
Refund policy
Refunds up to 1 day before event
Join me to hear the stories of the birth of modern theatre in the "Viper's nest of vagabonds and thieves" that was Elizabethan Bankside.
About this event
Modern theatre was born indirectly out of Henry VIII's split with Rome in 1534, but it was in Elizabethan London when its popularity really exploded.
Fearing the "miracle" or "mystery" plays that had held sway under the Catholic church might give a voice to religious sedition, Elizabeth I banned all religious plays early in her reign.
This opened the way for the modern, secular drama we recognise today. Stories of life, love, death, hopes, dreams, high morals, low cunning and people getting stabbed in the back (literally and metaphorically!).
Elizabeth I loved them and the London public flocked to these new plays. But The City of London Corporation hated them.
The early theatre entrepreneurs set up shop just outside the eastern boundary of The City, but eventually most gravitated towards The Liberty of The Clink on Bankside.
A viper's nest of vagabonds and thieves", according to The City fathers, but this was where London's first "theatre district" was born, among the brothels, bear baiting pits, taverns and gambling dens.
And this was where Shakespeare honed his amazing storytelling craft entertaining audiences of raucous drunks.
Join my virtual stroll along Shakespeare's Bankside for stories of Elizabethan London's soft underbelly and to discover the extent to which the playing conditions of the day influenced his storytelling style. I'll even introduce you to the "Penny Stinkards"!
This is a live virtual tour hosted via Zoom video conferencing where your guide will give an illustrated presentation of the tour route with an accompanying talk. There will be opportunities for questions and interaction both during and after the virtual tour.
Comments from tripadvisor reviews of this virtual tour some of my guests were kind enough to post:
"I joined my very first Virtual Tour. Adventures in Shakespeare's Bankside with Mark Rowland. How amazing to sit in my house in the far north of Scotland and be transported to Bankside in London, not just in 2020, but back to Shakespeare's London too. Mark brought a new dimension to my enjoyment of Shakespeare's plays. Brilliant"
"This virtual walk via Zoom was terrific. Interesting talk from Mark, great maps and illustrations, humour, and lots about Shakespearean theatre. A smashing way to spend an hour."
"Absolutely brilliant virtual tour. Really interesting! Good to get a different understanding of Shakespeare's works in the context of the Tudor times, location and Shakespeare's audience. Brilliant and funny too! All from the comfort of my armchair and a little glass of wine in my hand. Bliss."
"...brought Shakespearean London vividly to life. The smells and squalor of Bankside both literal and metaphorical almost jumped out of our PC!"