See the West End's best Christmas lights whilst hearing about the history of Christmas food and traditions on this virtual tour
About this event
Join City of Westminster Guide Joanna Moncrieff on a virtual tour of the best Christmas lights and shop decorations of 2021 and the last few years whilst finding out about the UK's Christmas food and traditions along the way. We will follow a mapped route so you can visit yourself when you're able to do so.
The tour starts in Marylebone and will virtually meander along the back streets of the West End, through Mayfair, St James's and into Soho. The tour includes hidden passages, superbly decorated posh shops and lots of historical snippets along the way. As with many of Joanna's real life walks there is a food/drink theme plus Christmas traditions and decorations throughout!
Draw up a chair, pour yourself something warming with a mince pie on the side and join Joanna for a Christmas tour with a difference.
This tour is aimed at those who are unable to visit London this Christmas 2021 for whatever reason whether Londoners or from further afield. Scroll down below the image for lots of great comments received since launching this virtual tour last year.
This is a live virtual tour hosted via Zoom video conferencing where your guide will give an illustrated presentation of the tour route with an accompanying talk. There will be opportunities for questions and interaction both during and after the virtual tour.
This virtual tour is also being offered as a guided walk. Dates for both versions can be found on the following link. All walks and virtual tours are available to private groups on dates to suit. https://www.eventbrite.co.uk/o/joanna-moncrieff-footprints-of-london-6750753789
Some of the wonderful comments received during Christmas 2020:
"I really enjoyed this tour. So enjoyable travelling around the city in the lockdown., because one can see all the details. ..."
"Really enjoyed it Joanna"
"Thank you so much. This is such a great way to see the lights when I can't get there!!"
"Thank you very much, Joanna, very enjoyable. Have a happy Christmas!"
"Thank you Joanna. Very interesting talk, especially as I can't visit London anymore".
"… That was a great and very well researched tour, much enjoyed!!"
"That was brilliant Joanna - wish we could go on a real tour with you."
"… absolutely great, thank you. it's been wonderful to see places that we simply cannot see this year . fingers crossed for 2021"
"Brilliant, thank you. These talks are one of the few benefits of the last few months for those of us unable to come to London."
"That was SO interesting, thank you so much. I look forward to joining you for real, hopefully next year. I learned a lot of things tonight."
"Such a pleasure, Jo! Thank you so much for the wonderful tour."
"Thanks so much! That was Terrific"
"Joanna, we did this tour in person with you last year on Dec 24, enjoyed it then and even more today since we are stuck in northern New England USA. Followed along with our pictures from last year's walk. Thank you, always good!!"
"That was very well done thanks Jo 😊 👍"
"Thanks, Jo. Very interesting! x"
"Great job! Enjoyed it immensely"
"Thanks Joanna - that was great virtually as well as the walking tour .Lovely photos"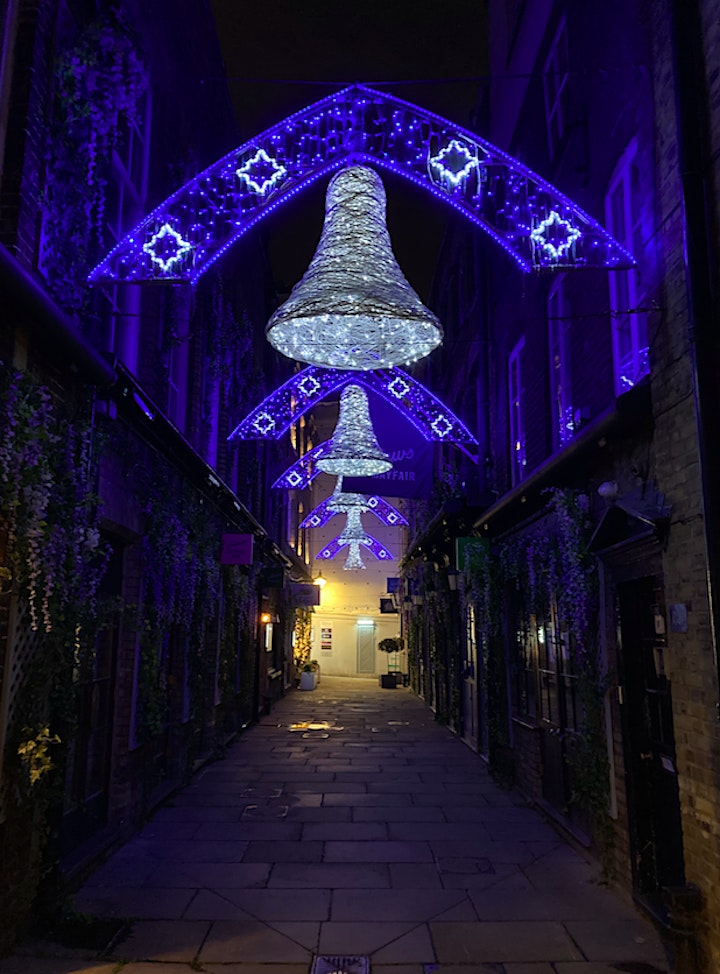 Organiser of Virtual Tour - Foodie Themed Christmas Lights
I'm a Londoner born and bred and a London obsessive! My entertaining walks will take you off the beaten track along alleyways and lesser known streets away from the crowds to explore the 'real' London. 
I have an extensive knowledge of good pubs, bars and cafes and your walk could include a stop along the way!
Read what clients think of my walks here
IMPORTANT: Attendance on any walk can only be guaranteed through pre-booking.  If you cannot pre-book here but wish to attend, you are welcome to do so, but you must please give me prior notice using the "contact the organiser" facility below (please remember to provide a phone number) and I will confirm arrangements by return. Please only make the journey to a meeting point if you have received a confirmation from me.
Follow me on Twitter 
Like my Facebook page
Follow me on Instagram