Virtual Tour – From Monoux and Morris to Beer and Bacon Jam
Event Information
Refund policy
Contact the organiser to request a refund.
Eventbrite's fee is nonrefundable.
Explore Walthamstow's fascinating history on a route between William Morris's childhood home and the historic village area
About this event
Photos (c) Joanna Moncrieff. St Mary's Churchyard and Orford House.
There's so much more to Walthamstow than just its famous mile-long Market. Its history is not what you might think either but the grand tombs in St Mary's Churchyard offer a bit of a clue.
We start our virtual tour at the teenage home of William Morris which was later home to plagiarist and publisher Edward Lloyd who brought to us the tale of Sweeney Todd.
Using maps and images Joanna will lead you along the streets of Walthamstow including a set of mews built by a local butcher/property developer, the Greek style theatre hidden within a school and a remnant from Robert Smirke's General Post Office.
We will virtually visit the real and original Walthamstow Village with its Ancient House, almshouses, workhouse and church and hear how Lord Mayor of London George Monoux was a great benefactor to the area.
The tour virtually finishes in 21st century Walthamstow in an industrial park with a difference.
This is a live virtual tour hosted via Zoom video conferencing where your guide will give an illustrated presentation of the tour route with an accompanying talk. There will be opportunities for questions and interaction both during and after the virtual tour.
Some of the lovely reviews received after doing this virtual tour in March 2021:
"Superb tour." "Amazing!! as usual, great talk thank you" "Excellent talk and tour. Thank you" "Thank you very much Joanna! Enjoyed it very much." "Thank you, that was fascinating and really informative." "Thank you - always wonderful to go on these 'virtual walks' 🙂" "Really enjoyed it. Thank you." "Thanks Joanna, didn't think I would learn much new but I sure did. Great Talk!" "Thank you so much! Really enjoyed it and learnt a lot. Fascinating." "Great tour Jo. Thanks!" "Many thanks for the talk, it was excellent! Much obliged!" "Thanks we really enjoyed it."
Here are some reviews of the real life version of this tour:
Jean & Dave H (August 2019) "We thoroughly enjoyed your vast knowledge of the area and your fantastic way of making us feel as if we had know you a long time. Hope to join you again on one of your walks."
Debbie C (March 2019): "This was a fantastic walk with lots of interesting facts. We don't live far from Walthamstow but certainly learnt more about the area than we would have thought. Looking forward to Joanna's walk in Chingford."
Cathy B (Art Night) (February 2019) "We arranged a private tour with Joanna around Walthamstow to learn more about the area where we're currently working and will arrange an art festival this Summer. We learned loads of really interesting and unexpected facts and details within the 2 hour walk. Joanna also recommended pubs and good reads about Walthamstow, as well as sending us links to further information - a truly great walking tour!"
Traveller2London (June 2018) "Such an interesting walk. I was born and bred in Walthamstow, but Joanna still showed me things that I didn't know about - in particular the cobbled street, and the information about the man that Lloyd Park was named after! She showed a passion for the area and this was catching! Thank you Joanna!"
Sally C (June 2018) "I knew nothing about Walthamstow apart from the William Morris gallery. ... Joanna's tour was informative and fun - a bit of history, anecdote, and lots of information about what's happening in Walthamstow now. Very friendly and relaxed. I will be looking out for more of joanna's tours!"
Joanna also offers virtual tours of Chingford and elsewhere. Upcoming dates for all Joanna's tours can be found on the following link. https://www.eventbrite.co.uk/o/joanna-moncrieff-footprints-of-london-6750753789
All walks can be offered as private tours and depending on current restrictions both as virtual and real life tours. Please get in touch via the contact button for more information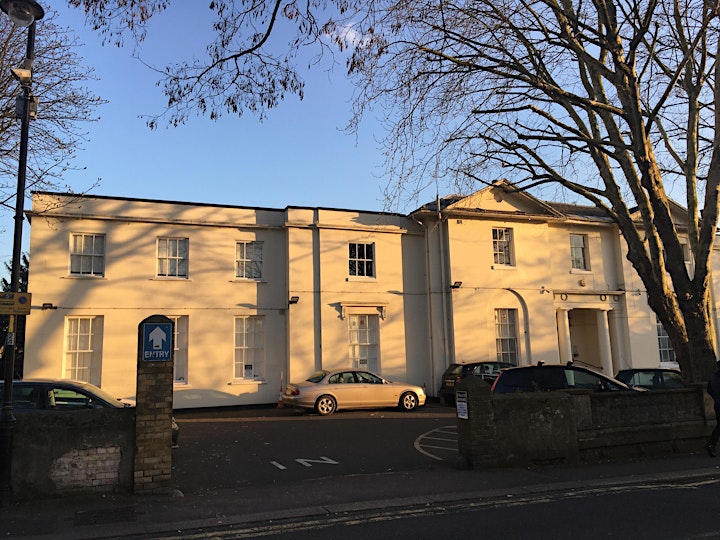 Date and time
Location
Refund policy
Contact the organiser to request a refund.
Eventbrite's fee is nonrefundable.