Virtual Tour - St Paul's to Westminster: Walking London's ancient byway
Event Information
Refund policy
Refunds up to 1 day before event
Join me along the modern-day version of one of London's most ancient byways to hear the fascinating stories it has to tell.
About this event
St Paul's Cathedral and Westminster Abbey are two of London's most iconic landmarks. For nearly a thousand years, people have beaten the same path from one to another, making the route between them as rich in history as the buildings themselves.
Our modern-day route will take us along Ludgate Hill, Fleet Street, Strand, Whitehall and Parliament Street, and while the names may have changed, the route is the same as when it was first traversed all those years ago.
Join me for a virtual stroll along one of London's most ancient thoroughfares to hear the stories it tells of politics and palaces, rebellion and retributions, justice and the law, grand architectural schemes, and the first steps towards standardising the English language and communicating it to the masses.
This is a live virtual tour hosted via Zoom video conferencing where your guide will give an illustrated presentation of the tour route with an accompanying talk. There will be opportunities for questions and interaction both during and after the virtual tour.
Comments from tripadvisor reviews that guests have been kind enough to post:
"This virtual tour was full of informative and fascinating facts about an area of London I thought I knew well as I had worked at one of the locations. Nevertheless, Mark Rowlands' narrative contained information I'd not heard before. He gave an unusual take on hidden corners of the City and Westminster and next time I'm able to visit in person, I will certainly revisit them. I'm looking forward to taking more of Mark Rowlands' virtual tours until such time when I'm able to travel to London again."
"Mark is a great, knowledgeable tour guide. I've previously attended one of his virtual tours and thoroughly enjoyed both. He uses maps, pictures and stories that make the talk very interesting. Would recommend. Next time I travel to London, will look up one of Mark's in-person tours."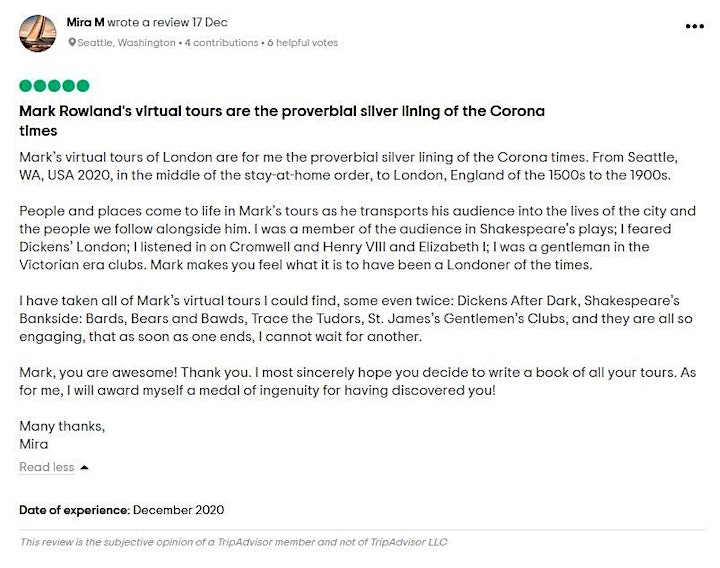 Date and time
Location
Refund policy
Refunds up to 1 day before event