Virtually-The BEST New Year's Eve Ever - Magic, Comedy, Bingo, Music & More
Virtually - The BEST New Year's Eve Ever!
About this event
Virtually, the BEST New Year's Eve ever!
Fed up of 2020 and can't wait to wave good bye to it??? We feel the same!
We have a jam packed evening in store for you this New Year's Eve with our virtual NYE celebration! Not another zoom call but a real bespoke banqueting and event software that allows you to sit at a table of 2, 5, 7 guests (breakout rooms) and only speak with those at your table - but see an empty seat anywhere in the room? Simply double click, and you will be in a new "table" speaking to new people and making new friends.
Book a single ticket or meet online with friends and book a table of 2, 4, 5, 6 or 7 guests and enjoy the interactive show with friends from the comfort of your own home: STAYING IN is this year's GOING OUT.
Tickets start from just £13.00
OUR SHOWS WILL INCLUDE - DOORS OPEN AT 9PM UNTIL 12.30AM
The West-end musical duo 'The Drinking Hat' who will be entertaining us with songs from through the decades and sing along classics.
We have musical and numbered bingo with real life prizes to be won on the night, all played on a virtual bingo card on your phone or tablet. Don't worry, you do not need to be techy to join this event - it's easy peasy!
The ultimate fun house scavenger hunt, where all the family can get involved!
Test your knowledge with our super Quizzmas Quiz - and like any other competition, we have fabulous prizes for you to be won!
Neil Edwards will entertain us with online magic on the main stage and also will come direct to your tables to teach you some magic tricks.
See what 2021 has in store for you by getting your palms read by Amelie Appleby our amazing Fun Fortune Teller!
Be prepared to be entertained this is a fully interactive experience and guests will be asked to take part and come up on stage :-)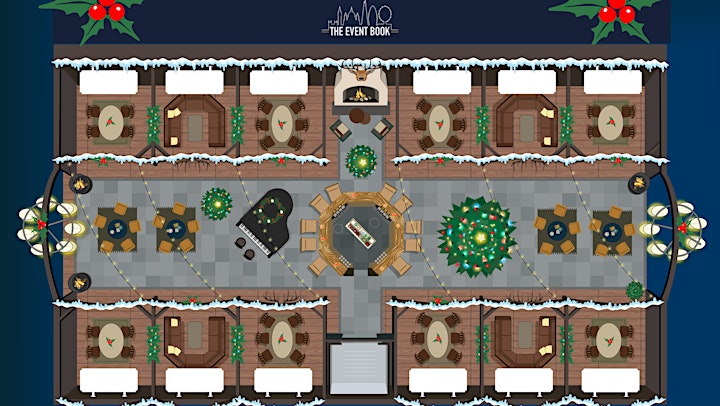 9pm - 12.30pm Live Interactive Show for adults
This show is suitable for older children from 12 and above;
It will be hosted by our fabulous pair of compares Neil & Bingo Betty
There'll be magic involved, including learning a few magic tricks directly from our master Elegant Magician, Neil.
Super Fun and competitive Quizzmas Quiz on kahoots (you can play from your phone)
Musical and numbered bingo with fantastic real life prizes to be won!
Our West-end musical duo 'The Drinking Hat' will involve you in a sing along and festive karaoke! don't be shy and join them on stage!
Stay with us until the countdown at midnight and let be taken right into 2021!
Big Ben bong and Virtual fireworks!
Limited to 250 guests per show so book your tickets now and take advantage of the early bird ticket rates !!