Visconte Cocozza - Mounted Clinics - Riding your horse's inner dancer
Description
Following the excellent feedback after the July lecture and clinics, Equiforum is delighted to welcome Visconte Simon Cocozza back to Somerset

on 28, 29 and 30 October by popular request to lead an evening discussion on Equine Bio-Mechanics and Core Strengthening and to run clinics at two levels.
"If we want our horses to dance we must train the whole body, as we do a human athlete's by making weak areas strong. What was difficult then becomes easy, beautiful and sustainable" [Visconte Simon Cocozza]
Participants in the clinics will be taught simple techniques to activate their horse's core muscles, including how to use specific Yoga, Dance and Athletic exercises to supple and strengthen their horse's deepest muscles, which will enable the horse to move better, perform more willingly and help avoid injury.
The first four 'Yoga' exercises are similar to pianist's scales. The horse must practice them until they are fluid, easy and intuitive. For new participants we will introduce these important movements to your horses in the Stage One Clinics and Simon will show how to integrate them effectively into your warm up programme.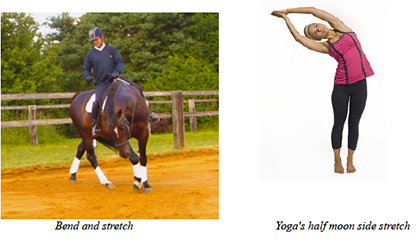 For existing clients who have been practicing for 3 months, we are holding Stage Two Clinics in which we will refine existing technique and, for those who have achieved sufficient core flexibility, will introduce more advanced exercises from the Core Strengthening Programme.
July clinic testimonials
'I just wanted to say a massive and heartfelt thank you for the weekend…whilst intense, the whole hour was amazing and to come away and look at the photos, you can see his frame physically change as the hour goes on! I rode tonight just for 35 minutes and from the second we started it was like riding a different horse! Onwards and upwards. I will of course keep you posted on our progress. Should you come for another clinic in October, I will be there with a hopefully much changed horse!'
'Thank you so much for having me and Garston at the clinic yesterday! It was really exciting to make so much progress in one session. I will keep up the work. I'm a definite to bring three horses in October please! Many, many thank you's. Everyone was so friendly yesterday and positive!'
'Thank you so much for organising the clinic and lecture with Simon. Jack and I thoroughly enjoyed the lesson and have been putting the lesson into practice. It has made our sessions so enjoyable and progress is good. I've been riding Dana, the Fell pony, with the same exercises and the results are astounding. His enthusiasm and knowledge makes it a privilege to be in such company!'
'Both my mother and I came to the Simon Cocozza clinic at the end of July. It was great and have really noticed a difference with the horses. Please can you put us down for the October date'
On both days, Saturday 29 and Sunday 30 October, Simon will hold clinics catering for groups of up to four riders at Stage One and Stage Two, with the option for participants to sign up for one day or two. Some overnight stabling is available at Hill House Farm - details on request.
[NB for new clients especially, we warmly encourage you to join us for the 'Releasing your horse's inner dancer' lecture and discussion at Rode Village Hall, BA11 6PB on Friday 28 October. Attendance is FREE to those signed up to attend a clinic]
For more information about Visconte Simon Cocozza visit: www.viscontecocozza.com
For lecture and clinic details please conctact Veronica Lee: veronica@equiforum.co.uk / 07545 773 156
https://www.facebook.com/Equiforum-210902102638751/