Event Information
Refund policy
Contact the organiser to request a refund.
Eventbrite's fee is nonrefundable.
Join us for an action-based workshop to help align you with what you'd like to feature in 2022, with Katie Ford and Claire Grigson.
About this event
Are you ready to make 2022 a year for you?
Are you sick of setting new year's resolutions and being amongst the 81% of people that they don't work out for? (And then the internal criticism of how did this happen again? You're just lacking so much discipline. *groan*).
Perhaps you're bombarded with ideas and pressures of what you should do and achieve this year. Maybe a certificate or new veterinary qualification? Perhaps a pay rise? A new job? Starting a business? Writing articles? They might all seem like nice ideas, but does something feel missing?
We've got you.
If you're ready to be excited about the year ahead, with a new focus that puts you and your values at the core, this event is for you, and there's a reason that you're reading this.
You can do anything, but you can't do everything, and we're here to help you to reconnect with you. Out with living to the external expectations, and in with having a year in alignment with fulfilment and authenticity.
We have created this workshop for you. We're here to connect this veterinary professional back with a year that means something to them.
Want to know what's included?
Time and space for you to realign with yourself.
Powerful values exercises that help you get clear on what you want.
A clarity building future-self meditation, to dive past our busy minds.
Tools and techniques that you can take in 2022 and beyond, so that you see future visioning and goal setting differently.
Strategy planning, as well as mindset so that you can make the moves that might seem scary.
Tactics to address worries and limiting beliefs around progression.
Accountability to show up for yourself - we have included TWO more BONUS check-in dates so that you come along and share your wins, seek support from likeminded changemakers and surround yourself with others that want the same.
PLUS a free workbook to guide you through the whole process.
We aren't going to give you the answers, you already have them - we're just here to guide you.
We're both vets and coaches; Claire is also a meditation teacher, and Katie has undertaken extra training in journal coaching too. We have nearly 25years of combined experience in the veterinary profession - reaching many goals along the way from CertAVPs to starting businesses hitting income thresholds, keynote speaking, diversifying... but none of these as powerful as what we will teach you in this session.
So, if you're looking for positive change in 2022, come along and be a part of something with us.
Action takers, clear your diary on January 8th from 10am-12:30pm (GMT) - invest in yourself. you won't regret it.
FAQs
Is this just for vets?
Absolutely not. This is for the whole team. Katie and Claire coach vets, vet nurses, receptionists, ANAs and practice managers. We are humans with veterinary job titles, in fact, this is for anyone.
Will this be recorded?
The session with be recorded and accessible for 30days post event.
Will I be asked to speak?
We won't ask you to unmute and speak, especially if you don't want to. We will be asking for interaction in the chat box, but there will be chance to add things anonymously too. We want you to be comfortable in this session.
When are the check in sessions?
We will announce the dates on the call, but they will be 4 weeks and 12 weeks later. These are included in the investment, so this is phenomenal value. We want you to succeed. These sessions will be 30minutes long, and enable you to stay accountable to yourself and your intentions.
When will I get the workbook?
This will be emailed out closer to the date, but will also be available to download on the day too. We will provide a print friendly copy, an editable version and a full version - save the trees where you can.
I've already completed Vet Empowered, will this still be relevant?
Abso-flippin-lutely. This exact process is what Claire and Katie perform themselves, and they wanted to share it with you.
What format will the workshop take?
Katie and Claire will deliver content, and give prompts and time for you to reflect on these yourself, with powerful questions, meditations and tasks. There will be interactive components via the chat box. You don't even have to switch on your cameras - come in your PJs if you want! There will even be some giveaways.
Will this workshop be accessible?
We have enabled auto-generated closed captions on Zoom as we believe that accessibility is important for this event. As a platform, we know the quality of this transcription is ever improving and is not perfect, but please know that we are trying our best.
What is Vet Empowered?
Vet Empowered is a personal growth organisation, dedicated to helping vet team members to reconnect with their authentic selves, raise self-awareness and live a life aligned with their core values. Founded by vets and certified coaches, Katie Ford and Claire Grigson, the signature 12-week group coaching programme was launched in December 2020. You can read more at: www.vetempowered.com.
I have questions not on this list!
Drop us a DM at @vetempowered on Insta, and we'll get right back to you.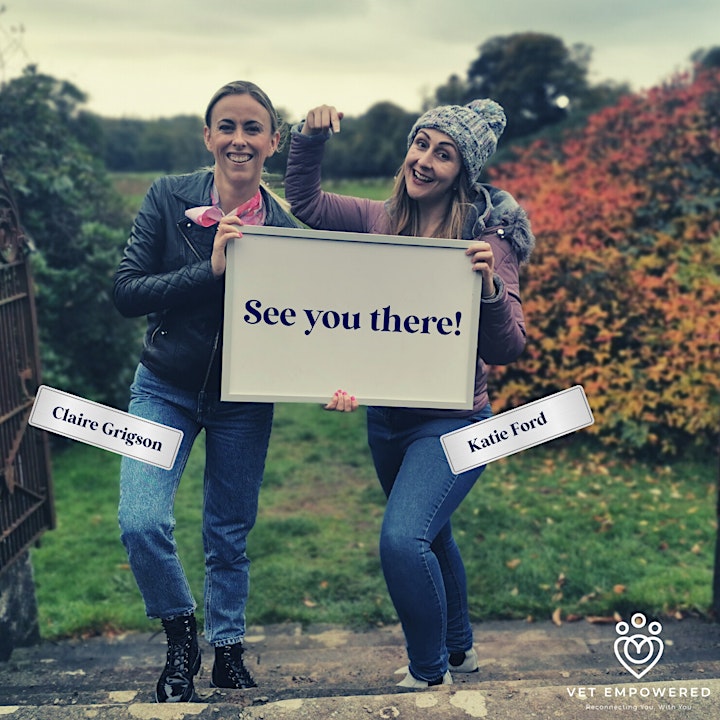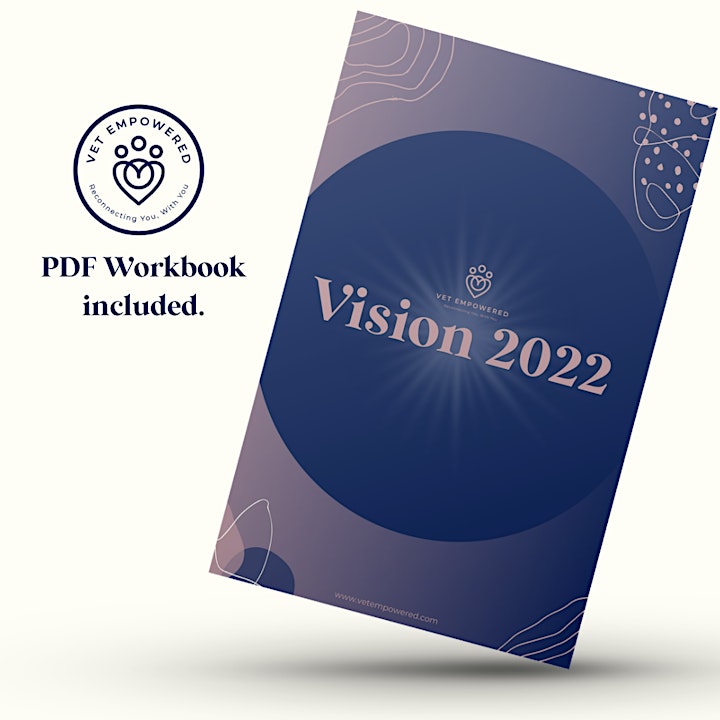 Date and time
Location
Refund policy
Contact the organiser to request a refund.
Eventbrite's fee is nonrefundable.
Organiser of Vision 2022: Vet Empowered Workshop