Learn how goal setting and vision boards can help you create a compelling future.
About this event
Most people go through life day by day, not taking the time to realise their goals, dreams, and aspirations. One day they find themselves asking "Is this it?"
Join Avnish and Anita on 16th January 2022, and dedicate one day to reflect not only on how your 2022 could be different to previous years, but how you can make those changes happen and realise your true potential. This workshop is suitable for ages 8+ and together with your family you can design a life that is more fulfilling.
What will the workshop involve?
Avnish and Anita will take you through the process of looking at your life and your hopes, dreams and desires, and how to align them to create the life you really want though setting clear and actionable goals .
The second part of the session will give you the opportunity to work on creating your own vision board – a creative and interactive process which allows you to visualise your goals on paper, with pictorial representations and key words that will continue to motivate and inspire you long after the day is over.
How does the day work?
Prior to the workshop will be sent a list of recommended materials so that you create your own vision board.
You will also be sent a zoom link and from the comfort of your own home, you'll have unique access to the workshop that will start at 10am sharp to guide you in preparation for setting your goals.
During the day you will have the chance to work on your own vision board with guidance and support from Avnish and Anita.
The workshop will end at 4pm, with an opportunity for you to share your vision board and goals on zoom.
What will I learn during the course of the day?
You will gain a clearer idea of what your goals are, why they must be achieved and ultimately how you would like your life to look, whether it's in your career, health, relationships, material possessions or other aspects of life. By realising and recognising your goals, you will begin to open your mind and unlock opportunities you may have previously ignored. The vision board creation will allow you to put all of this down on paper, as a visual representation that you can make your goals become reality.
Why should I join this workshop?
Over the last few years, these workshops have seen extraordinary results for attendees. Young people who came to us with educational goals have passed their 11+ and subsequently achieved coveted places in tops schools. Others have gained great GCSE and A Level results and gone on to secure places at world class universities such as Durham, LSE, Oxford and Cambridge. People have achieved the career promotions they set out to accomplish. Others have moved towards their health goals and changed their lifestyles by changing their diet and gaining the body shape they desire. Some have come and realised they are playing small with their business and financial goals, and have gained the enthusiasm, passion and energy to take their business to the next level. Couples have often used the day to create joint vision boards and align their goals to strengthen their relationship as well as their independent visions.
The success stories from vision boarding are endless, and yours could be next. Join and find out what this phenomenon is really all about, by registering for the workshop on Sunday 16th January 2022.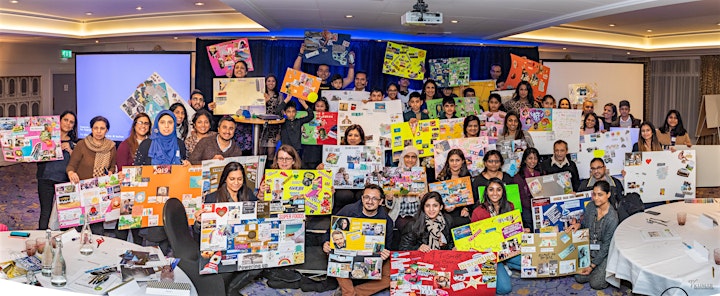 Organiser of Vision Board and Goal Setting Workshop 2022
The foundation has been created in memory of the father and grandfather of members of the founding team. Hemraj Goyal arrived in the UK from India fifty years ago with the vision of a better life for his family. This vision, as well as his hard work and determination, has inspired not only his children but his grandchildren, friends and extended family to have boundless ambition. The growth of the foundation has led to HGF being an established and recognised charity in the public field.