Description
Vision 2020: The Horizon Network will hold a Horizon 2020 International Energy Efficiency Event in London on 25-26 February, hosted by Cardiff University and Brunel University London.
Over the first day representatives of industry, academia and the public sector will discuss the priority areas of the 2018-19 Energy Work Programme.
The second day of the event will focus on the planned Energy Efficiency calls in 2017 to identify common areas of interest and support emerging collaborations.
Additionally to the Vision2020 event, Vision2020 members are invited to attend Brunel Institute of Energy Futures' Industry Engagement Day in the morning of 25th February, please see below for further information and separate registration.
---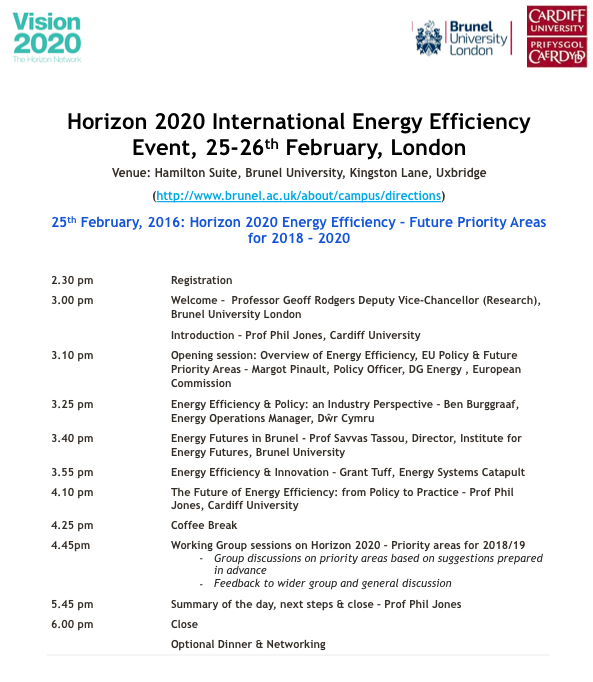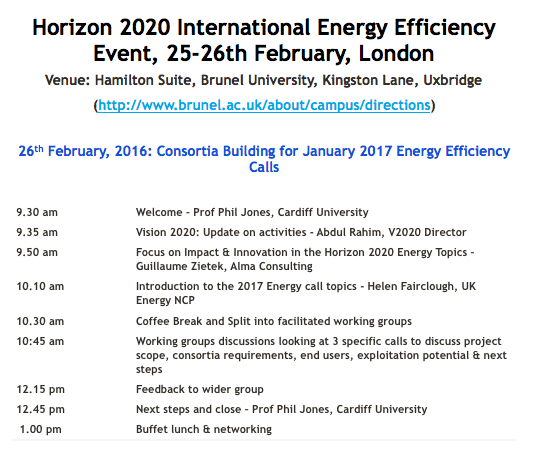 ---
Brunel Industry Engagement Day, 25th February 2016
In addition to the Vision 2020 Energy Efficiency event, Vision2020 members are invited to attend Brunel Industry Engagement Day on 25th February 2015. The event will start at 9:00am and finish in time for the Vision2020 event.
The event will have four parallel sessions and each session has a separate registration link, so do please go to the relevant link below for more information & to register:
- Advanced Powertrain and Fuels
- Energy Efficient and Sustainable Technologies
- Resources Efficient Future Cities
---
ADDITIONAL INFORMATION
Travel Information
Please see here for more information http://www.brunel.ac.uk/about/campus/directions/directions or email contact@2020visionnetwork.eu
Accommodation
Please see the link below for a search engine on hotels near Brunel University: http://www.booking.com/landmark/gb/brunel-university.en-gb.html
Or please ask Julia (contact@2020visionnetwork.eu) if you have any questions/need any further help with finding nearest hotel
Dinner
After Day 1 of the event, there will be an informal dinner for all delegates wishing to attend. Information on venue and menu choices will follow shortly. Please note that this will not be funded.
Further Information
If you have any questions at all, please email Julia on contact@2020visionnetwork.eu