Description
Vision2020 is delighted to be co-hosting an event along with the University of Malta. This event will be an opportunity to celebrate the launching of our new Maritime & Marine Helix led by the University of Malta as well as to focus on specific blue growth calls across the 2018-2020 Horizon 2020 Work Programme.
This two-day event will bring together academics, researchers and colleagues from business and industry specialised in sea-related topics in order to form new collaborations across the whole sector in readiness for the forthcoming 2019 Horizon 2020 calls.
This event is mainly, but not exclusively, intended for researchers and those from SMEs (Small and Medium-sized Enterprises).
It will be followed by The Science in the City - European Researchers' Night festival, which will notably include an ERC session. You may find more information here.
Should you have any questions about the event, please contact Vision2020 on events@crowdhelix.com
AGENDA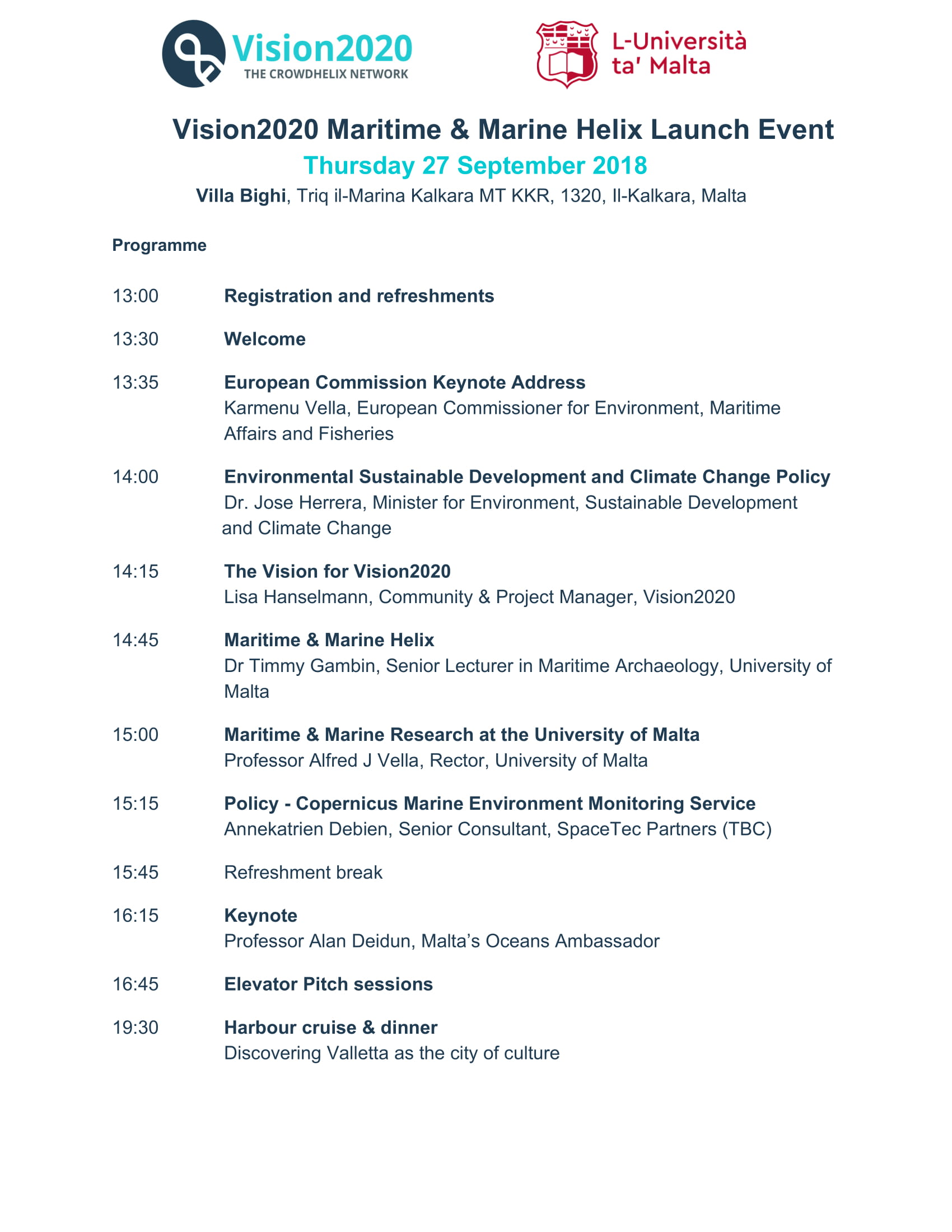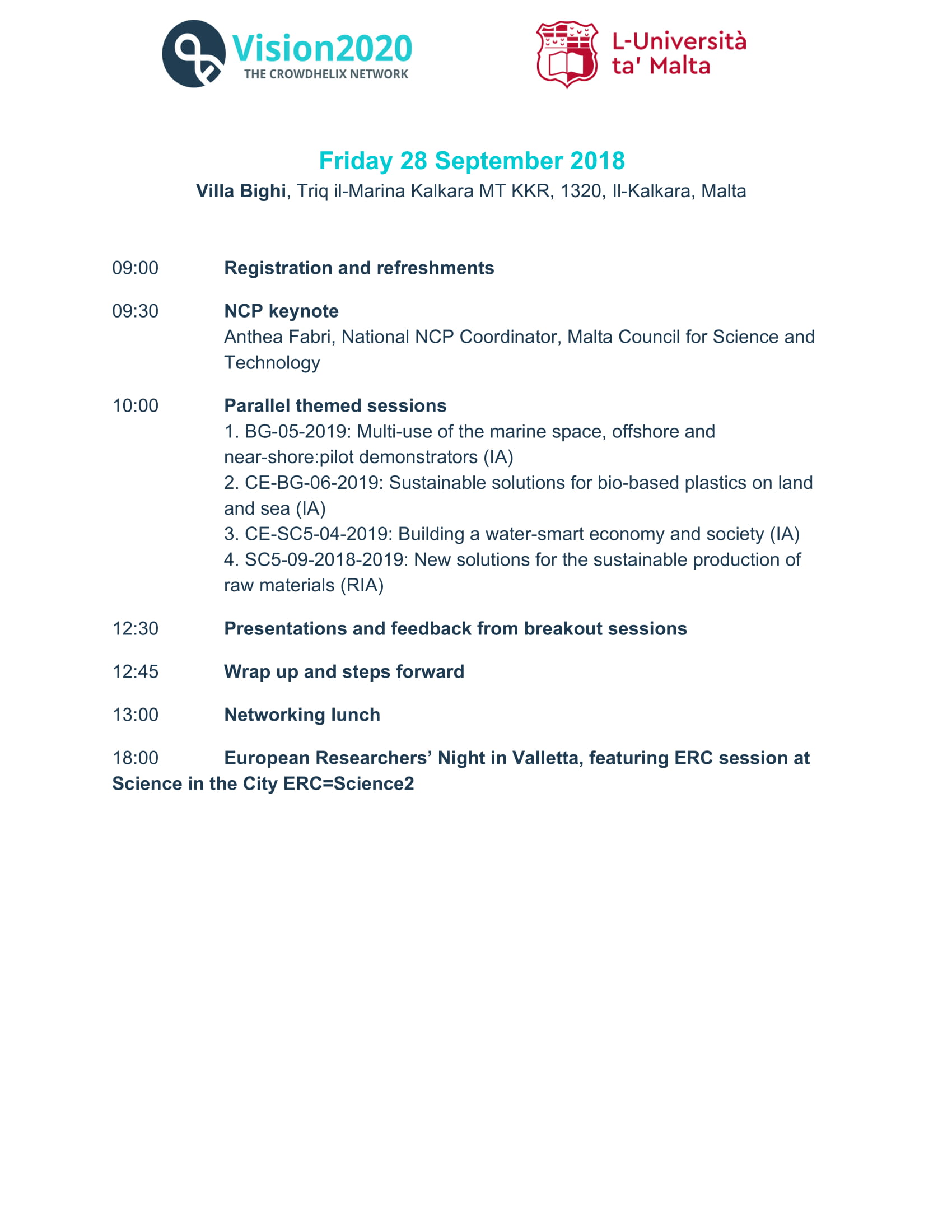 PRACTICAL INFORMATION
1. Transport
Malta International Airport - located only 8 kilometres away from Valletta centre - has regular connections to the main cities in Europe.
There is a bus stop directly opposite the Villa. You can take the number 3 bus from Valletta, or for a more scenic route the water taxi from Valletta waterfront to Bormla (Cospicua) is highly recommended. You can then either hop aboard the number 3 bus or enjoy a 20 minute walk to Villa Bighi. You may find a journey planner here as well as some information about the water taxi service.
There is roadside parking located from the square as well as most of the roadside of Triq Marinia. There is also a parking area on the corner of Fuq-il-Futini and Triq San Dwardu.
2. Hotel
We are happy to inform you that we have pre-booked rooms in certain hotels at a special price. Please note that availability is limited, and we therefore recommend to book as early as possible. Please see the booking deadline dates for each hotel:

- Number of rooms 7
- Costs €100
- To be booked by 15th August 2018
- Booking code "Vision2020 M&M helix"
- Contact info@villadelportomalta.com
- Number of rooms 8
- Costs €100
- To be booked by 15th August 2018
- Booking code "Vision2020 M&M helix"
- Contact info@villadelportomalta.com
Please note that this offer is only valid for direct booking through email.
3. Dinner
Dinner on Thursday, 27th will take place at King's own Restaurant, which is situated in a traditional Maltese band club. Dinner and drinks will cost €30, you may find the menu below :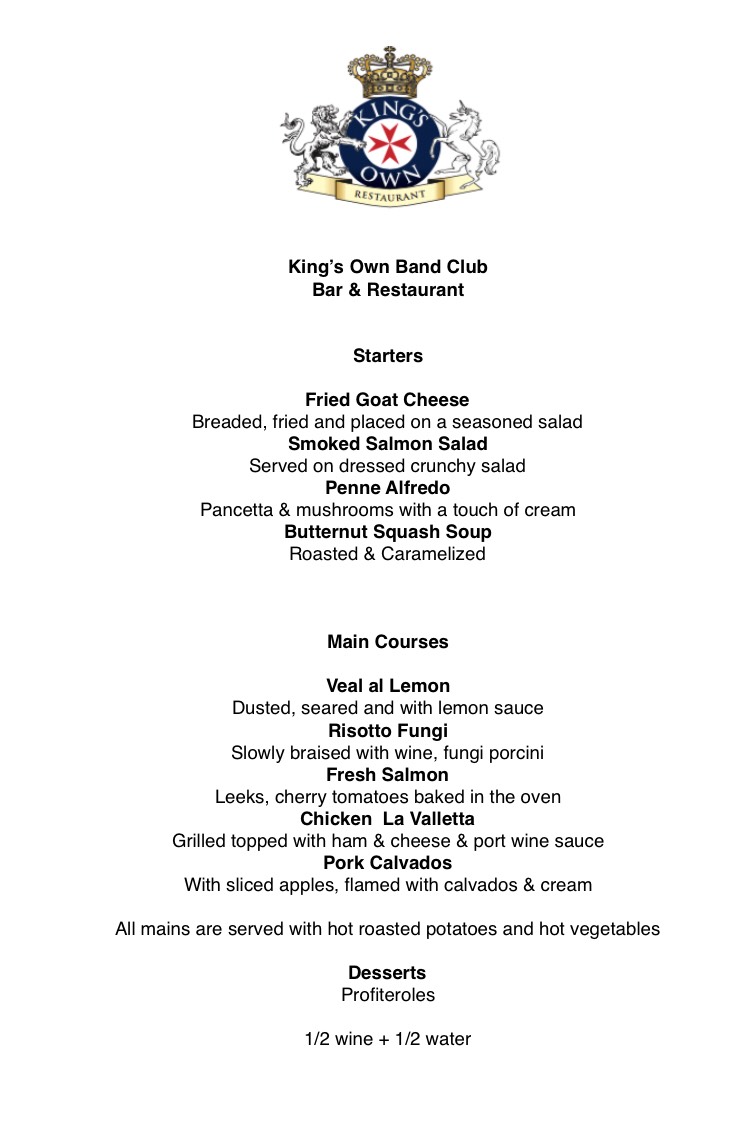 Please note that arrangements can be made for the attendees having dietary requirements, as long as they have been indicated in the registration form.

Prior to the dinner, you will have the opportunity to go on a harbour cruise to visit the European City of Culture 2018, Valletta. You may find more information here.