Description
Vision2020: The Horizon Network will hold a Horizon 2020 International Energy Event: Opening Energy Horizons: Getting ready for success in the new Horizon 2020 Work Programmes (2018 – 2020) on the 22nd and 23rd of May at the Wales House, Brussels, Belgium. The event is hosted by Cardiff University as lead of the Energy Helix, in collaboration with ERRIN Opening Science and Energy & Climate Change Working Groups.
The main purpose of this two-day event is to bring together academics, researchers and colleagues from business and industry working in the Energy field, to form new collaborations across the whole sector in readiness for the forthcoming Horizon 2020 Energy Work Programme (2018 – 2020).

Social Sciences and Humanities (SSH) feature prominently in the recently published Energy Scoping Paper (2018 – 2020), which states that "A better understanding of 'energy behaviour' of different actors, the effects of policy/economic interventions, and a deeper involvement of citizens are crucial for changing the energy system." With this in mind we are very keen to have representatives from the Social Sciences and Humanities communities in addition to representatives from the wider Energy sector.
Participants will have the opportunity to present their expertise and fit within the Energy scoping paper topics through power-point presentations.
To make this event as fruitful as possible, we would like to invite mainly, but not exclusively, researchers and those from SMEs (Small and Medium-sized Enterprises) to join us. Delegates will be invited to choose the group discussion they wish to follow on Day 2.
Please note that the venue has a capacity of 60 people, consequently the attendance will be first offered to Vision2020 members. Non Vision2020 members will be included in the waiting list and subject to availability.
Should you have any questions about the event, please contact Alexia on alexia@2020visionnetwork.eu
AGENDA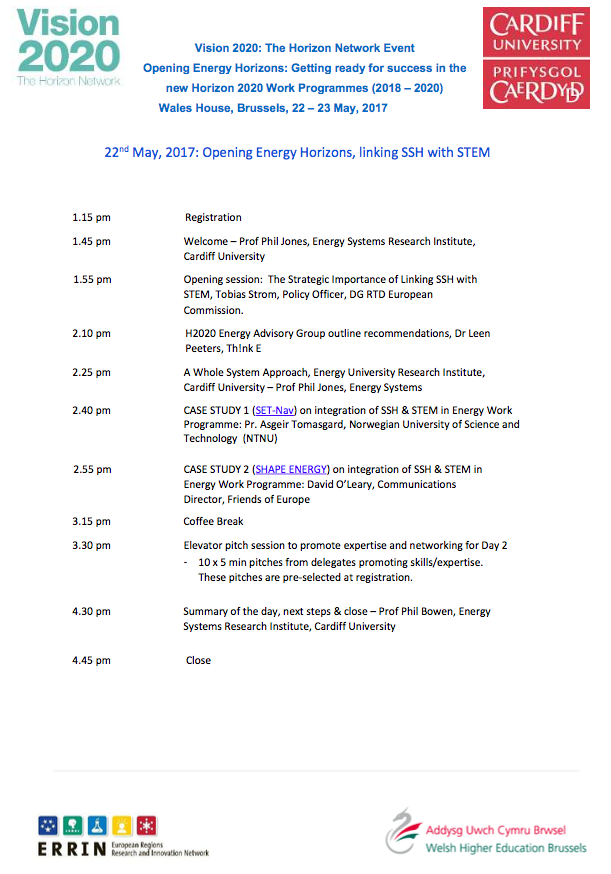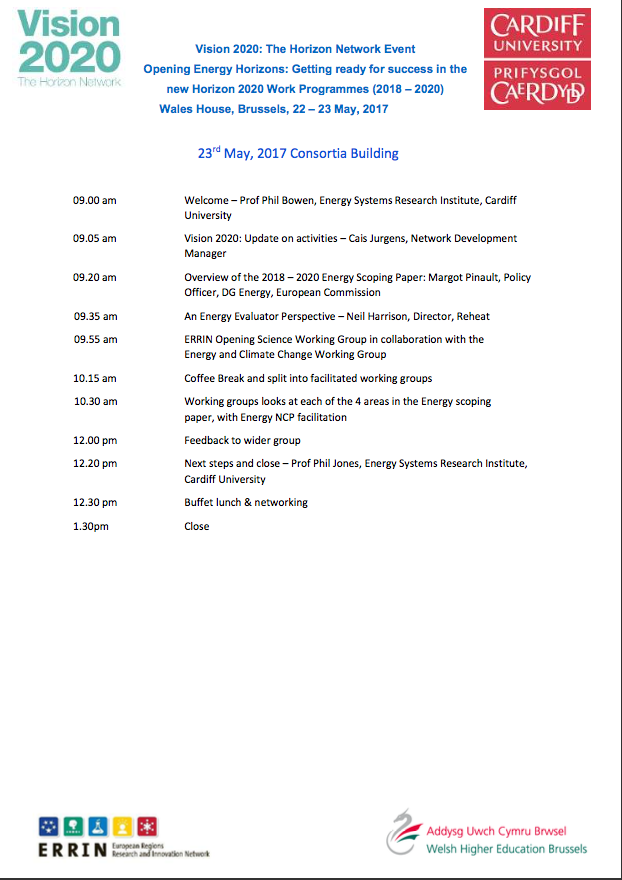 HOTEL INFORMATION:
The period around May 22-23 is very busy in Brussels but we are happy to let you know that we have pre-booked rooms in the below hotels at a special price until April 21st. Please note that after this date we cannot guarantee you room availabitily. To get the reservation code, please contact Alexia on alexia@2020visionnetwork.eu

Thon Hotel EU: 8 minutes walk away from the Wales House
From 128.00 € per Classic Double room. To book call or email Guillaume Pirson (guillaume.pirson@thonhotels.be).
NH Collection Brussels Centre: 12 minutes by tube from the Wales House. 50 rooms available until 22/04 (email alexia@2020visionnetwork.eu for booking form)
130.00 € per Superior Doublie room (single occupancy) including breakfast
Novotel: 19 minutes away by tube from the Wales House - 15 rooms prebooked until 10/04
119.00 € per room per night including Breakfast (single occupancy)
129.00 € per room per night including Breakfast (twin/double occupancy)
Bedford Hotel & Congress 18 minutes away by tube from the Wales House - 60 rooms prebooked until 15/04
85.00 € per room per night including Breakfast (single occupancy)
90.00 € per room per night including Breakfast (twin/double occupancy)
TRAVEL INFORMATION
Brussels airport is fairly close to the city center and the fastest travelling time is an 18 minute drive. However, as a busy European city, you should have a time reserve. From the airport to the center the options are:
1. Train (17.60 € return ticket)
The airport train station is located below the terminal (basement level-1). The ride to Brussels Central takes around 20 minutes. Normal metro tickets are not valid for travel on the airport line from Brussels Airport to Brussels City. Therefore you have to buy special tickets. The easiest is to book online.
2. Taxi (45 €)
Taxis with a taximeter are permanently available in front of the arrivals hall. The fare from the airport to the city centre of Brussels is normally around € 45. Licensed taxis can be recognized by the blue and yellow emblem. Travellers are advised to avoid unlicensed taxis.
3. Bus
The bus station is located on level 0 - one floor down from the arrivals hall - and can be easily reached by using the escalators or elevators. Centrally located at the bus station there are three platforms each with their specific use. For more information please visit this page.