Description
VIsion2020: The Horizon Network will hold a Security Helix Event in Milan on 14th-15th April 2016, hosted by Politecnico di Milano.
The event will focus on networking and collaboration for the forthcoming 2016 Secure Societies funding opportunities.
The event is open to non-members.
If you have any questions about the event, please email Lisa on lisa@2020visionnetwork.eu
Draft Programme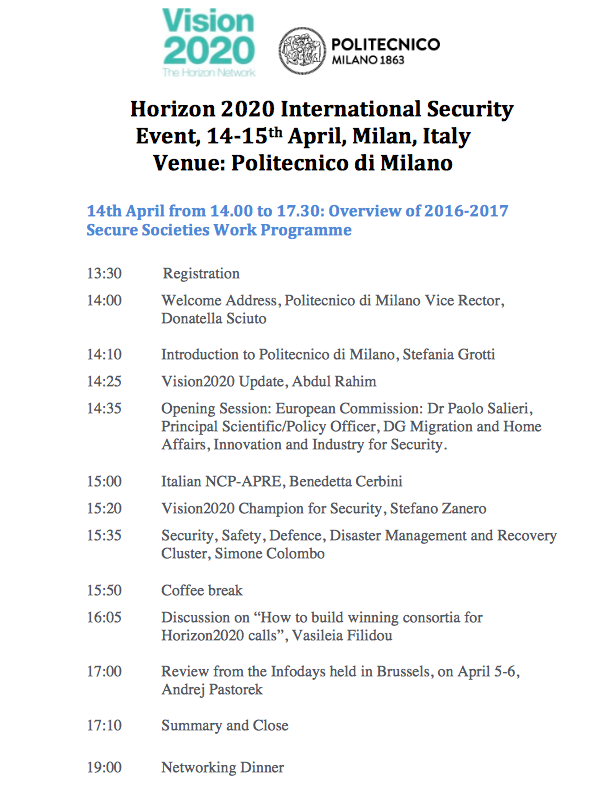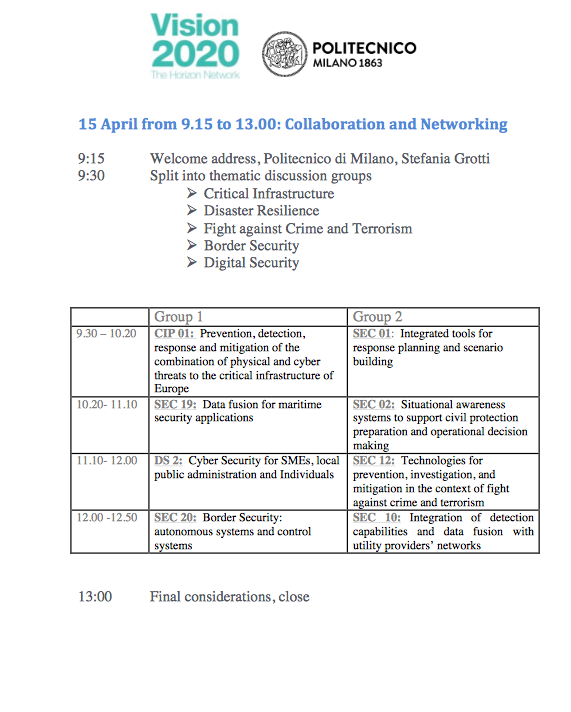 Travel Information
Practical Information: http://www.polimi.it/en/work-with-us/visiting-professors/how-to-arrive/
Politecnico di Milano is in the east zone of Milan, the nearest underground station is Piola (green line).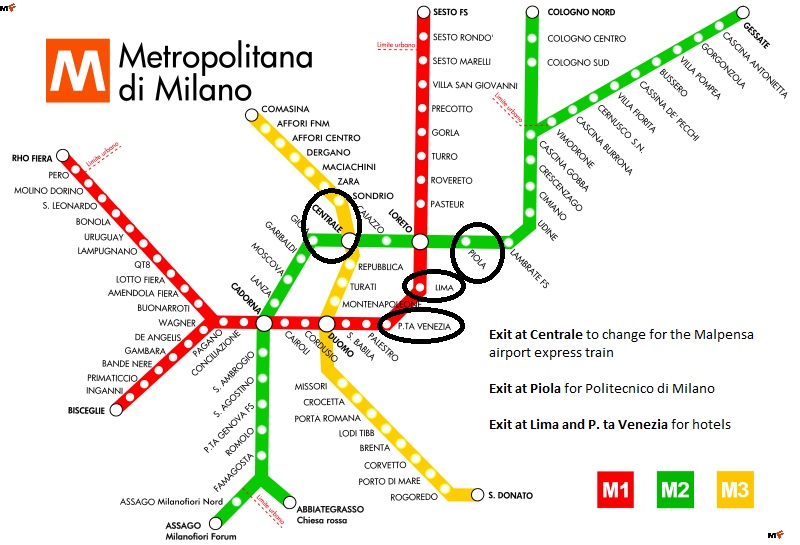 The best airport to fly to is Linate airport. Linate airport is very close to the venue, 10-minute taxi ride. For more information please go to http://www.milanolinate-airport.com/en

Transport from Milan-Malpensa airport: distance 55km, frequent trains and buses from Terminal 1 to Milan Central (Centrale underground station, yellow line, 3 stops away from Piola ). Malpensa Express train between Terminal 1 and Milano Centrale takes 43 minutes and there are 7 daily services. For more information please see here: http://www.milanomalpensa-airport.com/en/directions-and-parking/by-train.
Bergamo Airport: 50 km away
Hotels
The nearest hotels are located around Lima and P.ta Venezia stations (red line):
- Hotel Cristoforo Colombo: http://www.worldhotelcristoforocolombo.com/
- Starhotel Ritz: http://www.starhotels.com/
- Hotel Fenice: http://www.fenicemilanohotel-milan.com/
- Best Western Hotel City: http://www.hotelcitymilano.it/