Description
Visions of Patañjali as a Nāga, Siddha & Sage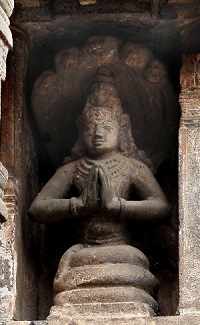 Patañjali was the name of an ancient Indian sage to whom important works on Sanskrit grammar, Yoga philosophy and the medical system of Āyurveda are ascribed. In recent decades increasing attention has focused on Patañjali as an authority on and figurehead of Yoga. Believed to be the author of a set of aphorisms on Yoga philosophy (the Yogasūtras), which has attained canonical status in many Yoga traditions, he is eulogized with invocations in Sanskrit recited at the beginning of Yoga classes. Dr Bühnemann's talk will discuss this multi-faceted legendary personage and explore the development of visual representations of the sage, and beliefs and concepts associated with him.
This event is part of our Yoga Studies Week, for the full listings for this event see our event page at www.soas.ac.uk/yoga-studies/events or go straight to centreofyogastudies.eventbrite.com to book.
Speaker
Gudrun Bühnemann is a professor in the Department of Asian Languages and Cultures of Asia at the University of Wisconsin-Madison, USA. She has published extensively on South Asian iconography and ritual. Her recent books include Śākyamuni's Return Journey to Lumbinī (lumbinīyātrā): A Study of a Popular Theme in Newar Buddhist Art and Literature (Lumbini International Research Institute, 2015) and The Iconography of Hindu Tantric Deities (First Indian edition, revised, as a single volume, Aditya Prakashan, 2016). Her work on Yoga includes Eighty-four Āsanas in Yoga: A Survey of Traditions (with Illustrations) (D.K. Printworld, 2007; 2nd edition, 2011) and "The Śāradātilakatantra on Yoga: A New Edition and Translation of Chapter 25" (Bulletin of the School of Oriental and African Studiesno. 74/2, 2011, pp. 205-235).
Organiser of Visions of Patañjali as a Nāga, Siddha & Sage with Gudrun Bühnemann
SOAS is leading the way in the new field of yoga studies, which is growing rapidly around the globe. We host the Hatha Yoga Project, a research initiative funded by the European Research Council, which will chart the history of physical yoga practices, and we are one of only four universities in the world to offer an MA in Yoga and Meditation. The Centre of Yoga Studies is a hub for scholars, students and all those interested in yoga and hosts lecture series, seminars and workshops in order to share our work, learn from that of others and develop new collaborations.
Sign up to our Facebook page to stay up to date with news and events.  We also have a YouTube channel with event recordings.