Event Information
Location
Longstock Park Water Gardens (John Lewis Partnership)
Longstock Park
Stockbridge
SO20 6EH
United Kingdom
Come and visit one of the great Water Gardens of the world.
About this event
LONGSTOCK PARK WATER GARDEN: 2 HOUR VISIT.
Recognised as one of the great Water Gardens of the world, The John Lewis Partnership now manages the garden in the spirit in which John Spedan Lewis intended.
Longstock Park Water Garden is a great place to visit whether you're a keen gardener, seasoned horticulturist or you're visiting Hampshire and want to explore this hidden gem.
Once a private garden for the founder of the John Lewis Partnership, it has been pristeenly maintained and hosts a world class selection of Horticulture. At Longstock Park you will also find a farm shop and café selling local and regional produce.
Tickets:
Adult and child tickets £10 per person.
Under 3 yrs go free (no ticket required).
Information about your visit:
You must book tickets in advance to visit - there will be no admissions without a ticket which must be shown at the gate and you will need 1 ticket for every person admitted. Please ensure there are enough tickets still available for the number of people you wish to book for.
Tickets are now available until the end of October and are available to purchase up to 30 minutes before opening (subject to availability).
These sessions are for a 2 hour visit only. The gardens will be open at the beginning of your session and close at the end of the 2 hours.
Current Government social distancing guidelines must be observed at all times, therefore no guided tours will be offered.
No refreshments are available in the gardens, and no picnics must be consumed in the gardens or car park. Our Farmshop Cafe is an ideal place to visit either before or after your visit - approximately 1 mile from the Gardens.
NO dogs are admitted to the gardens except for assistance dogs.
Coach parties are being accepted from the end of June (may change depending on Covid restrictions).
If you are a John Lewis Partner, please do not purchase a ticket to visit before the end of June. Please see PartnerChoice for more information and to book.
History of the Water Garden:
The East family started developing the site now known as Longstock Park Water Garden in the late 1800s. They extracted gravel from the area to make hard roads through the Estate, the resulting works then filled with groundwater from the nearby River Test creating a lake.
In the 1920s the Beddington family purchased Longstock House and its land, they were really keen gardeners and Reginald recognised the potential for a Water Garden. He asked a very famous nursery at the time, Perrys of Enfield, to create a small water garden, so they built streams in and out from the River Test and constructed the lovely thatched summer house which is still in the garden today.
The year 1947 saw John Spedan Lewis purchase Longstock House to add to his Leckford Estate. Founder of the John Lewis Partnership he was a successful businessman, but he had a real passion for natural sciences, particularly horticulture. The Water Garden turned into one of his great personal passions. It was expanded and plants were collected from all over the world as he further developed it until his death.
If you have any questions please contact watergardenenquiries@waitrose.co.uk
Opening hours:
Tuesday, Wednesday, Thursday, Saturday 10.00am - 12.00pm and 1.30pm - 3.30pm.
Sunday 11.00am to 1.00pm.
For more information about Leckford Estate and what else is on, please click here.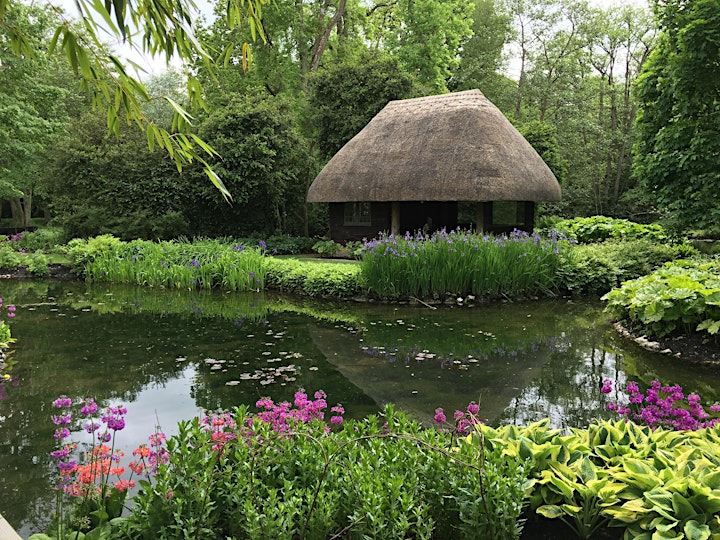 Location
Longstock Park Water Gardens (John Lewis Partnership)
Longstock Park
Stockbridge
SO20 6EH
United Kingdom