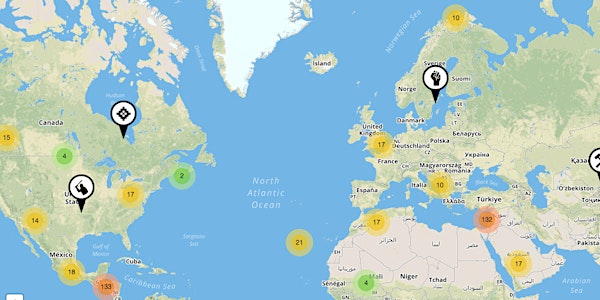 Visualizing for Justice - Creative, Critical and Contestational Mapping
Event Information
Location
The Bordy Theater at Emerson College
216 Tremont Street
Boston, 02116
United States
Description
A public event on data visualization and mapping for social justice in association with the American Association of Geographers subconference
The rise of Big Data, freedom of information and user-friendly software has contributed to the popularity of infographics, data visualizations and mapping for civic engagement and advocacy. This surge in data visualization brings with it opportunities for information re-use, increased transparency, and new forms of civic participation. Yet visualizing data for social justice also comes with its own set of challenges​. From issues of security and tracking down hard to find information, to the ethics of making infographics out of death and suffering, participatory practices of data visualization often take place on ambiguous ethical terrain.
SHOWCASE
Short presentations of recent data visualization and mapping work from critical cartographers, journalists, designers and social justice campaigners will be followed by audience discussion. Together we will explore what it means to visualize for justice today.
Anna Feigenbaum / Bournemouth University Civic Media Hub / Mapping Tear Gas
Kade Crockford & Paola Villarreal / ACLU of Massachusetts / War on Drugs
Andrea Parker, Brooke Foucault Wells & Farnaz Irannejad Bisafar​ / Visual Networks: Catalyzing Youth Activism
Tim Stallmann / Marian Cheek Jackson Center for Making & Saving History / The Northside Neighborhood Initiative
Mara Ferreri / Universitat Autònoma de Barcelona / Heygate Displacement
Alessandra Renzi / Northeastern University / Why Jakarta Floods
Lize Mogel / Counter-cartographer / Walking the Watershed
Catherine D'Ignazio / Emerson Engagment Lab / Boston Coastline Future Past
YOUR WORK HERE!
Want to feature your maps & visualizations? We will have a running slideshow of social justice maps & visualizations at the event. To include your work in our slideshow:
Send one image of your work to catherine_dignazio@emerson.edu and akshaya_sawant@emerson.edu.

Your image should be a high quality (at least 1200px width, 72 dpi) JPG or PNG file, formatted for 16:9 aspect ratio.

Your image should include a caption IN THE IMAGE ITSELF that explains the project and links to your website or contact info.
*Event image from Voz
Date and time
Location
The Bordy Theater at Emerson College
216 Tremont Street
Boston, 02116
United States