Description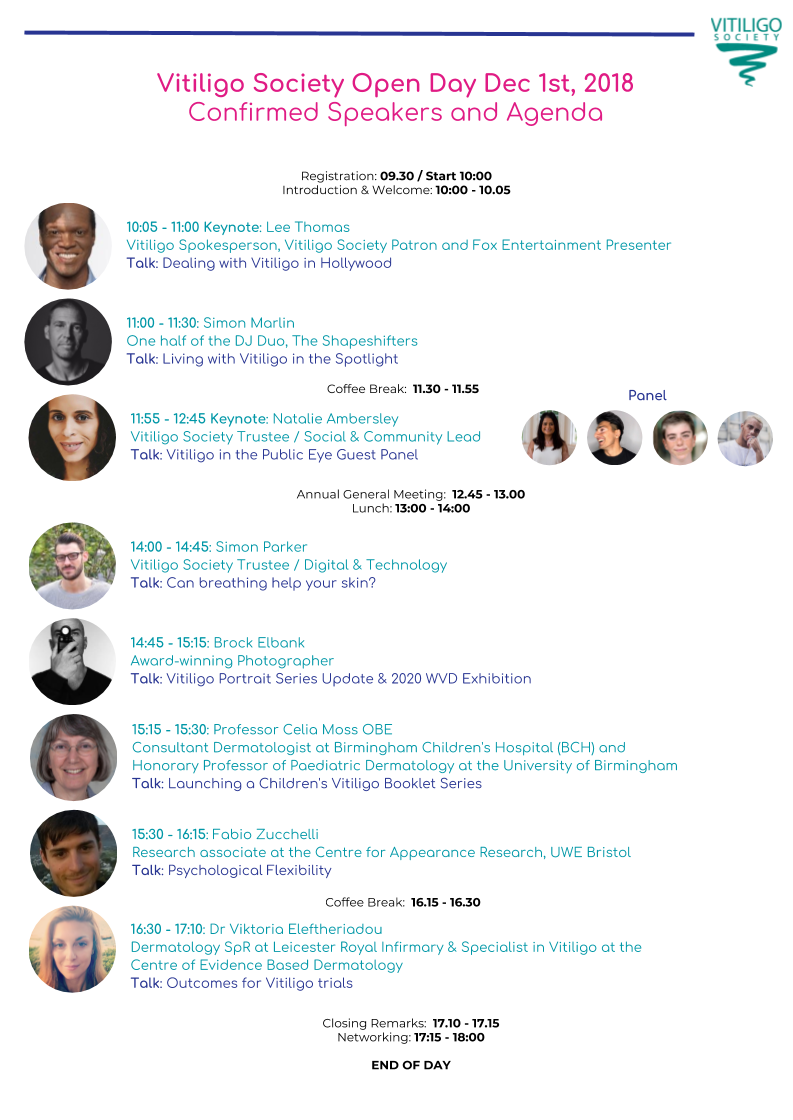 THE UK'S PREMIER VITILIGO CONFERENCE
Please Note: Tickets will not be available on the door and must be purchased in advance via Eventbrite
On Saturday 1st December, The Vitiligo Society will be welcoming prominent experts and influencers to a Central London location for a day of Vitiligo talks, awareness and networking.
Emmy award-winning Entertainment Reporter and society Patron, Lee Thomas will present at the conference as the keynote speaker, sharing his personal journey and how he has coped with Vitiligo in the media spotlight. He will give an exclusive view on how life in Hollywood has helped him raise awareness of Vitiligo.
Simon Parker, Vitiligo Society Trustee, will present the ground-breaking mobile app Skin Deep which explores the link between meditation, breathing and emotional support for over 2000 different skin conditions. Skin Deep will be the first-ever app aimed at increasing the efficacy of skin treatments based on research that meditation and mindfulness practices can have a positive impact on the skin.
Natalie Ambersley, Trustee and Social Media & Community lead, will host a panel discussion with leading Vitiligo ambassadors to gain an understanding of how Vitiligo can affect day to day life. Topics discussed will range from Vitiligo in the public eye, personal experiences and the misconceptions often associated with the condition.
Medical experts will provide an update on the latest developments in the scientific study of Vitiligo, including Postdoctoral Research Fellow Dr Viktoria Eleftheriadou and Research Associate, Fabio Zuchelli from CAR Appearance, who will talk about the Psychological impact of Vitiligo. Consultant Dermatologist at Birmingham Children's Hospital, Celia Moss will present the newly created Children's Vitiligo Booklet series, which aims to help children and young patients understand and accept their skin, as well as providing guidance to parents in terms of managing the first few years which can often be challenging.
Award-winning British Photographer, Brock Elbank, will speak about his latest portrait series and his aim to capture the faces and bodies of those with Vitiligo. He will showcase some of his work to date and share his desire to bring even more people into the studio to create art through his photography.
There will be plenty of opportunity for Q&A at the end of each session if you would like to put your questions forward with ample networking opportunities throughout and at the close of the conference.
We look forward to welcoming you to this year's open day. It will be an insightful and informative day led by experts able to give insight into what is happening in relation to Vitiligo, both scientifically and socially. It will also be a great opportunity for you to meet and connect with others who have Vitiligo along with their family and friends.
If you have any special dietary requirements, please email openday@vitiligosociety.org.uk