Description
Viva Forever Charity Music Festival 2019 in aid of The Grace Dear Trust
Six bands including Headline act Atlantic Soul Orchestra, Joe Ash and TV200. More bands to be announced
All profits from the tickets sales go to the Grace Dear Trust
Please visit www.thegracedeartrust.co.uk to find out more about our charity and what we have achieved with the money we have raised so far
Saturday 22nd June 2019
2.00PM – 10.30PM
We have 6 Bands in total including last years fan favourites JOE ASH and Tv200
Last years event captured here: https://www.youtube.com/watch?v=eCZbHUPnTWo
We are pleased to announce the Atlantic Soul Orchestra will headline this year's festival (http://www.atlanticsoulorchestra.com/ASO/Home.html)
We have 8 members of the "hardest hitting and most authentic, Stax & Atlantic Soul show in all the land" ready to get you partying the night away!
Licenced Bar / Family Inflatables / Mental Well being Stalls / Parking.
MORE ACTS TBC
Please note- Ticket costs have increased slightly due the increased cost to put on the festival, including a larger stage and increased security measures.

The bar is provided by Esher Rugby Club and The Grace Dear Trust do not take proceeds from the money taken behind the bar
Early Bird Tickets (Until April 1st )
Adults £20
11-17 Years £5
10 Years and under FREE
Family Ticket (2 adults & 2 under 18) £45
General Sale (From April 2nd – June 21st)
Adults £25
11-17 Years £5
10 Years and under FREE
Family Ticket (2 Adults & 2 under 18) £55
On the door (Subject to availability)
Adult £30
11-17 Years £5
10 Years and under FREE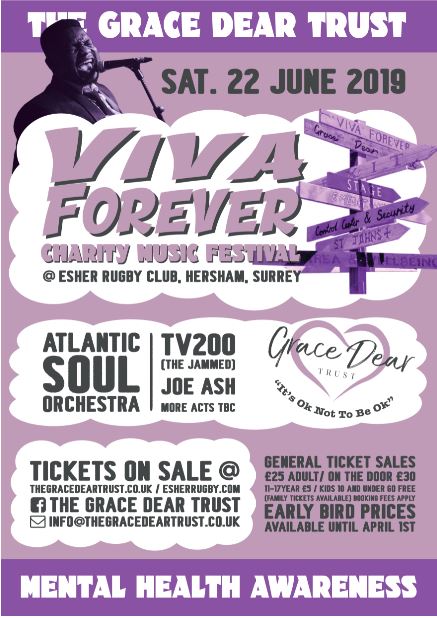 FAQs
How do I get in contact?
If any of the below does not answer your query then please email us at: info@thegracedeartrust.co.uk
How do I get to the festival?
The address for VIVA Forever Charity music festival is:
Esher Rugby Club - 369 Molesey Road, Hersham, Surrey, Kt12 3PF
Hersham train station is approx. 400 metres walk away from the event
Is there parking at the festival?
Yes, including disabled parking. However, parking is limited. There is also parking off site at Hersham station and Lyon Road estate. Please note though, as these are off site, local parking rules apply
Are tickets available on the door?
Yes, you will be able to buy tickets on the door, subject to availability
What are the hours of the festival?
The Gates will open at 14:00 with the first act on stage at 14:30. The festival will be closing at 22:00. The Esher Rugby club house will be open until 00:00. However, space is limited
What sort of clothing should I wear?
VIVA Forever Charity music festival is an outdoor event. We would suggest you dress appropriately for the occasion and the weather. Flower garlands and Tie Dye welcome!
What if it is raining - will the festival be cancelled?
The performers are on a covered stage and the festival will go ahead. Only in extreme conditions and where a question of health and safety is involved, would the festival be cancelled. Please ensure you bring adequate clothing for the weather conditions and don't let the rain stop you having a good time
Can I get a refund?
All tickets are non-transferable and non-refundable
Lost Children?
Children who are lost should be taken to the control centre located by the festival entrance, near where the bag searches take place
Can I bring my own alcohol?
No, due to licensing. There will be fully licensed bars with reasonable prices run by Esher Rugby club, which is not associated with the Grace Dear Trust
Re-admission?
Will be strictly controlled by security. Wrist bands will be provided on entry with a valid ticket. Please make sure you keep this on if you would like to leave and re-enter the festival
Can I bring picnic chairs or blankets?
Yes, however, they will not be allowed directly in front of the stage. Please make sure you listen to any instructions by the marshalls who will be making sure paths are kept clear
Can I bring a Gazebo/Pop Up Tent?
No, we are afraid not
Lost Property
Within reason, we aim to collect, log and return items of property that are deemed to be genuinely lost by our visitors. Please email a description to info@thegracedeartrust.co.uk. The Grace Dear trust and Esher rugby club can not accept any liability for lost property
Festival Rules
No tickets will be re-issued or refunded under any circumstances.
Bag searches will take place upon entering the festival
​Identification may be required to purchase alcohol
We are operating the 'Challenge 25' policy at the bars, so any person who appears to look younger than 25 may be asked for ID. If they cannot provide suitable ID, the bar will refuse to sell them alcohol
Please note that the drinking age for the 'Challenge 25' policy is actually 18
We accept the following ID: Passport, Photo Driving Licence, Prove It Cards that carry the PASS logo (e.g. CitizenCard, ONE-ID4U, Validate UK). We would also like to point out that photocopies of these documents will not be accepted as valid ID at this event
Random searching by our Security will take place at the Festival - any contraband will be confiscated and disposed of
The security will operate a zero tolerance to drugs - any person found in possession or under the influence of any controlled drugs will be refused admission or ejected from the festival, this also includes nitrous oxide/laughing gas. There may be searches at the festival entrance. The Security's Word is binding
​Disorderly Behavior - any person behaving inappropriately will be ejected from the event
No Commercial videography, photography or audio recording is permitted without the written authority of VIVA Forever Charity music festival
Private photography is permitted
Children under the age of 10 years are permitted free of charge if accompanied by a full paying adult. Please note children MUST be supervised at all times
No pets are permitted in the Festival Arena (Exception-Guide Dogs)
Please respect our neighbours and leave the Festival quietly
The organisers (The Grace Dear Trust and Esher rugby club) do not accept responsibility for loss, theft or damage or injury of any kind at the event or at premises known as Esher Rugby Club
You attend this event at your own risk, and by doing so you consent to filming, photography, audio recording as a member of the audience and use of such material by the organiser for commercial and non-commercial use
We reserve the right to alter the Artists or timings without prior notification
VIVA Forever charity music Festival and Esher Rugby Club reserve the right of admission and the security word is binding