Description
Viva Survivor
Viva for your PhD coming up, but not sure how to prepare? Confident about your research, but unsure of what examiners might ask? Feeling mostly happy, but still have unanswered questions about what to expect?
I'm Nathan Ryder - @DrRyder and @VivaSurvivors on Twitter - and I have been helping PhD candidates in universities around the UK for years. My Viva Survivor workshop has helped 2000+ researchers prepare for the viva. I'm the creator of the Viva Survivors Podcast and the Viva Survivors daily blog as well as the author of several books on viva preparation.
This is one of the first times I've presented my Viva Survivor workshop outside of a university. I am aiming to make it even more valuable and special for participants. If you attend, then by the end of this session you will have:
identified what examiners are looking for when they examine your thesis;
discussed the many ways that others can support your preparation;
explored valuable viva preparation methods;
established realistic expectations for your viva;
discussed common questions about the PhD viva.
Participants will have opportunities to ask any and all questions, so that everyone can finish the session unburdened and ready for the viva! We'll cover a lot and participants will be encouraged to approach their viva with confidence - you've done the hard work by doing research, and this session will help with the final steps of the journey. Want help with your viva prep? Book your place on this workshop on this page!

---
Five Reasons To Come To This Workshop!
1. A Tried And Tested Session
Viva Survivor is not a new workshop: I have delivered it to 2000+ postgraduate researchers around the UK in over 125 sessions. I took the lessons I learned in my PhD, interviewed other PhD graduates and have developed my tools and approach over years. This is what I do.
2. The Session Is Valued By Participants
Of course I would say it's good! Here are what some past participants have said or tweeted about the session:
"I passed my viva yesterday and I've no doubt that without attending your workshop it would have been not nearly as pleasant an experience! I felt at ease knowing that I'd properly prepared and I enjoyed it."
University of Sheffield participant
"@DrRyder one of the best, most practical / useful #phd sessions that i received to date. Thank you. @edgehill #vivasurvivor #vivathriver"
@Thegirlmorgo
"Fantastic #VivaSurvivor workshop by @DrRyder today!! Feeling much less stressed about my viva now!!! #phdlife"
@Smurphia92
3. Viva Survivor Is Not Just A Lecture

I am not going to just stand in front of a Powerpoint for a few hours. I'm going to help you discover what the viva is all about, what you can do to prepare well and understand why you are in a great position to meet the challenge of the viva. Plus we'll have a Q&A to take care of any and all questions you might have.
4. A Very Special Venue
Our workshop is at Ziferblat Manchester in the Classroom. Ziferblat has built a great reputation as an alternative meeting space: the location has been picked both for the atmosphere and easy transport access. Light refreshments will be available throughout - arrive early to make sure you're as caffeinated and fed as you want to be!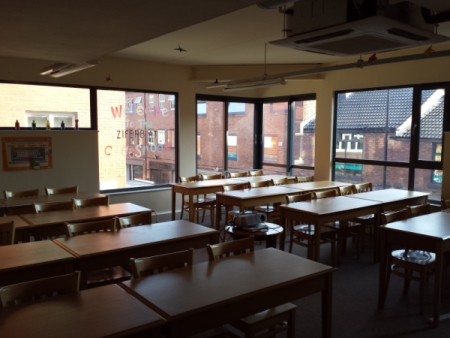 5. More Than The Same Old Handouts
As well as a fantastic workshop, you will receive a lot of supporting materials and resources for the session. This will including course booklets, e-books and more surprises. I want to add as much value as possible to your learning and experience both at the session and afterwards.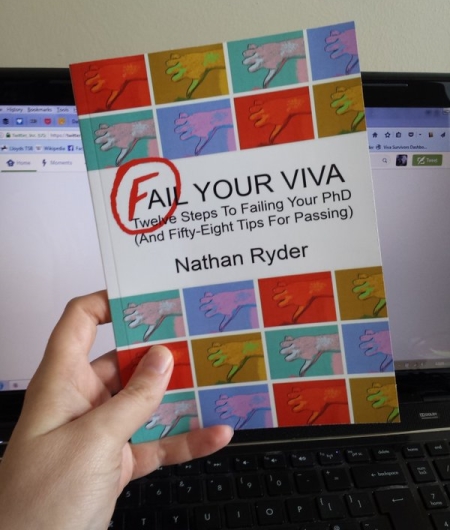 Want to come to Viva Survivor at Ziferblat on October 4th? Click one of the links and enter your details to book today.

---
More Nice Things People Say About Viva Survivor

"Many thanks to @DrRyder for a most excellent @VivaSurvivors session. Very positive! We hope to invite you again soon."
@HudResEnv

"The course is very useful for understanding what a viva will be and making it seem less scary. Nathan was very approachable, and clearly explained and structured information."
University of Manchester participant
"Thanks @DrRyder for this. It was an excellent workshop, highly recommended (and the blog as well http://viva-survivors.com/ ) @VivaSurvivors"
@chrysadag
"Thank you very much, this is the most useful course that I've taken since I started my PhD."
University of Liverpool participant
"Thank you for the 'Viva Survivor' session which really helped with my doctoral viva last Friday - 'exemplary'!"
Bangor University participant
"Attended a @VivaSurvivors workshop today - was really useful and helped with a lot of my worries - highly recommend attending one!"
@ScootJD
---
FAQs
What are my transport/parking options for the event?
Ziferblat is approximately ten minutes' walk from both Manchester Victoria and Manchester Piccadilly train stations. There is an NCP car park nearby on Thomas Street.

Is my registration/ticket transferrable?
Yes, but please notify us in advance so that we can update our records. You don't need to bring a printed ticket with you, but you will have to sign in.

What is the refund policy?
There are no refunds for this workshop. However, if you find yourself unable to attend, you are free to transfer your place to someone else - just let us know so that we can update our records. If you want to attend a future event then we would be happy to let you know as soon as tickets become available.

The name on the registration/ticket doesn't match the attendee. Is that okay?
Yes, just let us know in advance so we can make a note.

Where can I find out more about Dr Nathan Ryder?
Follow me on Twitter @DrRyder.

Where can I contact the organizer with any questions?
Email me directly at nathan (at) nathanryder (dot) co (dot) uk
How can I get a place on this workshop?
Click on one of the buttons on this page to book your place. Thanks!
Date and Time
Location
Refund Policy