Description
Voxcetera chamber choir present a concert of two joyous choral works to welcome spring.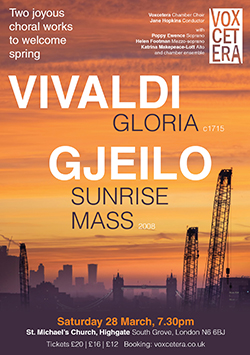 VIVALDI: GLORIA
There is much joyful baroque music out there, but none surpasses Vivaldi's popular Gloria for sheer exuberant happiness. And yet it's full of variety, from the slow and staggeringly tender "Et in terra pax" to the delightfully effervescent "Domine, Fili unigenite", the choir accompanied by a sprightly arrangement of strings, oboe and trumpet.
OLA GJEILO: SUNRISE MASS
The New York-based Norwegian composer Ola Gjeilo loves film music and in his thrilling, transcendental Sunrise Mass he pays tribute to its high emotions, adrenaline, drama and sense of wonder. Scored for choir and strings and using traditional Latin texts, the 30-minute Sunrise Mass is strong on melody and rich in harmony, opening with gorgeous shimmering chords that emerge magically out of silence. It's unmistakably modern, but it's also in touch with early sacred music of many centuries ago.
A licensed bar will be open before the performance and during the interval. The concert should finish by around 9pm, and we recommend The Flask pub opposite the church if you'd like to extend your evening in the company of some of the performers.
Please note that we cannot take card payments for tickets sold on the door, or at the bar.
ACCESS
There is wheelchair access to the ground floor of the church where most of the concert seating is situated. Essential companions may attend for free. To arrange this or if you have any questions or special requirements please email: enquiry@voxcetera.co.uk
---
Jane Hopkins (conductor)
Voxcetera (choir)
with a chamber ensemble and
Poppy Ewence (soprano)
Helen Footman (mezzo soprano)
Katrina Makepeace-Lott (alto)

Voxcetera is a north London-based choir under the director of founding conductor Jane Hopkins. The choir performs regularly in north and central London and further afield. Recent activity includes Brahms' Requiem at St Michael's Highgate, concerts at St Martin-in-the-fields, East Finchley Arts Festival, international tours, and recording work for Unicef's Generations campaign.