Description

Ipswich Choral Society round off their 2018-19 season with a delightful evening of choral favourites at St Margaret's Church in Ipswich on Saturday 15 June. The concert programme features pieces performed on the recent ICS trip to Italy and will culminate with 'Gloria' by Italian composer Vivaldi. Composers featured will include Parry, Elgar, Rachmaninov, Mendelssohn, Stainer and McMillan among others.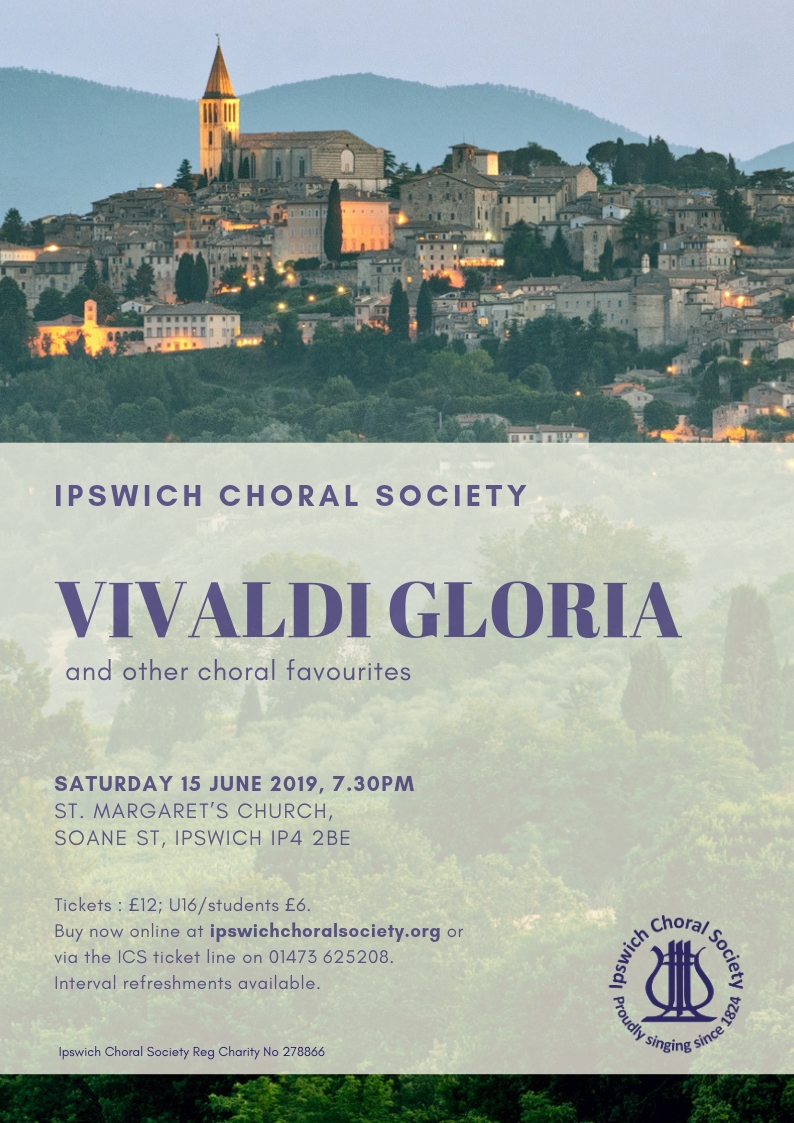 Organiser of Vivaldi Gloria and other choral favourites
Ipswich Choral Society is a friendly mixed choir of around 100 members. It is the second oldest Choral Society in England, having been formed in 1824. The Society has attracted a membership with a wide range of musical experiences and entertained the public with performances across a wide musical repertoire at Ipswich School, Snape Maltings Concert Hall, Ipswich Corn Exchange, Ipswich Music day, Aldeburgh Festival and charity concerts. The Society has performed in a number of countries including Turkey, France, Austria, Belgium and Italy.
The Society is pleased to have as its President the international conductor Cem Mansur, who has conducted the choir five times in the UK, most recently at Snape Maltings Concert Hall, and twice in Turkey when members of the choir were invited to perform at the International Istanbul Music Festival and Izmir Festival.
Ipswich Choral Society meets every Tuesday evening. Rehearsals start at 7:30pm in Northgate Arts Centre, Sidegate Lane West, Ipswich IP4 3DF. Registered Charity (number 278866) and members of Ipswich Arts Association and Making Music.