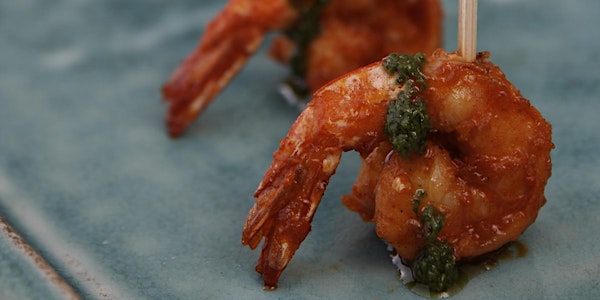 Vivek Singh & Asma Khan's Seafood Spectacular - A Collaborative Feast
Location
Cinnamon Kitchen Battersea
4 Arches Lane
London
SW11 8AB
United Kingdom
Vivek Singh of Cinnamon Kitchen and Asma Khan of Darjeeling Express host an unmissable seafood feast as part of London Seafood Festival.
About this event
Renowned chef Vivek Singh will join forces with Darjeeling Express and Chef's Table star Asma Khan for a collaborative seafood feast taking place at Battersea Power Station.
The evening will kick off with a screening of Asma's episode of Chef's Table, followed by a Q&A with both chefs where you will hear all about their culinary journeys. Afterwards, make your way next door to Cinnamon Kitchen, where you'll be greeted with a welcome cocktail and a spread of seafood dishes served family style.
Collaborative menu highlights include Darjeeling Express Tangra Prawns and Cinnamon Kitchen Jhal Cod in coconut mustard chilli sauce, amongst many others.
Chef's Table Screening and Q&A:
Venue: The Village Hall, Arches Lane, Circus West Village, Battersea Power Station, SW11 8AB
Timings: 6PM-7.30PM
The screening will start at 6.15PM, please allow time to be checked-in and seated.
Seafood Feast:
Venue: Cinnamon Kitchen, 4 Arches Lane, Circus West Village, Battersea Power Station, SW11 8AB
Timings: 7.30PM-10PM
Terms & Conditions:
• Ticket holders must be 18+
• Filming and photography may take place during the event; by purchasing a ticket you consent to being included in any filming and photography. If you do not wish to be filmed or photographed, please let us know when you arrive at the event and we will do our best to accommodate you.
• Tickets for this event are non-refundable.