Description
Most people believe that you either have charisma or you don't. The truth is, charisma is a skill that you can learn and practice.
Whether you're applying for a new job, advancing within your organization, starting a new project or company, it will help you achieve your goals.
Imagine what your life would be like if the moment you entered a room, people would immediately notice you and want to hear what you have to say.
Charisma gets people to like you, trust you, and want to be led by you. It determines whether people see you as a follower or a leader.
It enables successful salespeople to sell five times more than their colleagues. It's the difference between entrepreneurs who get investor banging on their doors and those who have to beg banks for a loan.
It's not magic! It's learned behaviors.
If you want to learn how to become more charismatic and have more impact on the world, here is something you don't want to miss.
On April 25, 4 amazing speakers will show you how to master the art and science of personal magnetism - and become more successful in your life, career and business.
Scroll down to see photos and videos of our last events + our speaker line up and more information about each talk. ⬇︎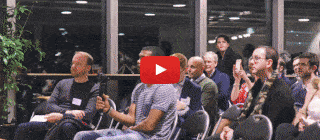 Talks & Speakers:
How to Make a Killer First Impression, Even If You're Shy or Hate Networking (Including 8 Questions to Ask Someone Other Than "What Do You Do?")
– Esther Stanhope, Impact Guru | International Speaker | Former BBC producer
Esther has worked with Hollywood stars like George Clooney and Madonna, and has produced TV shows with Theresa May and Boris Johnson.
She now uses her 26 years of broadcasting & business expertise to help professionals pitch, present themselves & speak with more confidence, personality and gravitas.


---
Charismatic You: 50 Growth Hacks to Become a Charismatic Leader
– Tim Queen, Speaker, Growth Marketer and #1 Business Strategist on LinkedIn
Meet the Creator of Vivid Talks himself who put a new meaning to the term growth hacking when he grew from just under 500 to 24,000 LinkedIn followers in only six months.
Today he shares some of his best hacks on how to be more confident, charismatic, persuasive and inspiring.


---
How to Create a Powerful Personal Brand for Business Leaders and Entrepreneurs
– Serkan Ferah, Entrepreneur & Psychometric Branding Expert
Serkan is a brand designer and owner of Boa Branding, the first branding and design agency giving service to startups looking to raise investment or start a crowdfunding campaign.
He has worked with premium brands like Aston Martin, Maserati and Abarth.
Today, he combines psychology, marketing and design to create unique identities for brands that help both personal and commercial brands to grow and come to life.


---
How to Develop the Mindset of a Successful Leader
– Angus MacLennan, Entrepreneur & Business Coach
Angus has helped 1000s of people transition from employee to business owner. Since taking redundancy from his corporate job, he has started and operated successful and profitable businesses for over a decade.
Now, he runs three profitable businesses and is on a mission to help people escape the 9-5 grind and grow their own fun and vibrant lifestyle businesses.


---

After four amazing talks, we'll round off the evening with an incredible network session with speakers and other like-minded individuals - like yourself who want to live their life on their terms.
All over delicious food and refreshments :)
Hurry, get your ticket today!
PS: Check out photos from our last event.