Vocab Dance & Friends Intensive Workshop (Edition 3)

Sunday, 8 June 2014 from 10:00 to 18:00 (BST)
Event Details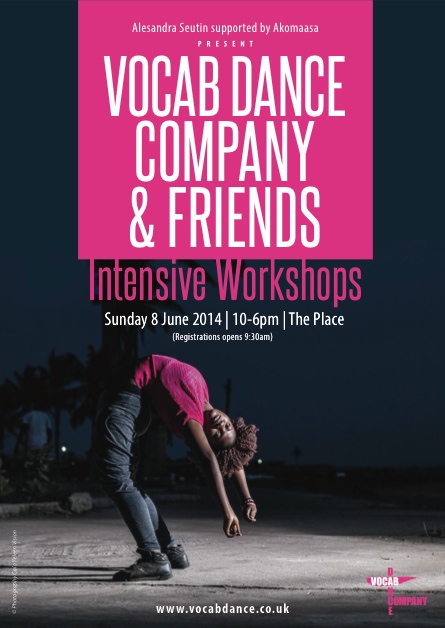 VOCAB DANCE COMPANY & FRIENDS INTENSIVE WORKSHOPS (Edition 3)
After 2 sold out and successful editions, Alesandra Seutin/Vocab Dance Company (VDC) bring to you another eclectic day of dance with the support of Akomaasa.
VDC & Friends is 1 day of intensive dance classes, with a line-up of teachers who will give you a day worth dancing for! A fun, exhilarating and full on day of living motion!
You will receive a unique opportunity to dance with artists who have worked with the likes of Hofesh Shechter, Akram Khan, Thriller Live, Gregory Maqoma, Rafael Bonachela, Henri Oguike, Cheryl Cole, Ace Dance and Vocab Dance Company.
TEACHERS
Sade & Kristina Alleyne (Akram Khan) – Dynamic Contemporary
A physical Contemporary Class which will involve strong, complex technical sequences in and out of the floor, focusing on performance/stamina and commitment throughout the session, improvisation will also be explored as part of self development.
The significant factors for the workshop is to develop the dancers creative mind, drive from passion, determination, strength, musicality and most importantly an intention/honesty in whatever choice they make throughout the session.
Their style has been inspired and development from working with the likes of Akram Khan (fusion of Kathak and Contemporary Dance), Retina Dance Company (Release and Contact Work), Gregory Maqoma (Afro-Fusion Dance) and Henri Oguike (Classical Contemporary Dance based on Forstyle and Cunningham techniques). Watch their work here: https://www.facebook.com/photo.php?v=687824951274606&set=vb.687752604615174&type=2&theater

Dominic Lawrence Smith (Thriller Live) –  Hip-Hop Fusion
In Dominic's class you will explore how to bring soul/passion to your movements whilst embodying fluid, intricate and dynamic movements. You will be challenged to dance through speed, release, and attack whist flowing constantly. Watch him here: https://www.youtube.com/watch?v=Ld2cJcea_F4

Salah El Brogy & Co (Protein Dance) – Extemporaneous Dance
Unleash and discover your distinctive way of moving with this intense physical workshop with dancer / performer / choreographer Salah El Brogy exploring improvisation skills and exercises he's formulated for himself. An all around artist, Salah, will share some of his movement and voice techniques picking from his wealth of experience from various dance styles and art forms. Watch him here: https://www.youtube.com/watch?v=5Dvst-a9k-g

Akosua Boakye (Lion King) – African Contemporary
(joint class with A. Seutin)
Her medium is movement, her inspiration, and vocabulary from the African Diaspora. Akosua's class strive to build confidence and competence, and help the dancer use their bodies in functional, creative and expressive ways that support the improvement of African Dance technique and increase the participants dance vocabulary. Her classes are fun, very physical with a particular emphasis on grounding movements, the use of the spine and creative ways to coordinate upper and lower limbs. There is a focus around fast and dynamic yet technically detailed movement qualities, with an emphasis on efficient methods of movement that challenges the strength, coordination and power of the body and the shapes it can create whilst using a dynamic combination of footwork. Watch her class here: https://www.youtube.com/watch?v=HkoJPDbnRP4

Alesandra Seutin (Vocab Dance) – Vocab Dance Repertoire
(joint with A. Boakye)
Learn Vocab Dance Company's repertoire piece 'Temps Mort' with choreographer Alesandra Seutin and explore the company's creative process.
Alesandra Seutin will introduce you to her striking fusion of African dance aesthetics combined with contemporary techniques and flow resulting in a modern class with an exciting vibe. Watch here: https://www.youtube.com/watch?v=9SORqeuT1bI
Musicians: Mohamed Gueye & Dembis Thioung
Limited availability, booked on a first come first served basis.
This full day workshop is open to intermediate, advanced and professional dancers as well as dance students from full-time vocational courses, who are looking to enrich their practice and to those who have particular interest in the diversity of dance, aged 18+
Limited availability, booked on a first come first served basis.
We regret that Vocab Dance Company cannot make any refunds. Please make sure you can make the date before committing to this workshop.
Timetable : (9.30am registration)
10.00-11.30 Dynamic Contemporary
(Kristina & Sade Alleyne)
11.45-13.15 Extemporaneous Dance
(Salah El Brogy)

13.15-14.15 Lunch

14.15-15.45 Hip-Hop Fusion
(Dominic Lawrence)
16.00-18.00 African Contemporary / Vocab Dance + Drummers
(Akosua Boakye & Alesandra Seutin)
When & Where

The Place (London Contemporary Dance School)
16 Flaxman Terrace
WC1H London
United Kingdom


Sunday, 8 June 2014 from 10:00 to 18:00 (BST)
Add to my calendar
Organiser
Alesandra Seutin/Vocab Dance Company
Vocab Dance Company is dynamic and talented young company founded by Alesandra Seutin in 2007 and was created with the vision of fusing African traditional dance with contemporary dance and urban dance forms to distinctly create Afropean dance theatre from a feminine perspective. 
Since its inception VDC has been is gaining recognition by performing nationally and internationally, and is progressively making marks as an influential company to watch. 
Alesandra Seutin/Vocab Dance Company embraces the idea that individuals have the power to live in the movement and to express themselves boldly. The objective of the workshops they teach is for the participants to find their level of challenge, comfort and to take part regardless of their abilities; whilst appreciating the joy of movement. All classes encourage participants to dance fully and live in the movement accompanied by a pulsating mix of live music or great-recorded music!
Vocab Dance & Friends Intensive Workshop (Edition 3)