Multiple Dates
Vocab Dance & Friends Weekend Workshop Online
Sales Have Ended
Ticket sales have ended
Thank you for joining us, get ready to live in the Movement! If you require more information please email info@vocabdance.co.uk
Sales Have Ended
Ticket sales have ended
Thank you for joining us, get ready to live in the Movement! If you require more information please email info@vocabdance.co.uk
A weekend of invigorating dance & vocal classes led by four inspiring professional artists and teachers. We will live in the movement!
About this event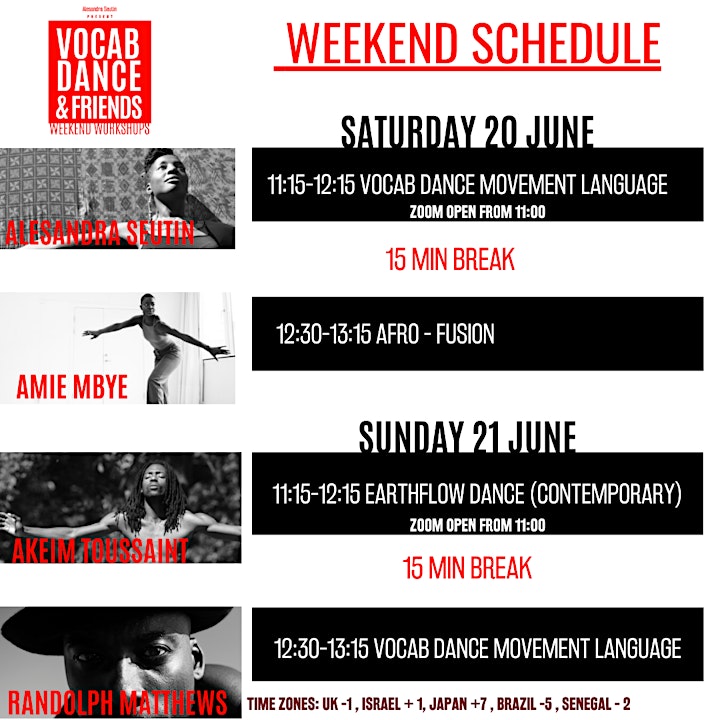 Brought to you by Alesandra Seutin | Vocab Dance, Vocab Dance & Friends is a weekend led by four inspiring professional artists and teachers rooted in African & Caribbean dance forms & vocal practices, sharing 2 invigorating dance classes a day. You will dance, you will Live in the Movement and you will even use your voice!
Alesandra Seutin believes that versatility is an important tool for humans and that an inspiring mover is one that understands the culture of dance and reflects it through their body!
So with this in mind Alesandra Seutin invite artists/teachers who share similar ideas and principles on how to work with movers from intermediate to professional levels, whilst finding joy, comfort and power whilst dancing. You do not want to miss this weekend, it will be worth you time and money!
You will receive a unique opportunity to train with artists who have worked internationally as performers, teachers, choreographers, musicians/vocalists and who all have in common the idea of dancing/performing with grounding, intention, purpose, awareness and power.
Teachers:
Saturday
Alesandra Seutin - Vocab Dance (+ company repertoire)
Amie Mbye - Afro Fusion
Sunday
Akeim Toussaint - Earthflow Dance
Randolph Matthews - Embodied Voice
Order your place via Eventbrite
For booking and additional information, contact us:
Email: info@vocabdance.co.uk
Web: www.vocabdance.co.uk
Location: Zoom (The link will be sent separately up to one hour before the event)
Prices: €35 for 4 sessions
option: €25 for 2 sessions on the same day
(No individual classes)
Limited availability, booked on a first come first served basis.
This full day workshop is open to intermediate, advanced and professional movers and retired dancers as well as dance students from full-time vocational courses, who are looking to enrich their practice and to those who have particular interest in the diversity of dance, aged 16+
We regret that Alesandra Seutin | Vocab Dance cannot make any refunds. Please make sure you can make the date before committing to this workshop.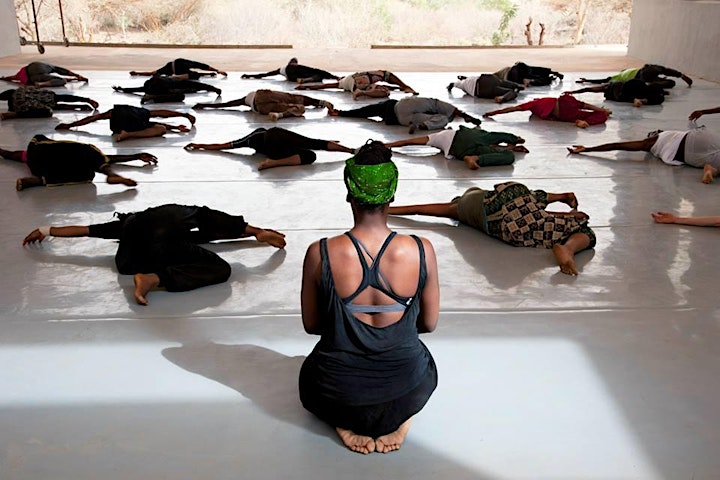 International performer, choreographer, teacher Alesandra Seutin was born in Harare, Zimbabwe, grew up in Brussels and now lives in London. She studied dance in different parts of the world including Europe, Africa and the United States. She holds a Diploma in dance theatre from Laban in London and a degree in choreography and performance of the Middlesex University. Alesandra Seutin also further trained at the École des Sables of Germaine Acogny (Senegal), where she has also worked with choreographers Nora Chipaumire, the late Pierre Dousaint, Flora Thefaine, Pedro Pauwels, Gabriel Smeets, Rui Moreira and David Zambrano.
Alesandra has been running Vocab Dance Company (VDC) since 2007. She combines African traditional dance with contemporary dance and Hip Hop to create distinctly Afro-European dance theatre. Few other British artists are working to explore what African dance can become when fused with other dance forms to explore contemporary issues.
Alesandra Seutin's Vocab Dance embraces the idea that individuals have the power to live in the movement and to express themselves boldly. Renowned for her distinctive hybrid movement language, the dancers will be grounded, will focus on musicality, fluidity of the limbs and spine.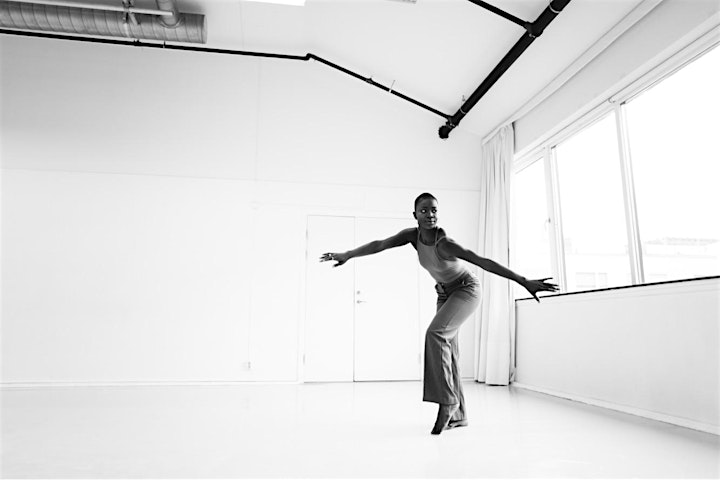 MEET ALESANDRA SEUTIN'S FRIENDS
Amie Mbye was born in Oslo, she is an African and Caribbean trained dancer who has been performing arts
since 2009. Her career started in Tabanka Dance Ensemble where she was principle dancer and participated in productions, both in Norway and abroad.
She recently graduated from the College of Dance Art with a BA in Dance Art and Choreography. Today Amie works as a danceartist. Creating and contributing in various dance productions within the dance field in Norway and abroad.
Amie's Afro Fusion will be focusing on the different techniques used within todays afro-modern dances. Polyrytmic, isolation, grounding and groove being the key elements of the dance. Movements will be based on styles and the vibe of popular West African dances like Afro House, Coupe Decale and Ndombolo andcombined with influences from pop and urban style elements.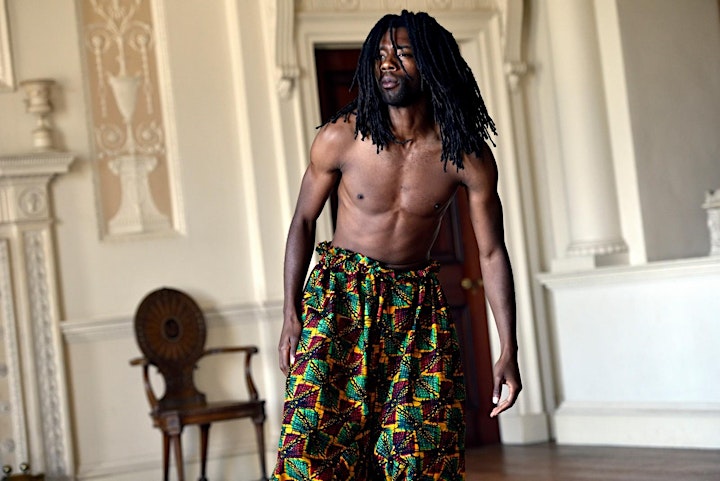 MEET ALESANDRA SEUTIN'S FRIENDS
Akeim Toussaint is a multifaceted performing artist, born in Jamaica and raised in England. He seeks to create moving, thought provoking, accessible and free spirited projects with a variety of art forms. Since graduating from the Northern School of Contemporary Dance with a first-class honours Bachelor degree in Performing Arts, Akeim has been involved in cross disciplinary projects working with a wide range of artists and communities from around the world. His focus as a maker and collaborator is to combine expressive skills such as dance, writing poetry, beat-box, singing and acting to create performances telling stories that galvanise diverse audiences.
Akeim's Earthflow Dance class is based on Contemporary and Caribbean Dance Elements, Release Technique, Animal Flow, Yoga and Capoeira. He will invite you to seek liberation and flow in your movement, by strengthening your grounding/connection to the earth and finding elasticity of your core, integrating movement patterns and rhythms, travelling through your space.
He will create an energetic and playful environment for you to revitalise your senses, build strength, stamina and open your awareness as you move as one in your bodies but also together as a community. Class will be accompanied by live music (beat box).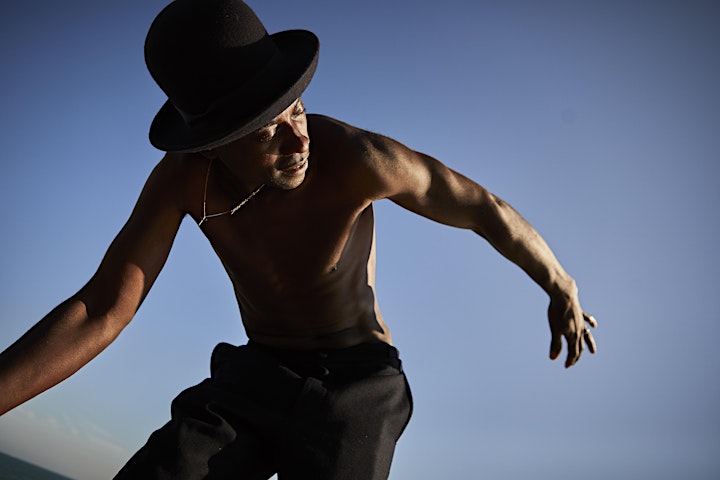 MEET ALESANDRA SEUTIN'S FRIENDS
Inspired by his belief that the power of the human voice changes people lives and the world in incredible ways nominated Jazz fm "Best live performance 2018"
Randolph Matthews is described by Jazz FM as "Flawless and world class."
Performing and recording unaccompanied or with his band Randolph's vocal performances spans over two decades where he has collaborated with artist from both the jazz ,blues and contemporary music scene such as Mulatu Atstake, Casey Benjamin (Robert Glasper Experience) and openings for Richard Bona (Pat Metheny) and grammy award winner Jazz legend Herbie Hancock.He has also graced the Royal courts of Buckingham palace to perform for Queen Elizabeth II.
Randolph's show is a international mix of original recordings, reworks, audience interactions in twinned with life stories which he tells with emotive humour.
Randolph Matthews will lead you into a voice movement journey. In his Embodied Voice session you to will be inspired to experiment with uniting your body and voice through movement and sound-making.
Be prepared to move, use your voice, senses and express.
No prior music experience is required to take part.
Organiser of Vocab Dance & Friends Weekend Workshop Online
Vocab Dance Company is dynamic and talented young company founded by Alesandra Seutin in 2007 and was created with the vision of fusing African traditional dance with contemporary dance and urban dance forms to distinctly create Afropean dance theatre from a feminine perspective. 
Since its inception VDC has been is gaining recognition by performing nationally and internationally, and is progressively making marks as an influential company to watch. 
Alesandra Seutin/Vocab Dance Company embraces the idea that individuals have the power to live in the movement and to express themselves boldly. The objective of the workshops they teach is for the participants to find their level of challenge, comfort and to take part regardless of their abilities; whilst appreciating the joy of movement. All classes encourage participants to dance fully and live in the movement accompanied by a pulsating mix of live music or great-recorded music!