Are you a woman on a mission? Is your voice holding you back from making a greater impact in your business or career?
About this event
Our voice is our most powerful communication tool, it holds tremendous power to inspire, persuade, lead, educate, influence and motivate.
Yet it is also one of our most misunderstood and often under-utilised tools for communicating. It is not our fault, we learn how to pronounce words by mimicking those around us. However we rarely learn how this incredible instrument really works and how we can tap into our most powerful, expressive and effortless speaking voice.
Many of us put more emphasis and focus on what we're saying, giving our voice little thought until something goes wrong. Over the last 15 months we've all relied on our voice more than ever before in online meetings, where we could no longer rely on other social cues to connect.
This small group in-person masterclass is designed for professional women who rely on their voice in their business or career. They are looking for a deeper understanding of their voice so they can maximise its potential, allowing them to present, coach, pitch, lead or consult with more confidence and impact.
This is all about developing your speaking voice. Whether English is your first or second language, it doesn't matter. Ultimately the voice functions the same and I want to share some simple but highly effective ways you can immediately find a clearer more powerful version of your unique voice. A voice that functions more effortlessly and freely that will last throughout a long day or week of meetings.
What this workshop is NOT
changing your accent, this is about enhancing and optimising your unique voice.
presentation skills, this is purely voice focused - vocal technique, voice physiology and paralinguistics.
What can you expect?
in-person, small group workshop (max. 10)
safe and supportive environment with like-minded women
no prior voice training necessary
simple techniques to help you develop your voice (no singing I promise!)
lots of opportunities to practice and ask me questions
individual attention and help with your voice
handouts / notes provided
light refreshments provided
Come prepared to speak!
Please do get in contact if you'd like to find out more and see if this workshop is right for you. This workshop has a limited number of spots available, so book soon to avoid disappointment.
Learn more about my work here https://www.anouskataylor.com
Refund Policy
Up to 9th September 2021 you can cancel and request a full refund. After this date tickets are transferable but not refundable. However in the event the workshop has to be cancelled for any reason, a full refund will be given.
Testimonials
"I joined Anouska Taylor's Voice Mastery Workshop. I didn't know what to expect as the workshop was focused on the speaking voice and I have over 15 years of vocal training as a singer, but the results were phenomenal. Her teachings have helped me connect the dots throughout disciplines to overcome certain challenges that were holding me back.
Anouska has a fun and gentle approach combined with a thorough expertise on the voice at every level. I would love to train more with her as I know she works at deeper levels.
The day after the workshop I had to film a scene for a TV series and I was getting stuck on couple of lines, so I used the exercises that Anouska taught us and I could sort it out on the spot. Also, I was curious how those exercises would apply to singing, so I used the exercises from the workshop and my voice is getting more flexible, agile and expressive. The exercises are simple, but they create a significant change. I highly recommend her Voice Mastery Workshop and any training she offers, I know is life changing." - Cecilia Calancha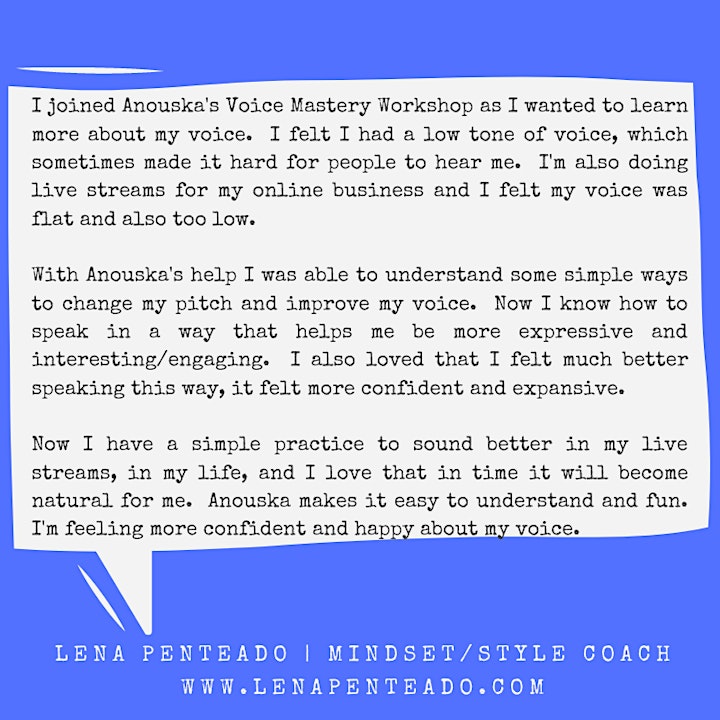 Organiser of Voice Mastery Workshop for Women (small group)
Anouska Taylor is an experienced London-based voice teacher, passionate educator, Jungian coach and professional singer. She has been training clients for over a decade to find the full potential of their unique voice.

Anouska offers transformational voice training for ambitious women who are ready to go to the next level in their business or career. They recognise the importance of their speaking voice to elevate their credibility whether at industry events as a keynote speaker, in meetings and presentations with clients or prospective clients, media interviews, podcasts or to motivate and inspire their team.

She works privately with women around the world to help them find their most confident, powerful and expressive speaking voice so they can make a bigger impact, influence and persuade in their business or career.

Anouska combines four key areas in her training:

1) voice physiology

2) vocal technique

3) paralinguistics

4) Jungian psychology


She is a Faculty Member for the AllBright Academy in London and a member of both the British Voice Association (BVA) and Association of Teachers of Singing (AOTOS).

Learn more about Anouska by visiting https://www.anouskataylor.com