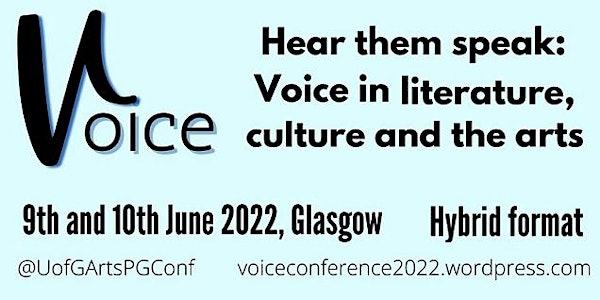 Voice | University of Glasgow College of Arts PG Conference 2022
Location
St Andrews Building, University of Glasgow, School of Education & Online (Hybrid Conference)
11 Eldon Street
Glasgow
G3 6NH
United Kingdom
The Annual University of Glasgow College of Arts Postgraduate Conference.
About this event
Voice is a powerful tool for expression, used both literally and figuratively through history to disseminate knowledge, maintain dominant narratives, protest and disrupt systems of control, and share the myths and legends that sustain our communities. As a compelling political tool, voice helps us to engage with our rights or the power to take part in global conversations around politics and social issues, such as the climate crisis, police brutality, institutional racism, and gender inequality. What are the mainstream voices in our societies? What voices are kept or lost in history? How have the voices of marginalised groups been treated? How do artworks record, reproduce and represent these voices, letting them be heard? How does voice function as a critical or narrative tool in literature, culture, and the arts?
Postgraduate researchers based in the arts and humanities are invited to submit proposals considering the production, transmission, reception, and representation of voice in the context of literature, culture, and the arts through multifaceted perspectives.
Visit the conference website for more information and the conference programme:
voiceconference2022.wordpress.com
Please email arts-pgconference@glasgow.ac.uk with any access requirements.