VoicePrint – Making Our Voices Count

Wednesday, 7 February 2018 from 09:00 to 12:30 (GMT)
Event Details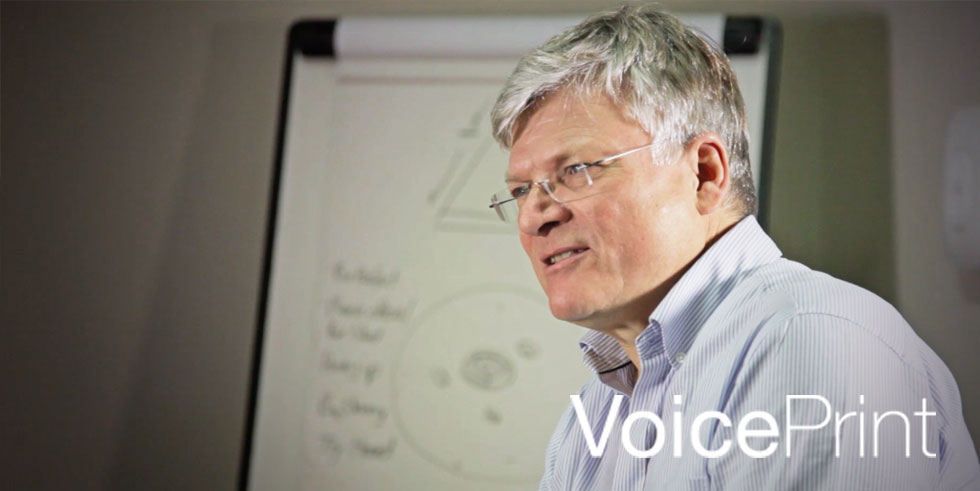 This is an amazing offer from the developer of VoicePrint giving you the opportunity to have your individual and unique VoicePrint report completed beforehand. Then, at  the session you will have the opportunity to analyse, question and learn how to "find your voice and make a difference".
The Session
VoicePrint is a personal and organisational diagnostic and development tool and has been the centre of Alan Robertson's attention for most of the last decade. Alan argues that talk is a meta-competence, since it is the primary form of action in the modern workplace. The problem is that talk comes easily and we tend to use it with too little conscious attention. The results are often neither what we intended nor as productive as we would wish. However, raising awareness of our distinctive individual ways of using talk can develop our personal impact and make our interactions more effective.
As the owner and developer of VoicePrint, Alan is offering participants at our half day event the opportunity to complete the questionnaire for themselves ahead of the session so as to be able to engage with the tool more fully during the presentation, at no additional charge. The objective will be to explain the nature, purpose and applications of the tool and enable you to explore their own profiles in relation to the demands that your own contexts make on you.
"Our VoicePrint diagnostics shed light on these tendencies and their effects, while our VoicePrint developmental resources and interventions make people and organisations more effective in this essential inter-personal competence."
About Alan Robertson
Alan is a career human resource professional who became a business psychologist after working in various operational, strategic and board-level managerial roles. He is a founder member of the Special Group in Coaching Psychology for the BPS and is a Senior Visiting Teaching Fellow at the Cass Business School and in SATM (formerly the School of Applied Sciences) at Cranfield University.
As well as the broad subjects of personal and interpersonal effectiveness, Alan has  particular interests in the distinctive challenges associated with role transitions, working with ambiguity and the distinctive demands of senior executive and leadership roles. Much of his work has been devoted to personal coaching and to helping individuals, senior teams and high-potential cohorts to recognise and get on top of uncertain, complex and dynamic situations. He describes his style of coaching and facilitation as considered and considerate, encouragingly thought-provoking and constructively challenging.
He is the author or co-author of three business books – Clued Up (2001), Managing Talented People (2003) and The Fast Track Formula (2004) and a regular contributor to The Good Coach blog.
For more information about Alan and Voiceprint visit  https://letstalk.voiceprint.global/
This is a half day event starting at 9am and finishing at 12.30. There will be pastries and tea and coffee available on arrival. 
The £25 pp cost of the session is a considerably subsidised rate only available due to the generosity of the CIPD, Givaudan and Alan robertson. 
---
Professional photography and video production will be taking place at the event, and these images may be used on future promotional materials for CIPD. Please note that by attending the event, you are giving your consent for your image to be used on any CIPD promotional materials.
When & Where

Givaudan
Willesborough Rd
Kennington
TN24 0LT Ashford
United Kingdom


Wednesday, 7 February 2018 from 09:00 to 12:30 (GMT)
Add to my calendar
Organiser
We are the Kent branch of CIPD - the professional body for HR and people development. The not-for-profit organisation champions better work and working lives and has been setting the benchmark for excellence in people and organisation development for more than 100 years.
We have a wide range of organisations and CIPD membership and we respond to this with a full selection of CPD and networking opportunities.
Due to the geographical spread of the county we have 3 area groups – Mid Kent, West Kent and East Kent. Between them they regularly hold sessions with guest speakers on subjects requested by the members. Most events are supported by local companies who host the events and provide an opportunity to meet other HR practitioners.
We also appreciate the specialisms within HR and have Special Interest Groups that meet regularly and occasionally have speakers. These groups include Health and Social Care and Senior Practitioners. Similarly we have smaller bespoke groups, Self Managed Learning Groups that operate throughout the county. These include the Coaching Groups in East Kent and West Kent. We  encourage the creation of new groups so if there is not an area covered, why not set one up?
Join our LinkedIn group, follow us on Twitter, like our Facebook page, or sign up to our emails for the latest news and events information.
Come along to an event and meet our friendly and welcoming committee members and the wonderful HR community of Kent!