Professional Skill Development for Early-Career Women
About this event
The VOICES Curriculum is a year-long program designed for women in the early stage of their career, those who wish to upskill or change careers. The Curriculum is now open for registrations for Term 1.
The program will provide an opportunity for you to learn hands-on professional development skills. Those attending all workshops of the Term will be invited to a Networking event in February. Participants will also have the opportunity to join the VOICES Linkedin Community - a community of fellow women curated by VOICES to share career opportunities with one another.
Monthly workshops last for up to 1 hour and they take place online due to COVID-19. Once in-person participation is possible, we will keep a hybrid in-person and online format for all our events. The workshops include lightning talks, small-group tasks, and you will be provided with additional learning materials.
The detailed workshop descriptions will follow soon.
If you have questions, we are always there for you to help: just drop us an email at voicesproject2019@gmail.com!
ABOUT US:
VOICES is an initiative of the World Economic Forum Global Shaper Hubs in Cambridge and Dublin. Since our founding in 2018, we have worked internationally to improve women's representation in public engagements and to support the professional development of early-career women through workshops, competitions, and networking events.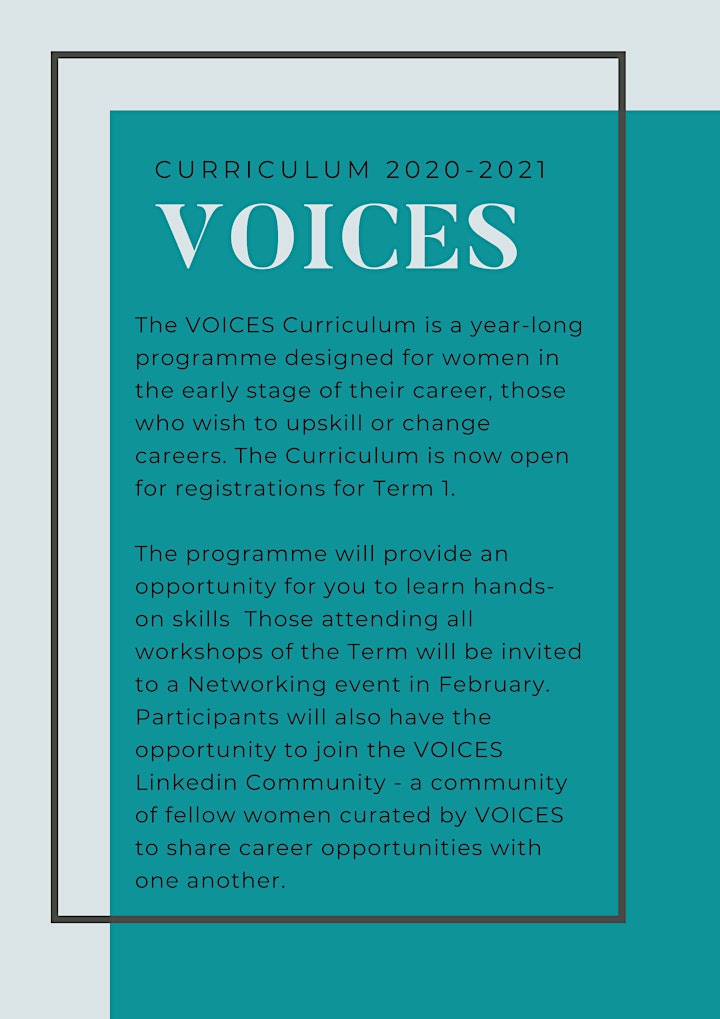 Organiser of VOICES Curriculum
VOICES is a non-profit organisation, envisioning a world with equal representation of women at the workplace. Since 2018, we have been active to provide accessible professional development workshop formats to early-career women around the world. We further create and collate free resources to help early-career women succeed. VOICES further maintains an active community to facilitate the collective sharing of experiences among participants. These workshops offer an opportunity for women to share best practices and learn from each other about ways to sharpen their public engagement skills. VOICES was incubated within the Global Shapers Hubs in Dublin and Cambridge, an initiative from the World Economic Forum.
Would you like to embark on this journey with us?